Finally, a holiday! I can switch off from everyday life, let my mind wander, and shape the day according to my own wishes. This calls for a stay at the TUI BLUE Palm Garden on the Turkish Riviera. Sun, beach, and sea are waiting for me. What makes a holiday at TUI BLUE so special are the options for individual customisation: a variety of sports facilities, a dreamlike beach, varied evening entertainment, and culinary temptations – between action and relaxation, there's something for everyone.
Want inspiration on what you can do on such a day at the TUI BLUE Palm Garden? With my holiday diary, you can accompany me and read about how I design my day on the Turkish Riviera with TUI BLUE. Have fun!
Into the Day Full of Energy
Goooood morning! A new day at the TUI BLUE Palm Garden begins. I hop out of bed and open my bungalow's balcony door. There are bright blue skies. The hotel complex is still quiet and empty. No wonder – it's only 7:30 am. Why am I up so early? For me, it's time for a yoga class on the hotel's gorgeous yoga platform. At 8:00 in the morning, it's still cool and I can start the sunny day with fresh energy. The view of the blue sea makes me shine inside. I can highly recommend the yoga class in the morning, even if you have to jump out of bed a little earlier.
After yoga, I'm really hungry and in the mood for a coffee. I now head in the direction of breakfast buffet in the restaurant. When you enter the restaurant, you'll be met immediately by the delicious scent of freshly baked bread. Delicious! Where does the fragrance come from? From the hotel's bakery, in front of which you'll find a large shelf full of delicious rolls and traditional Turkish pastries. You just have to get there and treat yourself 😉
Whether vegetarian, vegan, gluten-free, or low-carb – in the restaurant you'll be offered a rich buffet with a wide range of food and drinks, including live-cooking stations, with a wide selection of food and drinks.
Relaxing on the Sand and Pebble Beach of the TUI BLUE Palm Garden
After a great breakfast, I stroll a bit through the hotel complex, past the Kids and Teen Club, where the programme is starting. It's now 10:00 am, and the kids are getting to know each other in the supervised Kids Club with some fun games. If your kids also feel like playing with other children and making new friends, the Kids and Teen Club is your first stop. And you parents get a bit of time to yourselves at the same time 😉
Now it's beach time! I go to my room and throw on my beach outfit. Off we go! On TUI BLUE's long, sprawling, sand-and-pebble beach, I look for a spot on a lounger under a parasol.
If you want, you can also book one of the daybeds for a day and relax undisturbed.
Before I toss myself on a lounger and close my eyes for a bit, I jump into the blue sea. The water temperature is pleasant. Farther out, I see some windsurfers and a banana boat. The hotel location is made for water sports. That's definitely also on my holiday to-do list.
Meanwhile, it's already 1:00 pm – time for a little lunch. I'll take it not too far from my sun lounger at the Purple Turtle Beach Bar. From a salad buffet and cold and warm appetisers to meat, fish, and vegetarian side dishes, to cakes, ice cream, and pastries, you'll get everything your heart desires here. You absolutely have to try the Turkish specialty gözleme, a kind of crepe with different fillings. Super delicious, and handmade 😉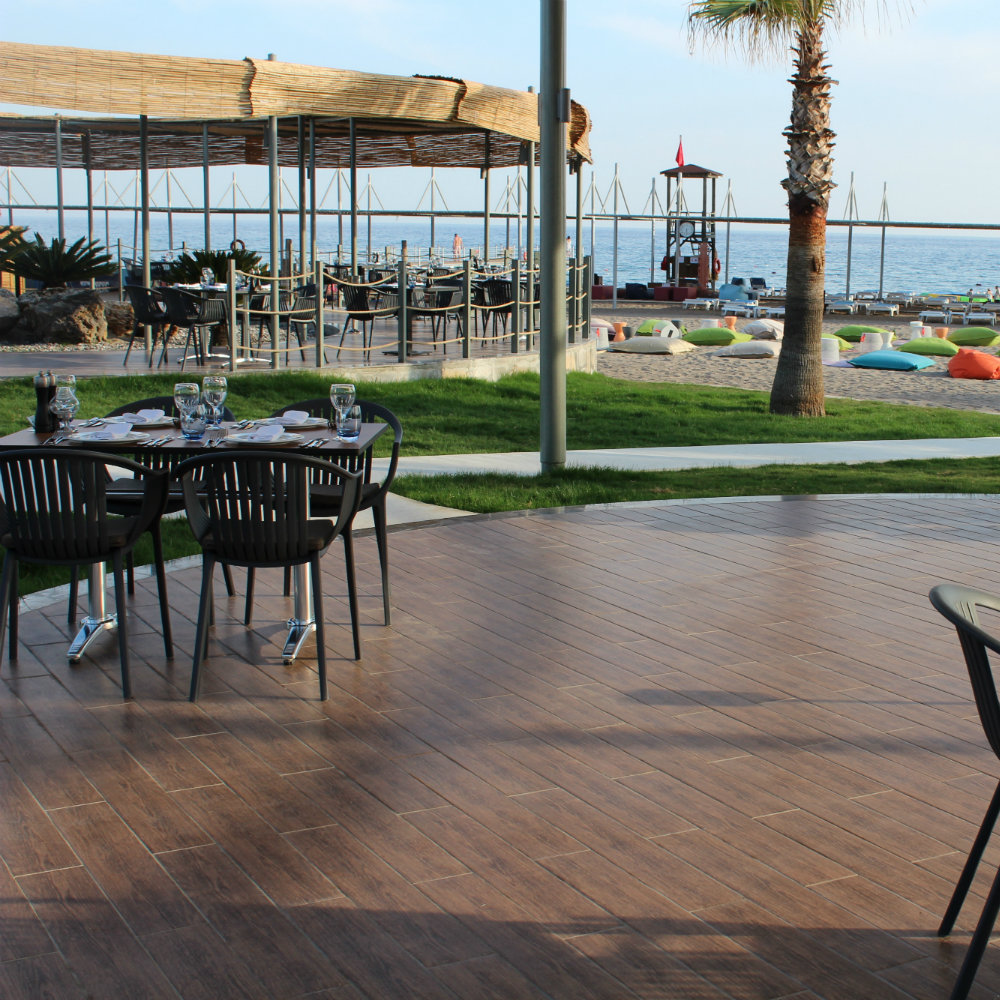 Once back at my lounging spot, I enjoy the sunshine and do a little something for my complexion. For me, holidays mean one thing above all else: switching off and escaping the stress of everyday life. And that's going so well here at the TUI BLUE Palm Garden. If you really want to relax on holiday, I recommend a Turkish hamam in the soothing Day Spa.
Action and Fun Fill My Holiday Diary
So enough lazing – I'd like to do some fitness again before dinner. Yesterday, I took part in the SYNRGY training system in functional training. If you like to train with your own body weight, this is perfect for you. Today, though, I fancy a bit of team sports. I look at the clock – just before half past five. Beach volleyball is now taking place on the beach. Digging, setting, and spiking – yes, I could get into that now!
At the exciting match, my team and I got lucky. Match point… Markus, one of my teammates, serves. Our opponents dig the ball back, Jenny sets the ball to me, I bump to Chris, and he smashes it to the other side – hit. We won!
Together, we get a refreshing drink at the Purple Turtle Bar and toast our victory.
For me, it's now time to head toward the pool – I need to cool down. In the large pool area with a total of three freshwater pools at the TUI BLUE Palm Garden, I throw my towel on a free lounger and swim a few laps in the water.
Culinary Seduction at the Turkish à la Carte Restaurant Levante
After that, I go back to my room to get ready for dinner.
I'm particularly looking forward to this today, because during your stay you have the opportunity to visit the à la carte restaurant Levante free of charge. For me, that day is today. Unlike the buffet restaurant and Purple Turtle Bar, here you can enjoy an excellent 4-course meal with local delicacies. There's a cosy atmosphere here, which invites you to linger and savour. You should definitely plan enough time for your evening at Levante. After all, the enjoyment of delicious Turkish specialties and the hospitable service in Levante will be a real highlight of your holiday.
Evening Programme to My Liking
After dinner I head for the theater. The kids disco is still taking place here. It's so cute to watch the kids having fun dancing. Slowly, the theater fills up. At 9:00 pm, you can be enchanted by the daily-changing programme on stage. Today, dancers captivate me with their belly dancing. It's crazy what they can do!
After the show comes a live band.
The balmy summer nights are made for evening entertainment with a delicious cocktail in good company. At the TUI Bar, I end the evening with some good live music. Here, I also meet some of my beach volleyball mates again. With good conversation, time goes by so fast. By now, it's just before midnight. I say goodbye and retire to my room. On the balcony, I ruminate on the day with a final glass of wine.
Fond Memories – Forever in My Holiday Diary
I had a wonderful day at the TUI BLUE Palm Garden, which will be remembered forever thanks to my holiday diary. I'm already looking forward to tomorrow, because there's still so much to discover here on the Turkish Riviera. For example, you can take part in one of the excursions offered at the hotel and get to know the country and its people. Before sleeping, I take a look at the BLUE App and check out the programme for tomorrow. There are so many different activities on offer, there's really something for every type of holiday. You can freely design your day according to your wishes and ideas and that's what makes a holiday in the TUI BLUE hotels so special.
How do you spend your day at TUI BLUE hotels? Write it in the comments – I'm looking forward to hearing about it!
But first, I'm going to sleep. Good night, or as they say in Turkish: İyi geceler!