We all know the döner kebab: a flatbread pocket filled with salad and delicious lamb or chicken. But Turkish cuisine has much more to offer than the mainstream kebab from the snack bar next door. I personally like to get to know the culture of the country I travel to – and that includes the cuisine. At the TUI BLUE Sarigerme Park, I've tasted many regional delicacies and put together a list of the tastiest traditional Turkish dishes that I wouldn't want you to miss out on.
Turkish Delicacies – More than Just the Döner Kebab
Eating Turkish doesn't just mean holding a flatbread pocket with meat from the kebab spit in your hand. In the à la carte restaurant Levante at the TUI BLUE Sarigerme Park, you can taste wonderful Turkish specialties.
To start off, different types of bread and pastries are usually served with ezmes (Turkish dips). It continues with a selection of delicious, warm and cold meze (appetisers). Typically, meaty dishes with vegetables and rice are served as a main course. One thing you should always pay attention to: don't ask for pork. It doesn't make it to the dinner plate in Turkey for religious reasons. However, sweet desserts are also very sacred in the Turkish culture, and shouldn't be missed after the meal. Are you curious? Here we go! These are my favourite typical Turkish dishes!
1. Menemen – For a Good Start to the Day
Every day starts with breakfast. The Turkish village breakfast is particularly rich. In Turkey, traditional menemen – a Turkish egg dish with tomatoes and peppers – is served. I often order my menemen with feta as well. The Turkish omelette tastes twice as good served in a small pan!
2. Pide with Ezme – Different Types of Bread and Dips as a Starter
The soft flatbread is widely used not only in Turkey, but also in Greece and the Middle East. In Turkey, pide can be ordered and eaten in different variations. Traditionally, a selection of different ezmes (dips) are served with simple flatbread. Mhhmmm, tasty!
3. Mercimek Çorbası – The Classic of Turkish Soup Culture
"Today there's soup." As a child, I always hated hearing that sentence when I came home hungry after school. If only I'd known about Turkish lentil soup back then! It's excellent as a starter. My personal tip: Don't just leave the lemon slices served with the lentil soup on the side. The tangy lemon juice gives the mercimek ҫorbası an additional fine and refreshing touch.
4. Sigara Böreği – The "Cigar" for In-Between
One of the most famous cold starters in Turkey are the feta filo cigars. The pastry rolls stuffed with feta or spinach are perfect as a snack in between. You should definitely order a delicious yoghurt and garlic dip. Dipped in a spicy ezme, the pastry rolls taste even better. Always hits the spot and whets your appetite for more!
5. Gözleme with Spinach – Turkish Crêperie
Are we in France here? At first glance, gözleme is reminiscent of the hearty thin pancake known as the crêpe. The delicious snack from Turkey is traditionally made from thin yufka dough and is filled with spinach. I almost like it even better than the French version. Try it for yourself!
Looking for a holiday with Turkish cuisine?
6. Sucuk – the Currywurst of the Turks
You've probably heard of it before: the sujuk sausage, a spicy sausage of beef, lamb, or veal that lends its flavour as a side to almost every Turkish dish. Even better, these Turkish dishes can be sampled right on the beach at the Beach Barbecue at the TUI BLUE Palm Garden. Pure indulgence!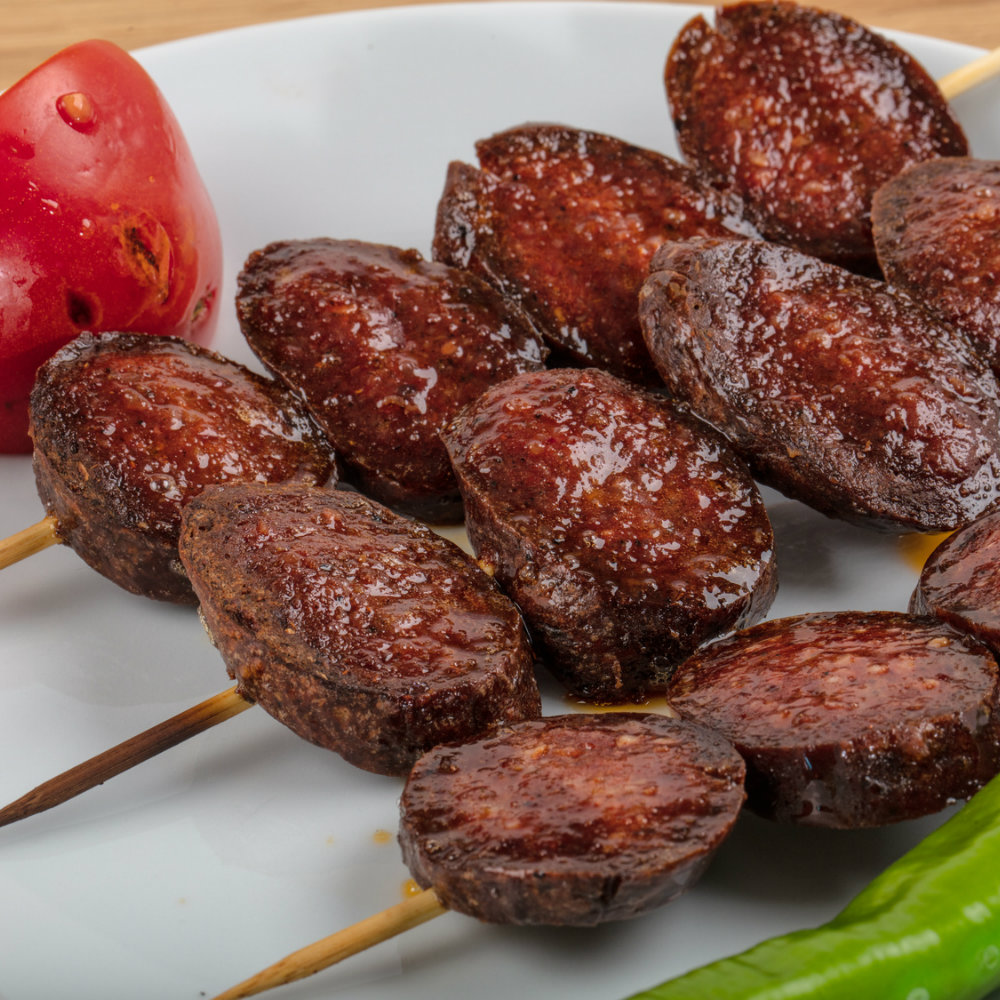 7. Köfte with Bulgur Salad – The Filling Food
My absolute favourite dish! Köfte is what the Turks call their meatballs. The strong spices make the köfte taste much better than the typical German meatballs. As a main course, they are often served with a traditional Turkish side dish, the bulgur salad. Bulgur is made from durum wheat semolina and is common as a side dish among the Turks. The salad is also a popular variant among vegans. The various recipes for this actually deserve their own blog post… 😉
8. Manti – The Classic Pasta
If you don't want to miss out on a pasta dish, you can pick manti from the menu. Yufka dumplings filled with minced meat or lentils are especially tasty with the traditional Turkish yoghurt sauce!
9. Lahmacun – The Turkish Pizza
A good alternative to the kebabs at the food stalls, this Turkish pizza is a thin flatbread spread with a spicy layer of minced meat, onions, and tomatoes. The whole thing looks like a pizza in the end, but the Turks roll it up like a wrap and bite into it. Bon appetit!
10. Baklava with Pistachios – The Sweet Seduction
It's a good idea to leave a little space in your stomach, because you wouldn't want to miss out on this sweet dessert of Turkish cuisine. Baklava is a puff pastry stuffed with honey and pistachios and set in sugar syrup. Super rich, but incredibly tasty!
Maybe some Turkish specialties taste so good that you want to make them yourself. For that, the TUI BLUE Sarigerme Park offers a Turkish cooking class. Give your dishes their very own touch. Small language course: Afiyet olsun – that means "bon appétit" in Turkish 😉
All inclusive holidays in Türkiye with Turkish cuisine