We all know the phrase: "Breakfast is the most important meal of the day!" For me, it's absolutely true. Whenever I don't eat a reasonably substantial breakfast within two hours of waking up in the morning, I get hungry really quickly – and that's not good! My secret weapons against this are smoothies, overnight oats and baked oats – quick and easy to prepare, they are the perfect companions for a good start to the day. They are also the perfect healthy snack for me when I'm feeling a little peckish in between meals.
Would you like to integrate delicious smoothies, overnight oats and baked oats into your daily routine? Then you've come to the right place. In this blog article, I share my favourite recipes and am happy to give you inspiration for some healthy smoothies, overnight oats and baked oats, following the TUI BLUE concept BLUE® Taste.
Make your own smoothies: The fruity awakeners
Mornings have to be quick – who hasn't experienced that? It's all the more convenient when my breakfast to-go is already ready in the fridge: a delicious smoothie made from my favourite fruits or, to create a little variety, a small portion of Overnight Oats. With just a few ingredients and even fewer steps, I can conjure up two meals that give me a first vitamin boost in the morning and help me out of my midday slump throughout the day. I take special care to keep the natural sugar content of the ingredients as low as possible. For the smoothie, that means green apples instead of bananas, berries instead of grapes and no additional sweeteners like honey or agave syrup. I also like to blend in leafy greens like mint, kale or fresh spinach. And believe me, in combination with various fruits, it doesn't taste as bad as it sounds at first. Then it's time to get in the blender! These are my favourite combinations: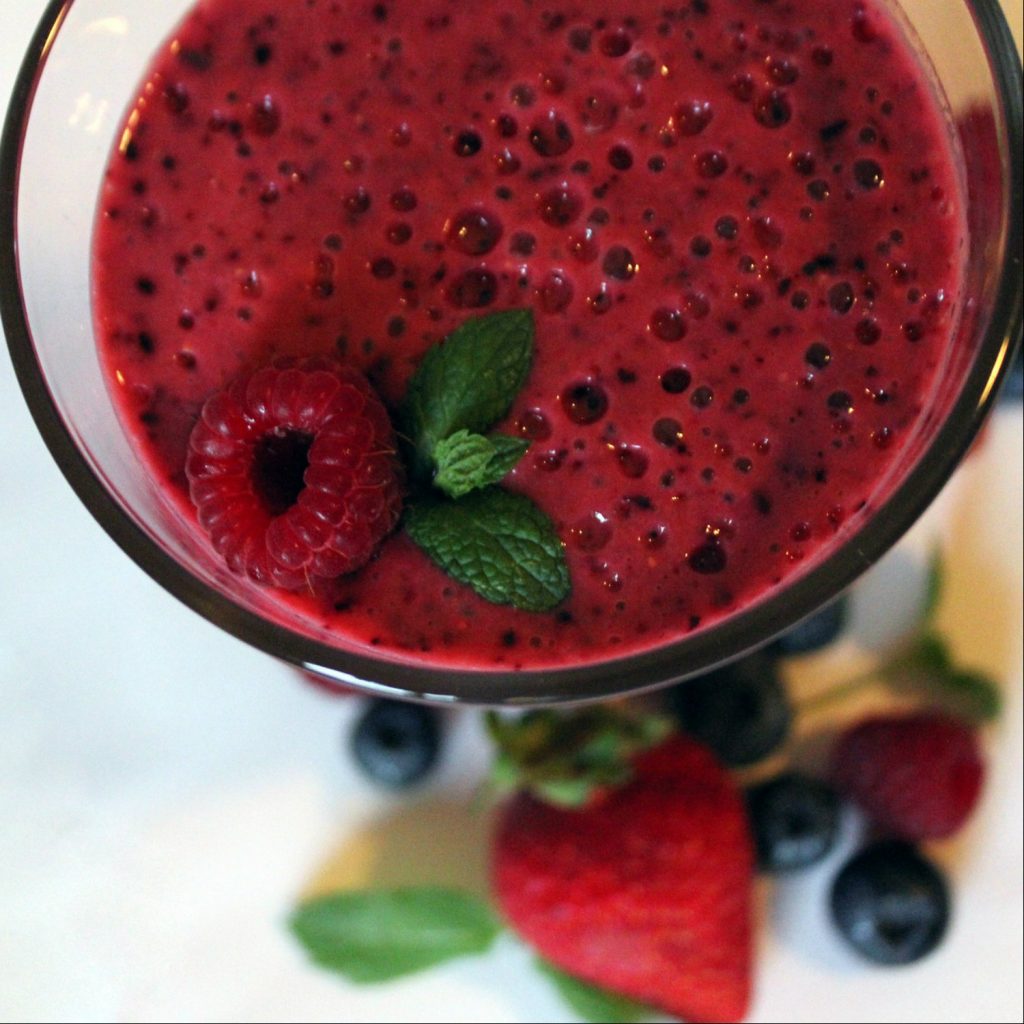 Smoothie #1: Apple-cucumber-lime-mint
My absolute favourite smoothie on warm summer days: the combination of cucumber and lime tastes light and summery, and the mint adds freshness. Due to the high water content of the ingredients, the smoothie is rather liquid. For a thicker consistency, you can add a spoonful of natural yoghurt or cashew nuts to the blender.
Small tip: Make sure you don't add more than a handful of nuts to your smoothie. Nuts are super healthy, but in too large quantities they are unfortunately far too high in calories.
Smoothie #2: Peach Coconut
This smoothie is a real tropical dream! It immediately puts you in a holiday mood with its light coconut flavour. To make it, mix unsweetened coconut milk with one or two fresh peaches – you can also use frozen peaches here, so that you get an almost ice cream-like consistency. If you like, add a little grated vanilla pod.
Smoothie #3: Watermelon-raspberry-apple
This classic always goes! My tip: If the blender hasn't completely shredded all the seeds, run the smoothie through a sieve again afterwards. This way you can make sure that there are no large seeds left in your smoothie. If you like, you can add chia seeds or ground almonds. Then enjoy the smoothie ice cold!
Smoothie #4: Blueberry-blackberry-kale
This smoothie is an absolute vitamin bomb: a good portion of blueberries alone has about 60 times as much vitamin C as a whole orange. The kale also gives you a large portion of vitamins and rich nutrients.
So don't be put off by the darker colour and slightly harsher taste. However, if you don't want to miss out on a little sweetness, I recommend adding a few small pieces of pineapple.
Sounds delicious, doesn't it? Of course, you can add to or change these variations according to your own taste. For example, you can add a little natural yoghurt to the smoothies to make them a little thicker.
For me, these smoothies are a super tasty and healthy breakfast idea – and I can promise you one thing: It's also really fun 🙂
Overnight Oats –Delicious Power Boost
However, if I don't feel like a smoothie or don't have the right ingredients in the house, I turn to another equally good and practical alternative: Overnight Oats.
Overnight Oats is nothing more than soaked oatmeal. Now, before you stop reading this article in mild disgust, let me explain: This recipe has nothing to do with the lumpy, grey oatmeal mess you have in your mind's eye right now. It's a super delicious breakfast idea that you can easily prepare the night before. What's more, oats are absolutely trendy.
For one serving of Overnight Oats, soak about 50 to 70 g of rolled oats (depending on the desired consistency and your appetite) overnight in about 100 to 140 ml of milk, yoghurt, water, almond milk, rice milk or coconut milk. Mix the ingredients thoroughly and put everything together in a tin or jar in which the oat flakes can swell well. The oat flakes will then soak up the liquid overnight in the fridge, so that the next morning you have a creamy mixture as the basis for your breakfast. You can also refine your Overnight Oats according to your taste – I like to use raspberries, blueberries and a pinch of cinnamon, for example. As with the smoothie, various seeds or nuts and fruits are also suitable as toppings. And then simply enjoy!
The good thing about overnight oats: with little effort you get a meal that fills you up for a long time and only lets your blood sugar level rise slowly. This is how I like to avoid the famous midday slump – instead of being limp in front of my desk due to a rapidly falling blood sugar curve, I am fit and concentrated in the afternoon as well. Definitely give it a try!
Baked Oats – the quick & vegan breakfast
As you can see, I'm an absolute fan of oatmeal, which is why baked oats are an essential part of my breakfast routine. Like overnight oats, this "super breakfast" is simply oatmeal mixed with a little milk, fruit and nuts and baked in a small baking dish. Once you've baked it, you can simply put it in the fridge and enjoy it the next morning. And believe me, it's not only delicious, it also provides us with vitamins, proteins, carbohydrates and healthy fats. Perfect to start the day well fortified!
Baked Oats – Our Bluef!t Recipe
Of course, just like with the Overnight Oats, I also have a recipe recommendation for the Baked Oats for you. It's basically the same approach and is super easy to prepare. The only difference between Baked Oats and Overnight Oats is that the oatmeal has to be baked this time. Everything else, as always, can be varied to your taste without any problems.
For the Baked Oats you need:
300 g oat flakes
625 ml oat milk
125 g agave syrup
200 g wild berries
50 g grated coconut
5 teaspoons coconut oil
2.5 teaspoons cinnamon
2.5 teaspoon ginger
2 teaspoons apple puree
Super delicious, vegan and easy to prepare!
Are you looking for detailed instructions for this recipe? Benjamin and Stefan show you exactly how to prepare these Baked Oats in the video series "The Taste of TUI BLUE" and give you more exciting tips.
Watch our video now and bring the taste of TUI BLUE home!
BLUEf!t Nutrition: Healthy Tastes Good!
This is no longer an insider tip, but it has lost none of its validity: the culinary concept in our TUI BLUE hotels also focuses on healthy eating, which, in addition to the BLUEf!t sports programme, helps to get and stay fit. I asked BLUEf!t guide Lars once again about the topic of nutrition: "We often experience that our guests don't want to give up a healthy lifestyle even on holiday and therefore offer, among other things, a low-carb buffet, smoothies and flavoured water as well as healthy snacks for in between. The Overnight Oats or Baked Oats go well with this and are also a good alternative for vegans or people with lactose intolerance.
The BLUEf!t guides are happy to help guests put together the right meal plan – so they know exactly when to eat which foods and in what quantities. Our primary goal is to create greater awareness of healthy eating without sacrificing enjoyment, and dishes like these are the best proof of that."
As you can see, it's all very simple – let's have a smoothie first!
P.S. If you're an absolute fan of smoothies, Overnight Oats or Baked Oats, you've come to the right place at the TUI BLUE Hotel. Many of the recipes described above come straight from the TUI BLUE's sacred recipe books.