If you think of Tunisian dishes and think of the typical couscous, you are not wrong. Nevertheless, Tunisian cuisine offers much more than the popular durum wheat semolina that everyone knows. Above all, the spices make Tunisian dishes a real experience. The idea of turmeric, pepper, chilli and mint makes my mouth water!
During my last visit to the TUI BLUE Palm Beach Palace in Tunisia, I gathered many culinary impressions that I don't want to withhold from you. I'll tell you my top 8 Tunisian specialities and I even have a recipe with video instructions for my favourite dish.
Have fun trying it out!
Tunisian dishes are colourful
The influences of the neighbours are noticeable in Tunisian cuisine. I often hear comparisons with Turkey and Arabia, but Italy and France have also made it onto Tunisia's menu to some extent. This fact certainly has its roots in the years of French colonialism.
You will look in vain for pork on the plate in this Muslim country. The most important source of meat in Tunisia is lamb, followed by beef and veal. Camel meat may also be on the menu. Poultry such as chicken, turkey and ostrich are also often on it, as is fish. Along the coast, there is a wide range of fish and seafood, especially tuna, which is one of the favourites of Tunisians. Cereals are the most important staple food in this North African country. The wheat bread, semolina and pasta made from it are the basis for many Tunisian dishes. The latter is certainly due to the Italian influence…
Tunisian dishes & specialities to try
Before I introduce you to some delicious and typical Tunisian dishes, I would like to introduce you to an important ingredient of Tunisian cuisine: Harissa – the popular, fiery hot spice paste made from fresh red peppers, chilli and olive oil.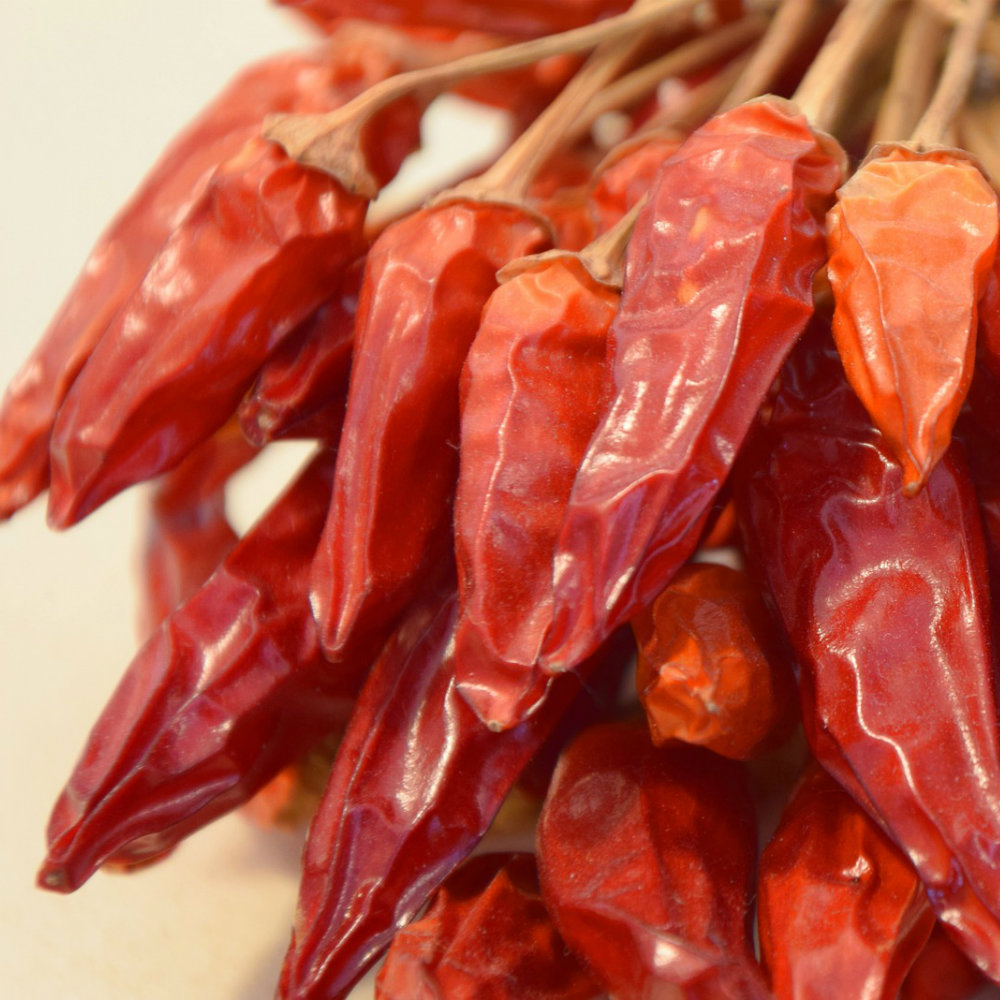 I too thought at first that harissa paste was not for me because of its spiciness, but I was wrong. Harissa adds a special flavour to every Tunisian dish, giving this country's cuisine a unique characteristic taste. Even my favourite recipe, which I share with you further down in the post, includes this delicious spice. So believe me when I tell you: don't be put off by the spiciness and definitely give it a try!
1. Chorba – Tunisian soup
If you like soup, you will love this aromatic starter! A chorba includes tomatoes, onions, chickpeas, coriander and frik (shredded wheat). What else is missing? Harissa, of course! Chorba is served either vegetarian or with lamb or beef as a chowder. The soup is simmered until the wheat groats and meat are nice and soft. At the end, the chorba should have a creamy consistency.
Tip: I especially like to eat this Tunisian speciality with fresh pita bread!
2. Couscous – durum wheat semolina 2.0
Delicious couscous, fiery vegetables and freshly baked pita bread dipped in olive oil is one of the classics among Tunisian dishes. The popular couscous is usually served as a filling side dish and arranged in a large bowl so that all dinner guests can help themselves to their heart's content. Couscous is offered in all combinations; with vegetables, with elaborate meat or fish sauces or even as a fresh salad with mint.
Discover Tunisia now
3. Chakchouka – creamy and spicy
[caption id="attachment_22563" align="aligncenter" width="1000"]
Chakchouka also warms through its spiciness[/caption]
What Tunisian dish I can recommend to you is Chakchouka! Also known as shakshuka, it came to Israel with Jews from the Maghreb and is also a very popular dish there. The first time I had chakchouka on my plate, I immediately had an association with the Turkish dish menemen. The ingredient list is definitely similar: chakchouka uses a tomato and paprika sauce seasoned with harissa, which is simmered covered and onto which eggs are later beaten. As soon as the eggs have the desired consistency, the chakchouka can be served with bread. Mmh delicious!
[tuiblue-hotelads-accomodation-teaser list='TUNISIA' list_merge='union' orderby='name asc' headline='Holidays with Tunisian food' language='en']
4. Brik – the snack for in between
Brik is the classic snack for in between meals. Definitely a Tunisian speciality that you should not miss! The brik is a usually triangular, deep-fried bag made of fine puff pastry, which is often offered at street stalls filled with tuna or minced meat. It's ideal for satisfying a small appetite after shopping at the market.
A little tip from me: Tunisians are hosts through and through! Most of the time, a guest has to have two more helpings of food to show that it tasted good. Only then do you signal to the hosts that you are full. Or you can do what I do and just keep eating ?
5. Macroud and other sweet sins
As a sweet tooth, anything that drips with sugar is fine with me. Tunisia is the perfect place for me: here, for example, you can get delicious makroud, small semolina pastries with a date paste soaked in honey. I really can't resist that! By the way, the word macroud is close to the French macaron, even though the two sweets have nothing in common visually.
Tunisian Baklava
Each of you has certainly heard of the speciality baklava, which you can also find here in Germany as a Turkish speciality in every Turkish restaurant. These delicacies made of several layers of puff pastry are filled with a date or pistachio paste and also refined with honey. Delicious!
Bambalouni – delicious squiggles
Although I'm not necessarily a fan of fried dough, biting into a bambalouni convinced me otherwise! The fluffy yeast dough is fried in hot oil to form large curls and then rolled in sugar or honey. It reminds me of donuts – but believe me: it's much better!
I wonder what the secret ingredient could be. In any case, make sure you eat this delicious pastry warm, it tastes best that way!
Harissa Wrap – Our recipe to follow
The harissa wrap is still one of my favourite Tunisian dishes because it brings back wistful memories of the warmth and fragrance of the country. The recipe can be easily modified to suit your individual tastes and is perfect for a quick lunch or an evening of cooking together with your loved ones.
Ingredients:
– 1 tortilla
– 2 lettuce leaves
– 3 tomato wedges
– 2 tablespoons red beans (pre-cooked)
– 1 tablespoon sweet corn (canned)
For the dressing:
– 1 cup yoghurt
– ¼ tablespoon harissa powder (mild)
– 1 teaspoon sweet paprika
– 1 teaspoon salt
– 1 tablespoon olive oil
– 0.5 tablespoons lemon juice
Preparation:
For the dressing, mix yoghurt, harissa powder, sweet paprika, salt, olive oil and lemon juice until smooth. Place 2 medium lettuce leaves on a tortilla. Continue with 3 tomato slices and add the red beans and corn. Finish with 1 tablespoon of the yoghurt-harissa dressing over the filling. Roll up the wrap and serve.
Step-by-step instructions if you can't find pre-cooked beans:
Soak the red beans in water overnight.
When the beans have soaked, you will notice that they have grown in size. Remove the water and add fresh water. Bring to a boil and then reduce to a simmer. Add salt (optional) and simmer until the beans are soft. Then drain the beans in a colander and leave to cool.
Experience Tunisian cuisine in our TUI BLUE Hotels
Tunisian cuisine, with its diverse influences and explosive flavours, has something for every palate. I love stopping off at a local restaurant away from the hustle and bustle of the market or grabbing a snack on the go at a street stall.
I hope I've whetted your appetite for Tunisian cuisine. Would you like to get to know more Tunisian dishes? Then a Tunisian cooking course is just the thing for you. On Djerba, you can even cook Tunisian specialities with the hotel director at the TUI BLUE Palm Beach Palace.
Book your holidays in Tunisia
Tip: Tunisia has a lot more to offer besides excellent cuisine. For example, you can visit the "Djerba Explore Park" theme park during your holiday. It is located very close to the TUI BLUE Palm Beach Palace and offers a perfect mix of culture, history and leisure.
See you in Tunisia!