Looking for a relaxing holiday in Croatia without children screaming and running around? Then these adults-only hotels in Croatia are for you! Here you can relax and enjoy the beautiful beaches and crystal clear waters of the Croatian coast. We have selected the top 5 beachfront adult only hotels to help you make the most of your time in Croatia. From all-inclusive meals to spas and rooms with swim-up pools, these hotels have everything you need for the perfect adults-only holiday in Croatia!
What does adults only hotel mean?
An adults-only hotel is a hotel that caters exclusively for adults, usually those aged 16 or 18 and over. Adults-only resorts are ideal for guests who are looking for a quiet holiday without children sreaming. This could be parents wanting a child-free holiday, siblings, families with adult children or groups of friends. Adult-only hotels often have a spa, fine dining and premium alcoholic beverages, as well as adult entertainment and activities such as evening entertainment and wine tasting or cooking classes.
Adults only hotel Makarska Riviera with all inclusive: TUI BLUE Adriatic Beach
View, view and more view! This is what you can expect at the adults-only hotel TUI BLUE Adriatic Beach on the Makarska Riviera. The adults-only all-inclusive hotel has 4 stars and is located directly on the beach. By the way: There are no private beaches in Croatia, although many other hotels claim to have them. All beaches in Croatia are open to the public, but offer free sunbeds for hotel guests. For romantic hours for two, book a double room or junior suite with pool access and enjoy infinity views of the sea and the nearby town of Igrane. By the pool, from the balcony, on the beach – let the turquoise waters enchant you!
Make the most of your time together with a BLUEf!t course or water sports, relax in the spa or simply laze on the beach in your daybed. But don't forget to visit the highlights of the surrounding area, such as hiking in the Biokovo Mountains along the Makarska Riviera, enjoying the Mediterranean flair of Makarska or taking a boat trip to Hvar.
More tips for the Makarska Riviera:
Design hotel with swim-up pool on the Makarska Riviera TUI BLUE Jadran
Ok, strictly speaking the TUI BLUE Jadran is not a resort for adults. However, as it has no childcare or facilities for children, it is very quiet and adult friendly. I've been there twice and the few children who were there didn't stand out and were older. With two outdoor swimming pools on a sun terrace and an additional swim-up pool for the junior suites only, plus the beach, holidaymakers can spread out well. It is located right on the beach in Tucepi. You can walk 3 km through a pine forest to Makarska.
There is a spa, 2 restaurants overlooking the infinitely beautiful sea, fitness facilities and from the upper rooms a panorama you will never forget! Don't be disappointed if you don't get one with an ocean view from the private balcony. The mountain views of the rugged Biokovo Massif are great too! You can choose between breakfast and half board. The rooms with private bathroom are very stylish and the building itself is a sight of history! The service is outstanding in this 4.5 stars hotel. Treat yourself to a junior suite with swim-up pool at TUI BLUE Jadran.
Adults-only hotel with a swim-up pool on the Makarska Riviera: TUI BLUE Makarska
Look out over the sea from the infinity swim-up pool and then take a nap on the sun lounger… If you like this idea, book a room with private access to the pool at TUI BLUE Makarska. This adults-only hotel is also located on the breathtakingly beautiful Makarska Riviera in Dalmatia, in the town of Igrane. Situated between the beach and the town centre, this adults-only resort is perfect for couples who want to combine beach holidays with sightseeing between Split and Dubrovnik.
Wherever you go, you'll be greeted by stunning views of the beach and the pine forest on the promenade: During outdoor sports, at breakfast, by the pool or from the sea view rooms. You will be spoilt with Croatian and international specialities as part of the half board. TUI BLUE Makarska has 2 restaurants and 3 bars. After an eventful day, relax in the BLUE Spa and enjoy the evening entertainment. Check out the BLUE app for the full programme of activities at TUI BLUE Makarska.
Adults only all inclusive hotel near Dubrovnik: TUI BLUE Kalamota Island in Koločep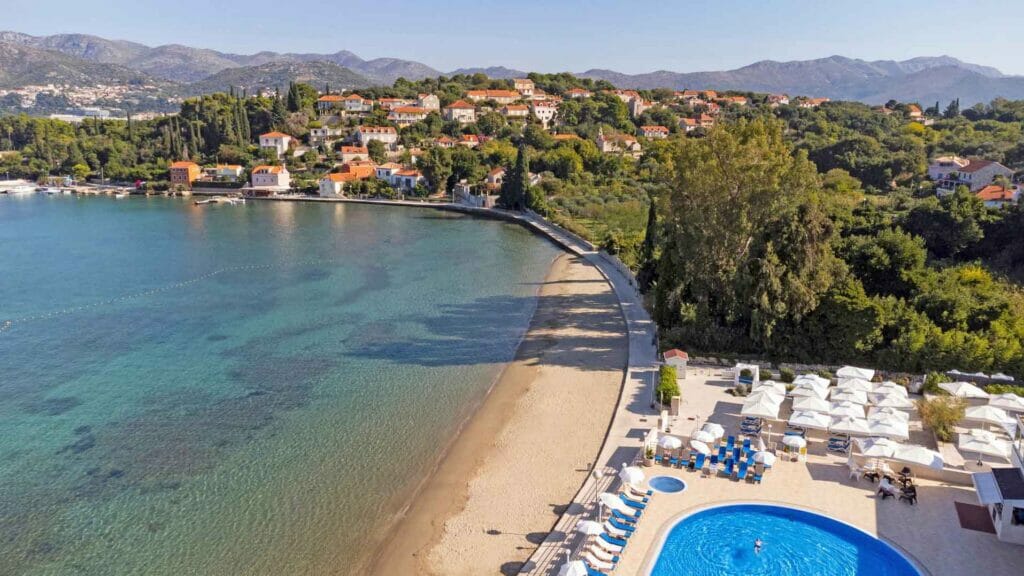 You love islands? Croatia has plenty of them! One of the southernmost islands, Koločep is sunnier and warmer than the others, and just a 30-minute ferry ride from Dubrovnik. TUI BLUE Kalamota Island is an adults-only hotel located in a picturesque bay right on the sandy beach.
Just switch off and live the day to the full – the spacious resort is just right for guests aged 16 and over. Thanks to the all-inclusive catering, you can enjoy Croatian and international drinks and specialities in 2 restaurants and 3 bars. Whether it's yoga on the beach or an outdoor massage, this is the place to be pampered. Watch a romantic sunset by the outdoor pool or take a stroll on the beach. An evening concert by the pool will make your holiday perfect! Check out the BLUE App for all the activities at this adults-only all inclusive hotel. For the nudists among you, there is a nudist beach just a few hundred metres away.
Adults only hotel in Istria with all inclusive: TUI BLUE Medulin
It's only 100 metres to the pebble/sand beach from this adults-only all-inclusive resort in Istria. The minimum age for guests is 16. TUI BLUE Medulin is set in extensive green grounds on the outskirts of Medulin.
Enjoy all-inclusive meals in the buffet restaurant and romantic à la carte restaurant, great drinks in one of the 3 bars, evening entertainment, a professional sports and fitness programme, wellness in the spa and water sports on site. The historic sights of Pula, such as the Roman ruins, are just 10 kilometres from this adults-only hotel in Istria.
Which is the best adults-only hotel in Croatia?
Of course, it is up to you to decide which of the adults-only hotels in Croatia presented here is the best. What kind of food would you like at the accommodation? If you're not too picky when it comes to restaurants, you can't go wrong with all-inclusive adult only hotels in Croatia. If you're more of an explorer, half board is better. If you want to treat yourself to something special, book an adults-only hotel with a swim-up pool. Sliding into the pool from the terrace of your room and gazing out over the sea will make your holiday in Croatia for two unforgettable!
Book your adults only hotel in Croatia now!
Questions and answers about adults-only hotels in Croatia
Can a 16 year old go to an adults only hotel in Croatia?
Although some adult hotels in Croatia have a minimum age requirement of 16 years, minors are not accepted without an accompanying adult. For example, you can travel with your parents and bring a friend or partner (also underage). If you are travelling as a couple and one of you is over 18, the other person can come to the resort with you. If your legal guardian is not travelling with you, you will need written permission from your parents if you are a minor.
What does all-inclusive mean in Croatia?
All inclusive in an adults-only hotel in Croatia means that meals (breakfast, lunch, dinner) and alcoholic and non-alcoholic drinks are included in the price of the hotel booked. There are often restrictions on the choice of alcoholic drinks included and on visits to the à la carte restaurant (e.g. once a week or at extra cost). In general, there are fewer ultra all inclusive resorts in Croatia than in Turkey, where all alcoholic drinks, restaurants and activities are included. All inclusive at an adults-only hotel in Croatia also means that leisure activities such as sports, spa and entertainment are included in the price. If in doubt, check with the hotel before booking.