How does the saying go? The way to the heart is through the stomach – especially at Christmas, there's nothing better than enjoying a delicious feast with family and friends. We often have duck, goose, fillet, and more over the holidays.
This year I wanted to try something new, and I discovered Portuguese cuisine is perfect for winter. Find out which dishes are typical of Portugal and which are perfect to serve for Christmas in the blog. I can tell you one thing – I'm definitely in "seventh foodie heaven". 🙂
Most of Portugal's delicious specialties come from the sea – a dream come true for me, of course, as a major fish fan. In general, Portuguese cuisine is characterised by a wide variety of fish and seafood, as well as meat and stews. There are usually vegetables, potatoes, but also feijãos (English: beans).
Let yourself be inspired by the Portuguese dishes especially for winter time – I have prepared the perfect Christmas menu for you, from the starter to the dessert. The recipes come from the TUI BLUE Falesia on the dreamy Algarve coast.
The Best Portuguese Cuisine
Portuguese dishes differ by region and are quite diverse. While fish dishes tend to be more popular along the coast, meat features more prominently as you travel inland. Stews, eggs, and sweet desserts are equally popular everywhere.
However, the TUI BLUE Falesia is located on the Algarve coast, so I would like to recommend the fish dishes in particular.
A meal in Portugal begins with the typical entradas. These are similar to Spanish tapas. Each entrada includes fresh pastéis and mousse, i.e. spreads and pastes that can be enjoyed on toasted bread. Fish paté is usually served. The pastes are also often served with ovos recheados (stuffed eggs) or sapateira recheada (stuffed crabs).
Since a good Portuguese meal includes stew, I can recommend you a caldereida. This spicy Galician fish stew consists of several types of fish and seafood, as well as other ingredients such as potatoes or vegetables.
Pickled sardines are a delicacy and almost a kind of symbol for the Portuguese. Grilled sardines are particularly popular in the capital, Lisbon. You can also buy these as a souvenir for at home in some delicatessens in Portugal.
According to the chef's recommendation at the TUI BLUE Falesia, ervilhas com ovos (peas with eggs) are also often served as entrada, or as a side dish with fish and meat in autumn and winter. Quite the Portuguese home cooking. 😉
And when it comes to the right sauce: the Portuguese love their piri-piri sauces. Piri-piri is a general term for chillies that are served with fish, meat, and vegetables in all spice variations.
Are you also a sweet tooth like me? Portuguese cuisine entices with many delectable delicacies to satisfy sweet cravings.
Particularly infamous are the legendary pasteis de nata, a puff pastry tart with pudding. Anyone who has ever been to Portugal will recognise this pastry. I'll never forget trying my first one in Belém in Lisbon.
Rabanadas and filhoses de abóbora are also typical Portuguese Christmas desserts.
Rabanadas are fried, sweet baguettes in the Portuguese style. These pastries should be familiar to you – you may know them as French toast or poor knights. After frying, the rabanadas are dipped in a sauce made from sugar, cinnamon, water, and port wine.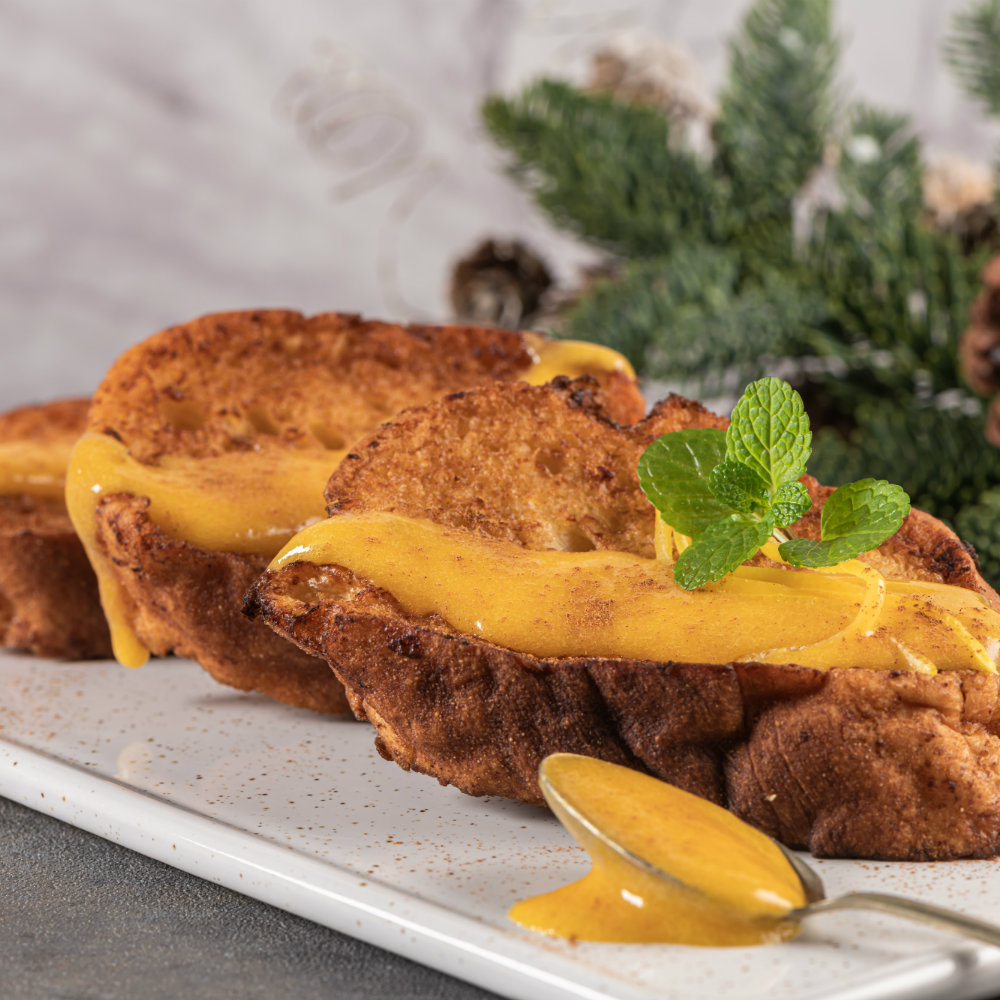 Filhoses de abóbora are Portuguese pumpkin cakes or pumpkin balls. Be sure to try them if you're a fan of pumpkin! 😉
But wait a minute – which main course is on the plate?
Bacalhau – Portugal's national dish
The absolute favourite main fish dish is the bacalhau (or stockfish in English). This is mostly made from cod, which is salted and dried. But how can it be that stockfish is so popular in a country with such a magnificent Atlantic coast right outside the door?
The popularity of the bacalhau is due to the country's seafaring history. Portuguese sailors had to rely on preserved foods during their long voyages on the high seas. Dried fish was their savior, so to speak. To this day, the Portuguese thank their bacalhau and also refer to the cod as "fiel amigo" (loyal friend).
Just as we welcome the goose at Christmas time, the Portuguese traditionally feast on bacalhau. It is often served with bread, cabbage, boiled eggs, or boiled potatoes.
A traditional Portuguese Christmas menu to cook at home
How about wowing your friends' and family's palates with something completely new this Christmas? This year, I'll be enjoying several Portuguese delicacies with my family.
I have the TUI BLUE Falesia to thank for these recipes. Do you want to try Portuguese cooking too?
Here is my exclusive Christmas menu for cooking at home.
The quantities are sufficient for approx. 4 servings. Depending on how many you're expecting at your Christmas dinner, you may need to increase the portion information.
Starter: Sapateira recheada, stuffed crabs 
You will need:
1 cooked crab
3 boiled eggs (size M)
1 dessert spoon chopped parsley (2 tsp)
1 glass of chopped cucumbers (200 g drained)
50 ml black beer
1 tsp mustard
1 tsp salt
1 tsp ground white pepper
1 tsp piri-piri spice
1 Tbsp mayonnaise
Bread crumbs

Preparation:
First, boil the crab in plenty of water for 2-3 minutes. Remove all the legs and shear the crab with a twisting motion. Turn the crab on its back and open the shell. Remove the shell and take out the meat with a spoon. Don't throw away the shell, we still need it. Place the crab meat in a bowl and mix in the eggs, parsley, and cucumber. Everything should be evenly mixed. Drizzle the mixture with beer and add mustard. Season the whole thing with salt, pepper, and piri-piri. Add the mayonnaise and breadcrumbs and mix again. Now you can fill the crab shell with the paste. Let cool and serve with thin toast.
Main course: Bacalhau com broa, cod with bread
You will need:
500 g cod fillets
Corn bread
1 large onion
Bay leaf
Oregano
2 cloves garlic
Olive oil
Chili

Preparation:
Place a layer of thinly-sliced onions, the bay leaf, and cod fillets on a baking sheet. Drizzle the whole thing with plenty of olive oil and Bake for approximately 20 minutes at 180 degrees Celsius (350 degrees Fahrenheit). In the meantime, crumble the corn bread and mix it with the chopped garlic and oregano in a bowl. Mix well. Remove the cod from the oven and cover with the bread and garlic mixture. Bake the whole thing again until the breading mixture turns golden brown. Don't leave it in the oven for too long, as the bread and cod should remain soft.
This dish can be served with salad or vegetables.
Dessert: Sonhos de Abóbora, pumpkin dreams
You will need:
1 kg pumpkin
1 pinch salt
4 eggs (size M)
6 Tbsp sugar
350 g flour
1 tsp baking powder
1 orange
1 glass (250 ml) brandy
2 Tbsp powdered sugar (for sprinkling)
Cinnamon powder (for sprinkling)
500 ml cooking oil for frying

Preparation:
Peel and clean the pumpkin. Cook in a saucepan with salt water for about 15-20 minutes, until the pumpkin is soft. Drain only enough water to reduce the puree – don't drain all the excess water.
Beat the eggs until frothy and add to the pumpkin puree. Add sugar, flour, baking powder, orange zest, juice, and brandy. Fry the whole thing in oil. Once everything is well-fried, drain the pumpkin dream on absorbent paper. Sprinkle the pumpkin dreams with a mixture of cinnamon and sugar to make it taste even better.
Now all that's left is to wish you "bon appetit" and a happy holiday with your loved ones.
Have you tried some of these Portuguese dishes? Which one sounds best to you? Which specialty is your favourite? I'd love to hear your comments and your recipes.
And if you want to spend your next holiday in Portugal – from the TUI BLUE Falesia you can visit the most beautiful beaches and destinations in the Algarve. It's stunningly beautiful! And as far as the culinary delights are concerned, delicious dishes from Portuguese cuisine await you in the buffet or à la carte restaurant. 😉