We watched over the shoulder of Marianne, a breakfast chef at the TUI BLUE Schladming, and got some valuable tips for a healthy low-carb start to the day.
Low-carb? Vegan? Do those really taste good?
More and more people are dealing with the topic of healthy nutrition. What should you eat when? Where do I take the time to cook healthily? Eating the right food in an already stressful everyday life just seems more and more overwhelming. It seems to me that we've forgotten about natural things like sleeping and eating, and that the term "healthy diet" is simply too important.
Conclusion: We've completely complicated the diet and think that healthy food is associated with a lot of effort and work. But that's not true! Thank God for holidays – here you can easily try healthy dishes. Our nutrition experts are always happy to give you valuable tips and a few recipes to take home.
Relaxation for mind and soul
The TUI BLUE Schladming attaches great importance to a balanced and healthy diet. We'll show you how to create a healthy breakfast or an afternoon snack at home with minimal effort. Together with Marianne, I've been looking for delicious low-carb recipes to start the day full of energy. But read for yourself, and then it's time to cook, try, and taste :).
Part 1 – The (Low-Carb) Bread
It works without carbohydrates! The recipe for this great low-carb bread, which you can prepare in a jiffy, is made with curd cheese, flaxseed, and chopped pumpkin seeds. So really healthy and totally tasty.
Ingredients – Protein Bread with Pumpkin Seeds (Low-Carb)
500 g low-fat curd cheese
6 large eggs
300 g spelt bran
3 tbsp flax seed
50 g coarsely chopped pumpkin seeds
1 tsp salt
1 pkg baking soda
Preparation:
Beat up the eggs and mix with low-fat curd cheese. Add the remaining ingredients and salt to taste. Pour into a greased bread pan and bake at around 200 degrees Celsius for 50 minutes.
Part 2 – The Topping – Spreads for the Soul
Hummus – Low-Carb Chickpea Spread (Vegan)
For those who don't know, hummus is a paste made from chickpeas and various spices that originated in the Middle East. The paste tastes super good. Incidentally, hummus is not only suitable as a spread – it also goes well with fish or grilled meat.
Ingredients:
500 g chickpeas
1-2 cloves of garlic
1.5 tbsp tahini (ground sesame seed paste)
1 lemon
A pinch of cumin
½ bundle fresh parsley
Olive oil
Preparation:
Puree chickpeas in a blender. Finely chop the garlic and add the juice from 2 lemons and chopped parsley to the chickpea paste, together with the olive oil (about 4 tablespoons). Season with tahini, cumin, salt, and pepper to taste. Store for about 3 hours in the fridge so that it can set well.
Styrian Pumpkin Seed Spread
Ingredients:
500 g low-fat curd cheese
200 g sour cream
1 clove
Salt, pepper
200 g butter (room temperature)
10 ml of pumpkin seed oil
Roasted, chopped pumpkin seeds for decoration
Preparation:
Stir butter until foamy, add the curd cheese, sour cream, and chopped garlic. Add the pumpkin seed oil while stirring slowly and season with salt and pepper. Sprinkle the chopped pumpkin seeds over the spread for decoration.
Quickly prepared, super easy, and simply delicious.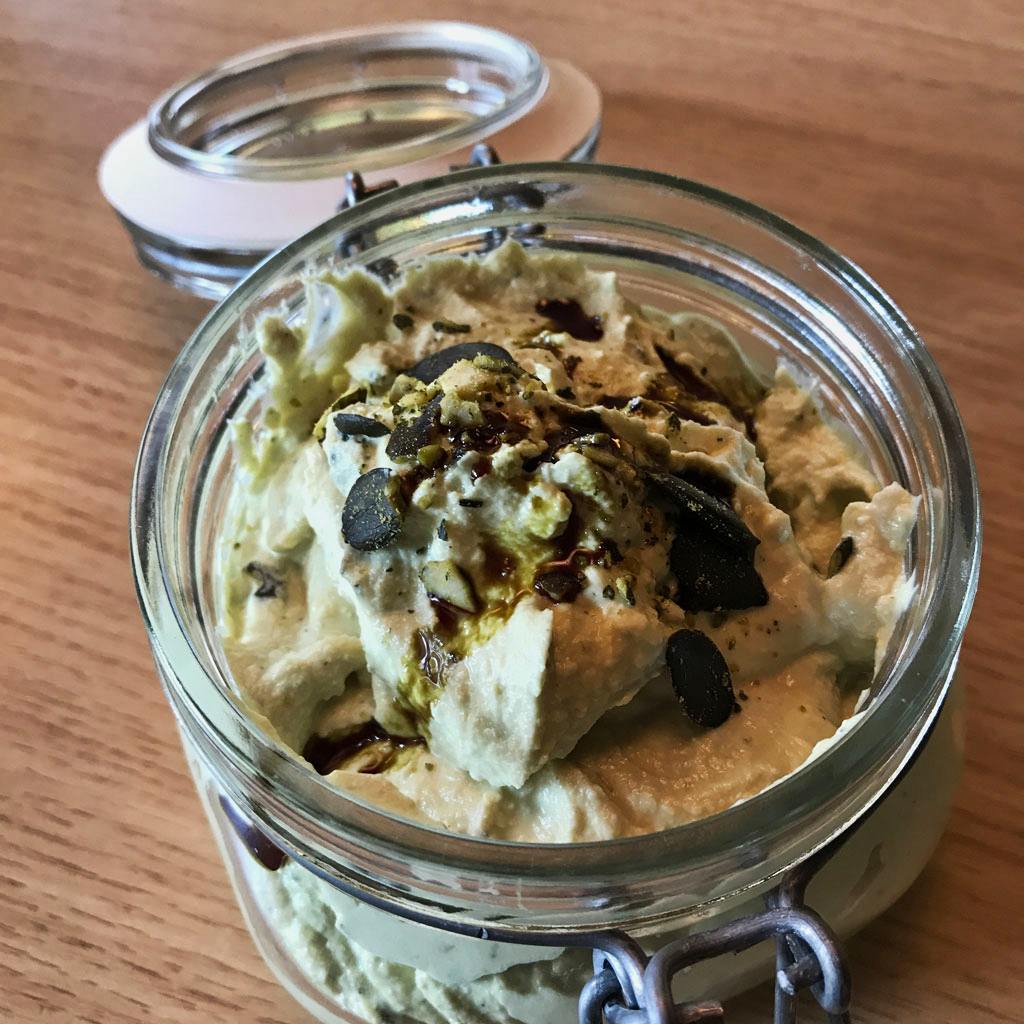 Tip: The spread keeps well sealed in the fridge for several days. If you add a little more sour cream, the spread can also serve as a dip. All you need are a few sticks of celery, carrots, and cucumbers, and you have another healthy snack alternative.
And? Got a taste for it? Myself and my colleagues from the TUI BLUE Schladming are all in agreement: The low-carb bread, a stunner! The spreads, a knock-out! The Styrian pumpkin seed spread, my absolute favourite.
I hope you like it as much as I do and I wish you a lot of fun and success in cooking!