The last time I visited Korčula was as a kid with my school class. Back then we went there in a somewhat dated excursion boat. The boat trip was fun, but took more than three and a half hours – leaving us little time to visit this beautiful island. But since last season a large, new, very fast catamaran has begun sailing regularly from Makarska, not far from TUI BLUE Jadran, towards Korčula, so I decided to visit again. Let's see if everything really looks as nice as I remember it!
Tučepi – Makarska by Catamaran
After waking up early, a couple of friends and I drive to Makarska at 8:00 am. Since the catamaran doesn't leave for Korčula until 9:15 am and we arrive in Makarska after only ten minutes, we decide to buy some food and drinks before the trip. After shopping, we sit on the benches in Makarska harbour, enjoying the morning sun and waiting. Just as we start to get impatient, the Krilo Eclipse appears punctually before our eyes. The powerful engine of the ship whirs loudly as it slowly glides to the small white dock and finally stops. The adventure can now begin!
Korčula On My Mind
I sit in the middle of the ship. Unfortunately, there is no free space closer to the windows, and I have a poor view of the islands passing by our boat. Still, I'm not bored and the ride only takes an hour anyway. As we approach the harbour of the city of Korčula, I get the opportunity for a window seat. From my better vantage point, I can marvel at the old town and its walls. What a stunning view!
Castle by the Sea
Arriving in Korčula, we take a short coffee break and continue on! After all, we are only to stay here for about eight hours and don't want to miss anything. The old part of the town is bordered by walls and filled with interesting restaurants, souvenir shops, museums, galleries, historic houses, and churches. There are not as many tourists as on the mainland, but you can already feel a touch of the high season. And, in typical Dalmation style, almost everything is carved out of imposing stone!
Brochure-Worthy Panoramas
Following a tip from a Korčula local, we decide to climb up a church tower directly in the city centre. Actually, it is not a church, but the Cathedral of Saint Mark (Marko in Croatian). We'll encounter this pleasant-sounding name 😉 more often during our stay in Korčula – but I will tell you more about that later. The staircase in the cathedral is extremely narrow, which is why, to my surprise, I find a traffic light installed here. After ten minutes, the traffic light turns green and off we go! Visibly exhausted, we reach the top of the tower and marvel at the beautiful view. From here we can see the whole city!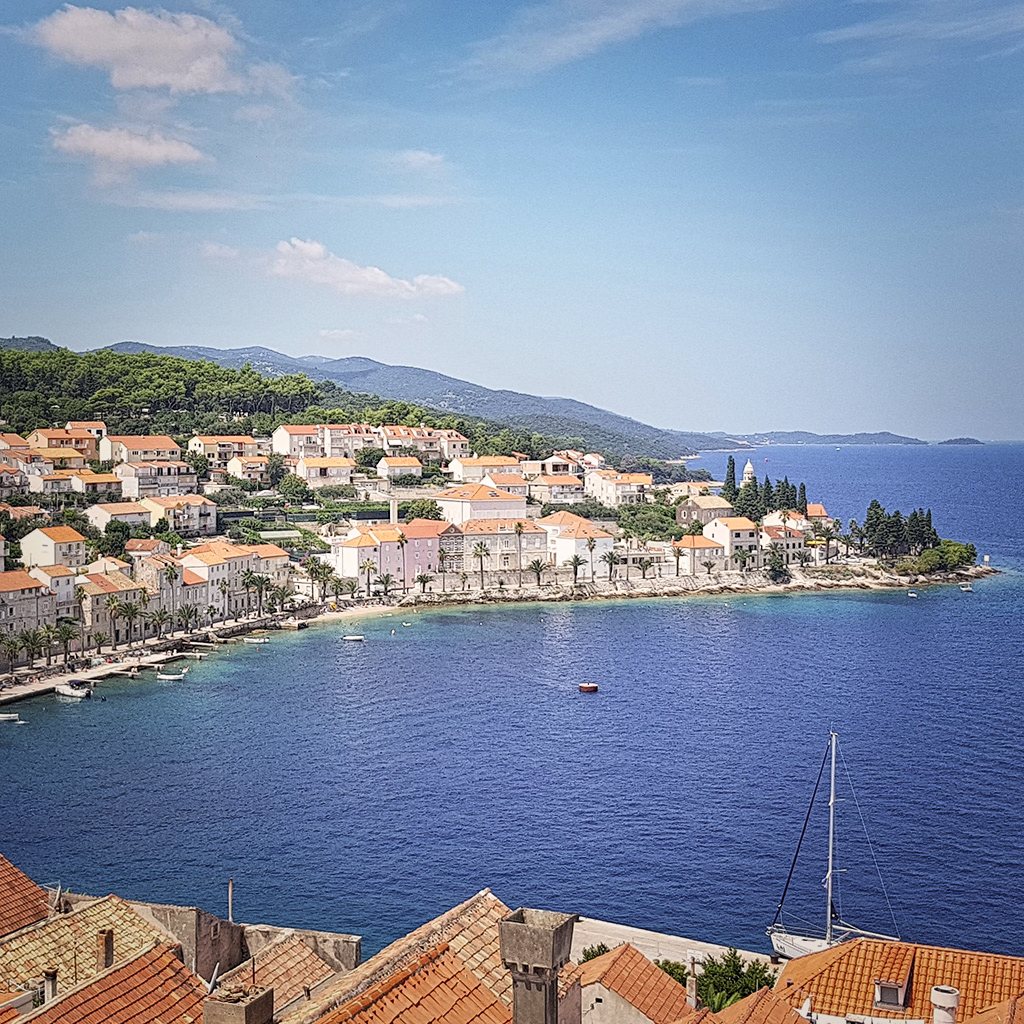 Korčula – City of Marco Polo
Although most historians aren't certain, most Croats will say that the world-famous trader and travel writer Marco Polo is from Korčula. The people from his hometown are very proud of Marco Polo, which we can see on every corner: every second restaurant, café, and shop bears his name. We decide to visit his supposed birthplace. Although the house is very pretty, it is currently being renovated and we only glimpse almost empty rooms. What a pity!
Refreshing Adriatic Sea
Slowly it grows hot in the city, so we decide to go to the beach. Spoiled by the beaches in Tučepi and the Makarska Riviera, we are a little disappointed that the beaches in Korčula are not as spacious as on the mainland. Nevertheless, there is enough space for us and the Adriatic offers us a welcome refreshment. I notice that you can rent kayaks on the beach and I decide to explore more of the beautiful surroundings with a buddy on the water. Between sailboats and yachts we discover beautiful bays, smaller islands, and I even manage a slight sunburn. That's right, I did not want to listen to my girlfriend, and now my neck, forehead and shoulders are pretty crispy!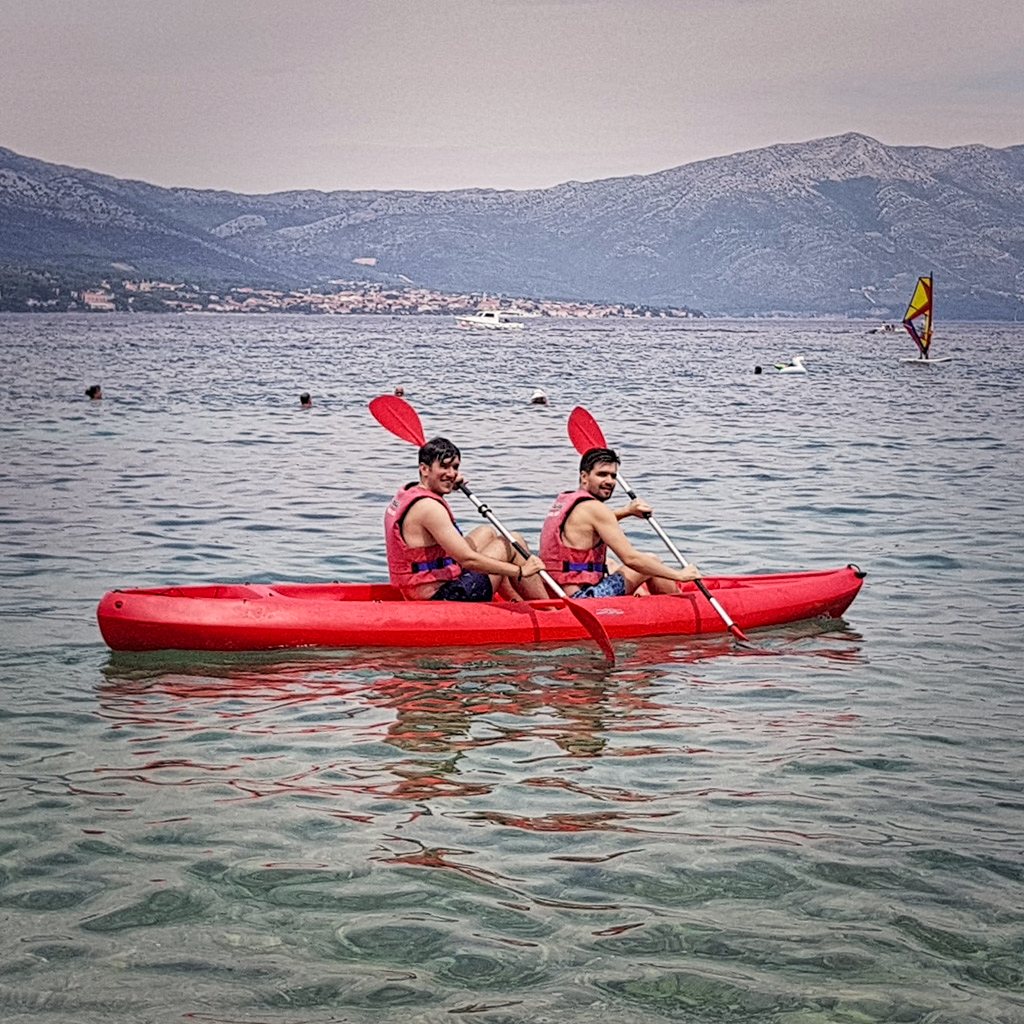 A Near Miss
After a few hours in and on the water, we head back to the city. On the way, I notice a sign over a door reading "Marko Polo Museum". We peek inside. Wow! We almost passed this building and missed the best part! At the museum, an employee gives us audio guides and headsets. While a pleasantly deep voice tells the story of Korčula's most famous man, we look at seven scenes from his life that have been reconstructed with wax figures.  The figures are very lovingly designed, and the museum is well worth a visit.
Time to Eat
In Korčula there are countless restaurants, many of which have the special flair and charm typical of the Dalmatian islands. One such restaurant is "Konoba Mareta," a small shop hidden in the middle of the city, in one of the many narrow streets. The menu offers interesting, modern and traditional dishes. There is something for everyone – vegan and vegetarian dishes are also on the menu. I order the grilled scampi with cocktail sauce and barbecued vegetables and it tastes excellent.
Departure and Return Home
Time flies by and before long we go to the harbour to await the catamaran. Before leaving the city, we decide to take a group photo in front of one of the most famous sights in Korčula – the entrance to the old town. We find a nice gentleman willing to snap the photo, thank him, and continue on. The ship arrives punctually and this time we quickly secure window seats to enjoy one last beautiful view of the island. Korčula seems to speed past us, as well as the Pelješac peninsula, the whole southern side of the Makarska Riviera together with my hometown Tučepi, and then we are back. I can now tell you with certainty that today's Korčula is even more beautiful than the city I visited more than 15 years ago. This adventure is well worth the time and one you should not miss out on!