Holidays in Mallorca needn't be limited to the beach or the club, as I found after I discovered the hiking trails in the Parc natural de Mondrago. To be honest, I'm not a particularly big fan of trekking, be it on an island or the mainland. However, friends and acquaintances have often told me that they like to make a special trip to Mallorca in the spring just to hike there, as long as it's not too hot out. For me, it was hard to imagine spending a whole holiday just walking, until I tried it myself. But I must confess, my hiking experience in Mallorca has taught me a valuable lesson.
Select activity in the BLUE App
Using the BLUE App, I searched for interesting activities near the TUI BLUE Rocador at Cala d'Or and became aware of the hike in Parc natural de Mondragó Nature Reserve. The photos looked gorgeous and so my friend and I decided to give it a try. The nature reserve is located in the south of the island and is easily accessible by car. After just eleven minutes by car, we had already arrived at the car park. Parking is about a ten-minute walk from the beach, where the various hiking trails begin. Parking costs €5.00 until 5:00 pm, after which you only pay €2.00. You should refrain from random street parking as much as possible, as it is frowned upon in Mallorca and it can incur hefty penalties.
Hiking in Mallorca
As soon as we arrived at the Parc natural de Mondragó, we already had an incredible view of the turquoise blue Mediterranean, in which white boats bobbed gently. During the whole hike we always had a good view of the water, which stretched in various shades of blue before us. If you take bathing suits, you can take a dip around here in many places, as there were at least two beautiful swimming beaches on our hiking route (Route 2) alone. The temperature was ideal for us since we had about 22 to 25 degrees Celsius (72 to 77 degrees Fahrenheit) in mid-May. Those who come later in the year will definitely want swimming suits, as it can get quite hot for hiking on Mallorca.
Five hiking trails in Parc natural de Mondragó
The hiking trails in Parc natural de Mondragó are designed for beginners, but you should still wear durable footwear. We decided to take Route 2, which is a circular hiking trail. This means that the trail starts and ends in the adjacent picnic area. Right from the get-go, we had an excellent view of Cala Mondrago and the opposite beach of s'Amarador. In between, birds twittered in the trees and boats floated on the sea. Route 2 usually takes 30 minutes, but we needed about three times as long as we took a lot of pictures, videos, and enjoyed a picnic.
The total of five trails can be hiked individually or linked together. All routes are well signposted, so you won't encounter any unpleasant surprises during your hike on Mallorca. I can say to all photo enthusiasts in advance: You'll get your money's worth! On this hike there were many beautiful viewpoints which were ideal for one shot or another.
Picnic in the countryside
A little tip: Take something delicious to eat and something cool to drink with you, because you'll surely get hungry after some time on the trail. For us, this point came when we reached the Cala d'en Borgit. Luckily, hardly anyone was there, so we could enjoy the peace and nature and relax a little. In the high season there can be more going on here, but this makes the hike no less recommendable.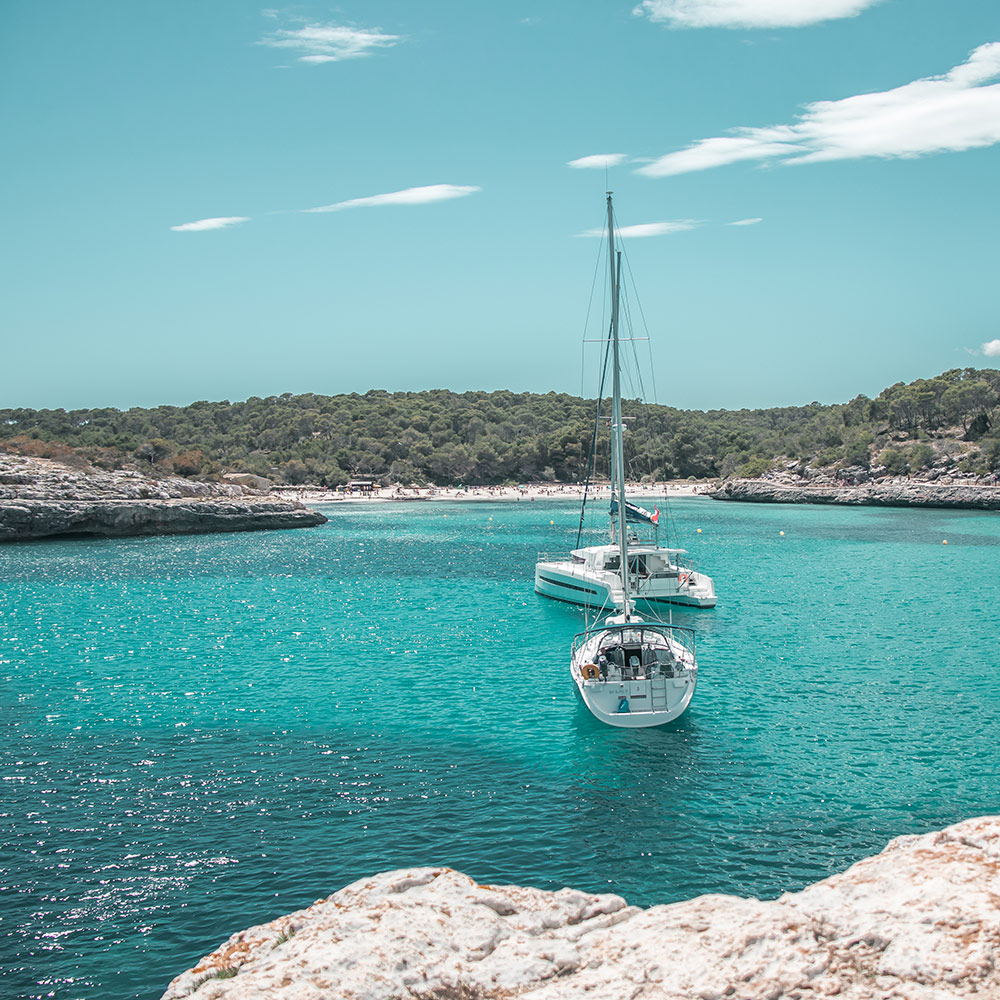 A dream for every photographer
This hike is particularly ideal for photographers, as there are beautiful photo ops on every corner. The turquoise water, the white yachts, and the blue sky make for wonderfully beautiful motifs. From the very beginning of our hike in Mallorca, we stopped every five minutes for a photo – after all, you don't see views like this every day.
The ideal travel time for hiking in Mallorca
Many recommend travelling to Mallorca in the winter for hiking. At a mild 15 degrees Celsius (60 degrees Fahrenheit), you can walk the routes in peace, and other tourists are hard to find at this time of year. But spring or autumn are also favourable hiking seasons in Mallorca.
In summer, the Cala Mondrago, chosen by the tourism industry as the most beautiful bay of Mallorca, is heavily visited, as are most of the bays in Mallorca. Basically, during the main season there's a lot going on on the pristine Balearic island, where remote and difficult hiking routes are spared from mass tourism.
My conclusion
If you like to spend your holidays actively, I can recommend hiking in Mallorca. The routes in Parc natural de Mondragó are particularly noteworthy, and easy enough that anyone can do it. The view is fantastic and the surrounding trees offer plenty of shade, which is especially pleasant in summer. If you take sturdy footwear and enough to drink and eat, you can spend a good half a day or a whole day here. And if you need a quick dip, you can just jump into the water quickly, which makes the whole hiking route incredibly inviting.
My conclusion when it comes to hiking in Mallorca: Although I still wouldn't want to go on a holiday in Mallorca exclusively for hiking, I'm sure at some point during my next visit I'll lace up my hiking boots again.