For a unique holiday experience, swim-up rooms and swim-up suites are the non-plus-ultra. Here is my list of the best hotels with modern rooms with direct access to the pool or even their own pool. They all have free wi-fi, excellent service, a modern bathroom, a spacious bedroom, great restaurants, a beachfront location and all amenities a holidaymaker could wish for.
What is a swim-up room?
A swim-up room has a swim-up pool, which is usually a semi-private pool that you can access directly from your own room. You slide right into the pool from your private terrace. Depending on the hotel facility, the pool can be a private pool or a pool available only to a few rooms, or it can also be accessible to all hotel guests from the other side. Normally it is a separate pool for some exclusive rooms and only these swim-up rooms can use the pool. If you are looking for a luxury hotel vacation, you should treat yourself to a villa with a private pool.
What is the difference between a swim-up pool and private pool?
Strictly speaking, a room with a private pool is also a swim-up room – as long as the pool starts right at the furnished terrace and you can swim in from the room, so to speak. The private pool may or may not be a swim-up pool if it is located somewhere on the property. All of the hotels I'm featuring here have swim-up pools just as you'd imagine that means a direct pool access from your private terrace.
Here come my handpicked top 8 hotels with swim-up rooms:
1. Spick and span: TUI BLUE Zante Maris on Zakynthos
Adults-only and right on the beach, here you not only have a choice of swim-up rooms, but even rooms with private pools. Renovated in 2019, the hotel TUI BLUE Zante Maris has been decorated with so much style that you'll immediately want to plop down on the casual seating just by looking at the photos. A great vacation with all-inclusive and great fitness options.
2. Instagrammable to perfection: TUI BLUE Meltemi on Santorini
Beautiful pools abound here: either for everyone, or just for the swim-up rooms, or even as a private pool on your own spacious terrace. Spectacular! The TUI BLUE Meltemi is adults-only, just steps from the beach, and has only 96 rooms. Especially for a babymoon, it's a dream to unwind and enjoy quality time with your honey. There's a sports program and a culinary selection that's well worth checking out.
3. Romantic getaway in white and azure: TUI BLUE Palazzo del Mare on Kos
If the swim-up room is not enough for you, you can take the suite with a spacious private pool at the TUI BLUE Palazzo del Mare. The adults' hotel on the Greek island of Kos has such a large hotel pool area, that you almost don't need the sea. But that would be a sacrilege, because the sandy beach is simply fantastic! The hotel has 5 stars and here you can really treat yourself: A pampering programme in the spa, great drinks and romantic dinners in the 2 restaurants and 3 bars.
4. Family favorite on Crete: the resort TUI BLUE Elounda Breeze
What do kids love most? Splashing around! At this popular resort, the hotel TUI BLUE Elounda Breeze, there are double and family rooms with swim-up pools or even a private pool. Swim whenever the kids feel like it, and parents can chill on the terrace (as much as you can chill with a watchful eye 😉 – a great choice for families. If you can tear yourself away from the swim-up pool at some point, there are more hotel pools with baby pool, kids pool with water park, a beach, kids club and many more in this all inclusive resort. Book this family-friendly hotel quickly and pack your bags!
5. Swim-up hotel room with lots of sun: TUI BLUE Palm Beach Palace on Djerba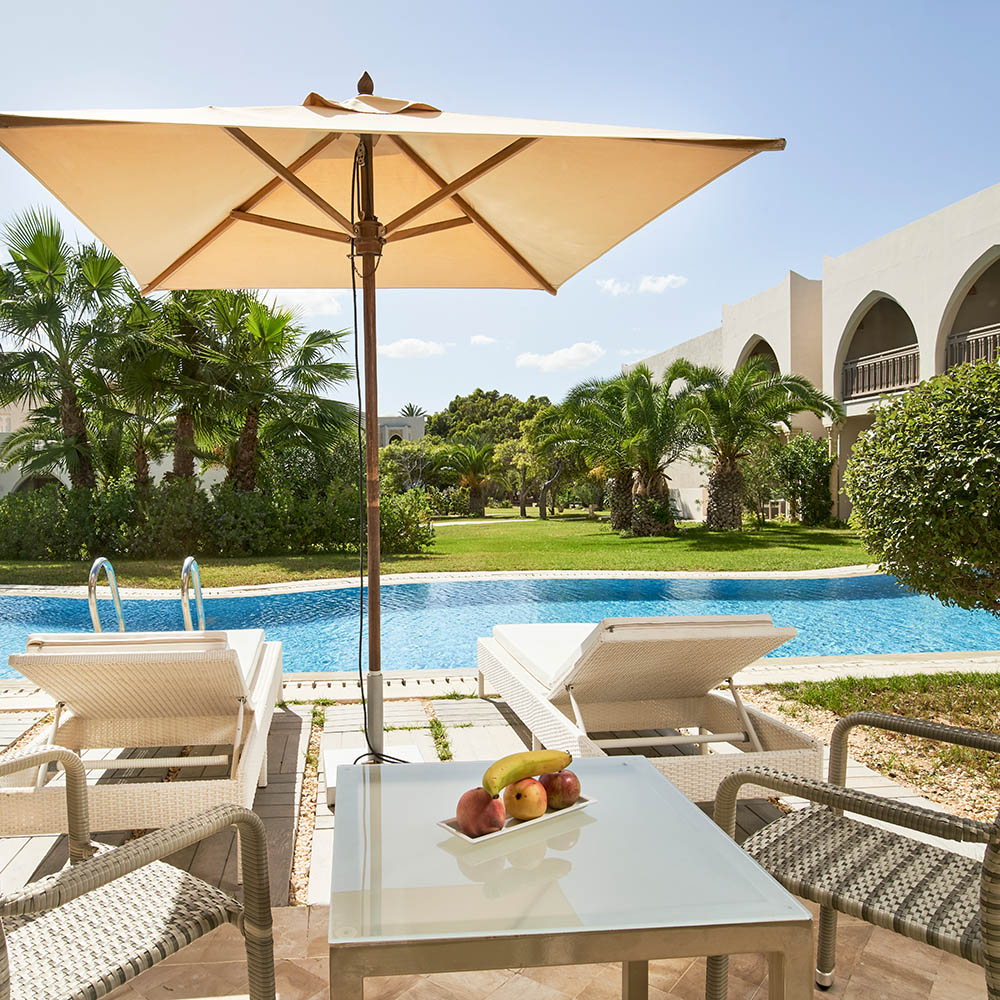 Tested by myself and found to be perfect: The swim-up rooms at TUI BLUE Palm Beach Palace on Djerba. Just right for an adults-only vacation when the weather is not so nice in Europe. In southern Tunisia, the sun shines almost all year round, so a swim-up room is doubly worthwhile. The beachfront hotel TUI BLUE Palm Beach Palace is a 5-star hotel with orientally decorated rooms for adults only, tropical gardens and with all-inclusive at its best.
6. Dreamlike Makarska Riviera: Swim-up suites at TUI BLUE Makarska in Croatia
How about your own pool access to an infinity swim-up pool? The swim-up room at the popular adults-only hotel TUI BLUE Makarska offers just that, including a view of the sea. In addition to fantastic views, the hotel also offers fantastic Dalmatian cuisine and a broad sports programme. The TUI BLUE Makarska is located on the Makarska Riviera directly by the sea, just a few steps from the centre of Makarska, where you'll find everything you could wish for on holiday, from water sports providers to ice cream parlours.
7. Swim-up luxury on the Turkish Aegean: The Residence at TUI BLUE Sensatori Barut Fethiye
Come on, you deserve a luxurious holiday… you deserve the Lake House Swim-up Suite with 59 m²! At The Residence at TUI BLUE Sensatori Barut Fethiye on the Turkish Aegean you can expect pure luxury. The adults-only hotel has 5 stars, a seemingly endless pool landscape and several room types with swim-up pools. All inclusive at its best, a kilometre-long sandy beach on your doorstep and a perfectly equipped spa make your holiday perfect. Hotel rooms with swim-up pool: Double room Superior Swim-up and Lake House Suite Swim-up. There are also rooms and suites with whirlpool.
8. Hotel with swim-up rooms in Mallorca: TUI BLUE Sensatori Biomar
Of course, our favourite island Mallorca cannot be missing from the list of the best hotels with swim-up rooms. At the TUI BLUE Sensatori Biomar in Sa Coma in East Mallorca, you can expect newly renovated rooms and suites with 5-star standard and private pool access. You won't have to be away from your swim-up pool for too long, as one of the 7 all-inclusive restaurants and bars is always nearby. The luxury hotel is suitable for families and couples alike, as there are separate areas for both groups of holidaymakers.
Beautiful pools are totally your thing?
Check out more great swim-up hotels here: