If you only come to Turkey to relax, there is one thing you shouldn't miss – a visit to the hamam, the Turkish steam bath!
The hamam or Turkish bath, which dates back to the Ottoman Empire, is still an integral part of Turkish culture and was one of the first public places where women were allowed to meet. While men bathed alone, women gathered in groups and made the ritual a special occasion, often holding parties, including the early forerunners of hen parties, in the baths. Most major cities nowadays have a hamam, and most hotels in Turkey offer this service.
For example, all three TUI BLUE hotels in Turkey have their own hamams, including, of course, the TUI BLUE Grand Azur. If you want to do something good for your skin and your tan in the race with the sun, then you should definitely try the BLUE Spa!
I've enjoyed my many visits to the hamam over the years; each time brings new opportunities to make memories, and my last experience is without a doubt one of the best I've had in a long time.
Dress code in the hamam
Although complete nudity is not allowed in the hamam – women should wear a bikini or underwear, and men should keep on underpants or swimming trunks – you should still be prepared to shed some layers! It also makes absolutely no sense to wear makeup, because everything gets washed away in the bath anyway.
Traditionally, men and women use the hamam at different times, but in many hotels it is now possible to book a private session so that couples can enjoy the experience together.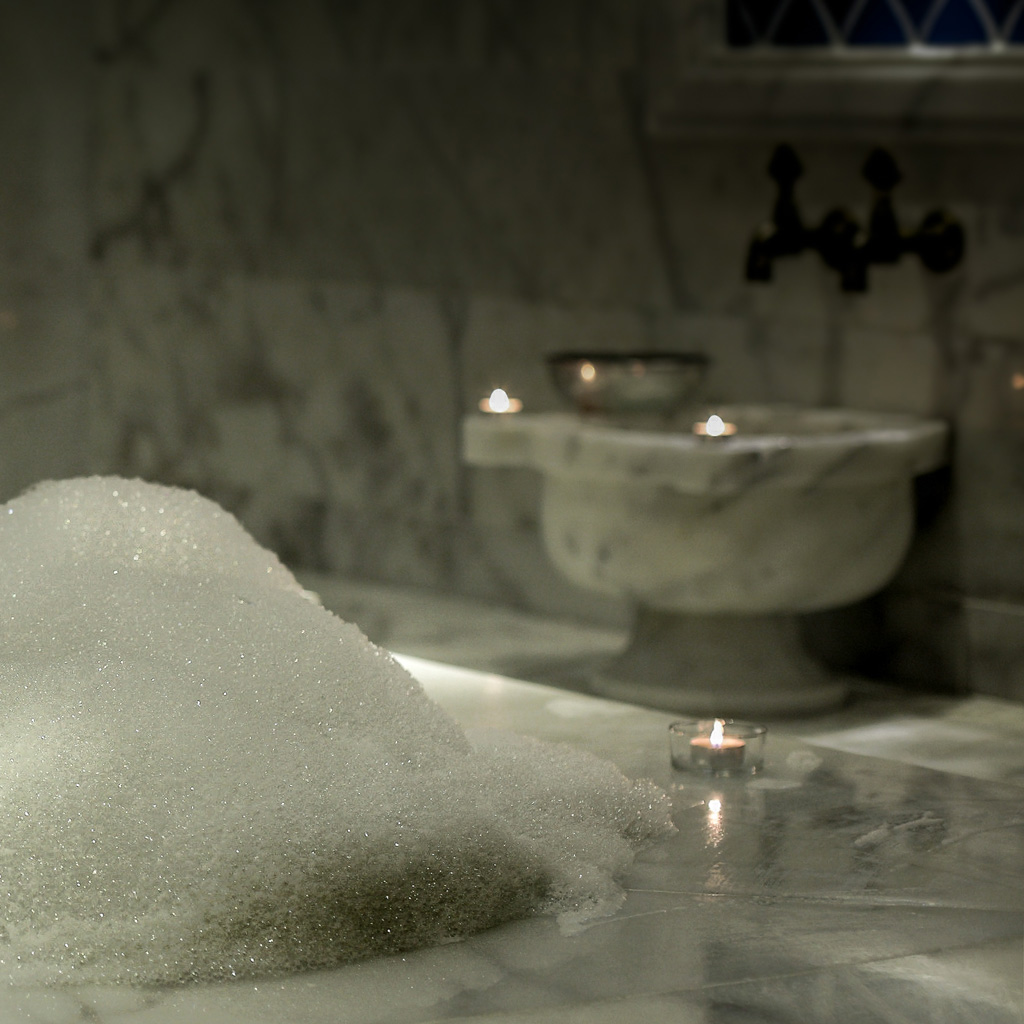 As soon as I arrived at the hamam, I was taken to my dressing room, where I stowed my clothes and valuables, and I received a cloth called a peştemal, which I tied about my waist. These thin and very absorbent cloths are made from hand-woven cotton and have become a fashionable alternative to towels the world over in recent years due to their small size.
Hamam ritual
As a group of women, we were led by our female attendant – the tellak – through the camekan – the main entrance hall – to the hamam. It was pleasantly warm and everything was lined with gray marble, which also felt pleasantly warm. In the middle of the massive göbek taşı – or navel stone – stood a huge marble slab heated from below, on which we would soon lie.
The tellaks left us alone for a few minutes to soften our skin in the moist, warm air. Around the perimeter of the dome-shaped room lay pools and basins wrought from massive slabs of marble, and warm water flowed constantly from their ancient-looking taps. Sensing a photo-op, I quickly found it quite difficult to take a picture, as my camera lens immediately fogged up. If you want to capture the experience, I recommend you bring a waterproof action camera. But really you should switch off here, in the truest sense of the word.
The tellaks returned and suggested that we should lie down on the navel stone. My companions and I reclined face-up, and through the haze the lights shone on the ceiling, as if they were tiny stars twinkling through the clouds. My body was then repeatedly doused with comfortingly warm water, which was drawn with handmade copper cups from the marble sinks.
Then the so-called "kese" begins. Kese refers to the rough glove with which the tellaks remove dead skin cells from the skin. The tellak scrubbed me rigorously from head to toe with her sandpapery glove. Slowly I began to see small brown rolls of dead skin fall off of me, and felt a little embarrassed. However, a quick glance around showed that it wasn't just me. We began to laugh in unison, the tellaks included, and the sound reverberated in the foggy room for a long time.
After a quick rinse with the wonderfully warm water, the stone was clean again for the next step.
Bubble bath in the hamam
Have you ever seen one of those comedy films where too much detergent is put into the washing machine and a short time later the whole room is full of foam? That's what happened in the next phase of my hamam experience. Our tellaks produced foam in a large, soap-filled copper bucket. Then, with a skilful hand grip, they filled something that looked like a pillowcase, and seconds later I was covered with foam from top to bottom, only my head protruding. The foaming bubbles smelled heavenly, like a mixture of olive oil and lemon, while I enjoyed a gentle massage. As I lay on my back watching the twinkling stars, time stood still.
What seemed like an eternity was over after only about 30 minutes. The massage ended gently and the tellak led me and my companions to the sinks where we washed off the soap. They helped me into a fluffy bathrobe, slipped slippers on my feet, and ushered me back to the camekan, where cosy loungers tempted me with more relaxation. I received a glass of refreshing orange juice and enjoyed the total relaxation of the hamam.
And just when I thought it could hardly get better, they offered me a one-hour massage in the private rooms next to the hamam. It was 60 minutes of pure joy and the perfect ending to a fantastic experience. I'm already looking forward to my next visit to the hamam! And when will you try it for yourself?