I've been living in Turkey for almost a year and what I can tell you for certain is that traditional Turkish cuisine has much more to offer than doners and kebabs. Anyone who visits this country will get to know incredible variety in dishes and flavours. Hospitality and socialising are also deeply rooted in daily Turkish life, so food and cooking play crucial roles.
To properly experience a culture – be it in Germany, Austria, Spain, Croatia, Portugal, Italy, or Turkey – I always have to taste, savour, smell, cook, and enjoy. And I always have fun with it. I'm constantly trying new dishes, and I also like to cook for friends in my free time. What I first noticed about TUI BLUE was the culinary concept, which completely convinced me. The healthy, varied, freshly prepared food is a heavenly delight for both my palate and soul. If I ever want to expand my creative gourmet repertoire, I can just attend one of the great culinary events – cooking with the hotel manager – and learn something new from the star cooks themselves.
Holiday Paradise for Gourmets
If I were on vacation at the TUI BLUE Sarigerme Park, I would first try all the delicacies the kitchen had to offer. I actually did this every day for the first few months of my new lifestyle in Turkey until a few kilos graciously decided to take up residence on my body. Trust me, it's very difficult to ignore the parade of colours and flavours in the restaurant area sometimes.
Since I scroll through the BLUE App every day, there's always some activity catching my eye and tempting me. So I decided one day to stay loyal to my passion, food, and visit the cooking class, where the hotel manager becomes a culinary guide and fellow cook. I've known Yavuz since my arrival in Sarigerme – a talkative, easygoing, and friendly gourmet who loves his country above all else.
With the cooking class, I promised myself that I would take home a part of Turkey, along with culinary knowledge and whole lot of fun. I had also read that I could take home the recipes afterward, so I could concentrate on cooking and not worry about taking notes.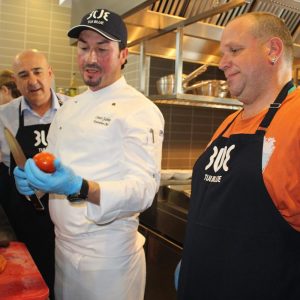 Cooking with the hotel manager
The morning started with a small group of eight guests in the à la carte restaurant, Levante. Yavuz introduced himself and welcomed us. In addition to Yavuz, I discovered the plethora of ingredients that were available in the kitchen of Head Cook Onur. The BLUE Guides Evsan and Gönül distributed the TUI BLUE aprons so that each participant looked like a proper cook. We were already eager to start. Yavuz, supported by Onur, told us about the two dishes we were going to prepare: kısır and çoban kavurma. Just hearing these exotic names was enough to get me hungry and excited about the upcoming delicacies. I glanced at the others and could see in their eyes that they felt the same.
What not to miss
Kısır, or millet salad, is a cold vegetarian appetiser – in Turkey, these so-called mezes serve to whet the appetite for drinks and main courses. Çoban kavurma is a fry-up of beef or lamb meat and vegetables; it's spicy and insanely tasty.
After the introduction, Yavuz invited me and all the other freshly inaugurated cooks into the fully equipped kitchen. All the ingredients we needed for the two recipes were stored in large and small bowls. Here, I found all the essential ingredients for Turkish cuisine: the exotic combination of spices, dill, mint, saffron, cinnamon, thyme, coriander, cumin, garlic, parsley, tomato paste, eggplant, sheep cheese, pine nuts, fresh vegetables, olive oil, pomegranate, and yoghurt.
Hotel Manager as a Teacher
I was inspired by all the exotic components and I listened attentively to our teachers. The group was divided in two: one prepared the appetiser and the other made the main dish. Everyone was encouraged to get involved and learn something new. Since I prefer meat dishes, I chose the kavurma group. Here, Hotel Manager Yavuz was in control. The Kısır group was headed by Fahri Usta, our sous chef. Onur Usta (usta = "master") was jumping back and forth between the groups like a magician, impressing me with his refined cooking techniques. He cut an onion in two seconds while explaining the right cutting technique and how important fresh ingredients are at the same time. I watched his hands and wondered how he didn't cut off his fingers at that speed. That's why he's the head chef and I'm not, I thought. Another important note: the ingredients were usually cut by hand so they didn't lose their flavour.
Yavuz took his temporary role switch seriously and told us – as our culinary guide – the essential cooking steps and secrets for both dishes. Everyone helped, cut, stirred pots, added ingredients, laughed, asked questions, paid attention, and had fun. There was an atmosphere of familiarity in the kitchen – friends preparing lunch together, perfectly relaxed.
Yavuz made sure that everyone took a little bit of Turkey home with them. For the cooking class, dishes are chosen that are easy to cook, with ingredients that can be found anywhere in the world. I've cooked çoban kavurma several times since, and I can say it was an absolute hit every time.
Cooking and Enjoying Turkish Food with Guests
According to tradition and Turkish food culture, the cooking class ended with a meal at a common table. The cooks assessed the freshly prepared dishes in a cheerful atmosphere in the Levante restaurant. Mmmmm, and everything tasted delicious.
If you have the opportunity, jump at it and cook with the hotel manager. Here were my highlights from the cooking class:
Yavuz was an excellent host
It was about much more than just cooking. The two hours of cooking were a culinary journey with a balanced mixture of knowledge, historical background, and hands-on activity.
The cooking class was like a cosy day at home with friends, where everyone cooked and helped out together.
The recipes were a takeaway, the cooking was easy, and it also left room for creativity.
And with that, afiyet olsun!
A Little Info about the Cooking Class
The cooking class is geared toward both beginning and advanced cooks.
Location: The à la carte restaurant Levante at the hotel TUI BLUE Sarigerme Park
Further information: The cooking class takes place once a week. Course participation is limited to 8 people. so it's recommended that you register in advance. You can find the current dates on the BLUE App – your on-the-go holiday planner.
Price: €8 per person