There is so much more to life than just lazing around at a resort or on a beach. Don't get me wrong… I've had my fair share of being the resident beach bum, but there is something about being in unfamiliar surroundings, offering different stories and culture, that compels me to explore beyond the hotel walls.
Zanzibar is one of those places for me. And though I've been living here for three years, this tiny island is frequently underestimated, as it has so much depth and so much more to explore.
I have put together a list of my personal Top 8 things to do in Zanzibar, that will hopefully entice you to make Zanzibar your next escape…buckle up and here we go!
1. Stone Town
As a UNESCO World Heritage Centre, Stone Town is undoubtedly one of the most interesting places I've visited, where you can get a true understanding of the island's history, culture and people.
If possible, book the trip with a guide, as they know all the hidden gems of this treasure chest of a city, and would draw your attention to tiny details that you would not necessarily notice on your own, as well as save you from going off the beaten track and getting lost in maze-like alleyways and narrow streets of Stone Town. The number one thing to do in Zanzibar!
Freddie Mercury Museum
The House of Wonders is also known under its arabic name Beit-al-Ajaib. It was the largest house in East Africa when completed in 1883, and it had the first lift and was the first building on Zanzibar with electricity. Hence, it became known as the House of Wonders. It's one of the top things to see in Stone Town, even though the crumbling building is currently in disrepair. The exhibits include clothing, fishing implements, and a traditional Swahili dhow vessel.
House of Wonders
Located next to The House of Wonders and known as one of the oldest buildings in Stone Town. The Old Fort is a grand piece of Zanzibar's history dating back to the 17th century. Originally built by the Portuguese and later rebuilt by the Omani Arabs who conquered Zanzibar in the 18th century, this fort was used as a prison and thereafter as a terminal for the Zanzibar railways.
The Old Fort of Stone Town
Located next to The House of Wonders and known as one of the oldest buildings in Stone Town. The Old Fort is a grand piece of Zanzibar's history dating back to the 17th century. Originally built by the Portuguese and later rebuilt by the Omani Arabs who conquered Zanzibar in the 18th century, this fort was used as a prison and thereafter as a terminal for the Zanzibar railways.
Jaws Corner
Another firm favorite in Stone Town is Jaws Corner. If you're not familiar with the area, it may take you a while to locate it. Like a small plaza with a great big shark painting on the wall, stop by and taste some Arabic-styled coffee, typically served black, bitter and with some natural ginger and watch daily life in Stone Town.
Forodhani Market in Stone Town
In the center square of Stone Town, from the late afternoon, the city comes alive with local music playing in the background, crowds of people and an abundance of stalls, selling a selection of mouth-watering foods, like grilled fish, prawns, lobster, calamari and skewers. If you want to do like the locals do and try street food at its best, the Forodhani Gardens are the place for you! It's also one of the most authentic experiences in Stone Town making it a top thing to do in Zanzibar.
The trick… the stalls with the longest queues are usually the ones where the food is good. My personal favorites are: Pilau, a rice dish that can be made with or without meat; Urojo soup, which is the traditional sweet and sour soup topped with potatoes, boiled eggs, meat, fried onions and chili; Zanzibar Pizza, which ultimately looks like a folded pancake with meat or vegetarian filling, which is then cooked in a pan. The great thing is that for those with an aching sweet tooth like me, Zanzibar Pizza can also be made as a dessert, with Nutella or mango… Yum!
Slave market in Stone Town
Although found in Stone Town, the Slave Market needs its own recognition. You will often hear of Zanzibar being described as a melting pot of different cultures, namely of African, Arabic, Indian and European blends. As one of the reasons for this, you will need to go back to the island's darkest days of being a slave trading hub. Hundreds of thousands of Tanzanians were trafficked from the mainland and sold in Zanzibar.
You can visit the former Slave Market and go into the actual chambers, where the unfortunate souls were kept until being sold and transported to the East and West. A heart-wrenching Monument stands in the center of the market, where you can see the actual chains used on the slaves back then. The house of David Livingstone – one of the front men who aided in the abolition of the slave trade – can also be visited here. A must when visiting Stone Town to understand the past of Zanzibar.
2. Safari Blue
Let's take things to the beach! Safari Blue is a full day trip and simply a must. The experience is well worth the price. The day starts off early, with a drive to the small village of Fumba on the south coast, where you will sail out on a traditional wooden boat, in search of dolphins. Thereafter, discover the magical underwater world of the Indian Ocean, by snorkeling in the warm blue waters amongst the reefs and fish.
All that adventuring will soon have your tummy growling, but no worries… a seafood lunch including fresh lobster, fish, calamari, chicken and vegetarian options will be served on a sandbank, where you can also explore the mangroves, see and climb the ancient baobab tree and relax on the beach before sailing back to Zanzibar. Don't miss out on the Safari Blue as it's one of the top activities in Zanzibar!
3. Spice Tour
Zanzibar has many names, but the most common is The Spice Island, due to being one of the world's leading producers and exporters of high-quality spices. Visiting a spice farm will give you first-hand insight on how spices like vanilla, turmeric, cumin, eucalyptus, black pepper, cinnamon and much more, are cultivated.
You'll have the opportunity to learn about which plants and spices have medicinal, cosmetic and food flavoring properties. You will also get to smell and taste different plants, perhaps igniting your inner Master Chef, as it did for me. A trip to a spice farm is a top thing to do in Zanzibar and a memorable experience.
4. Nungwi Beach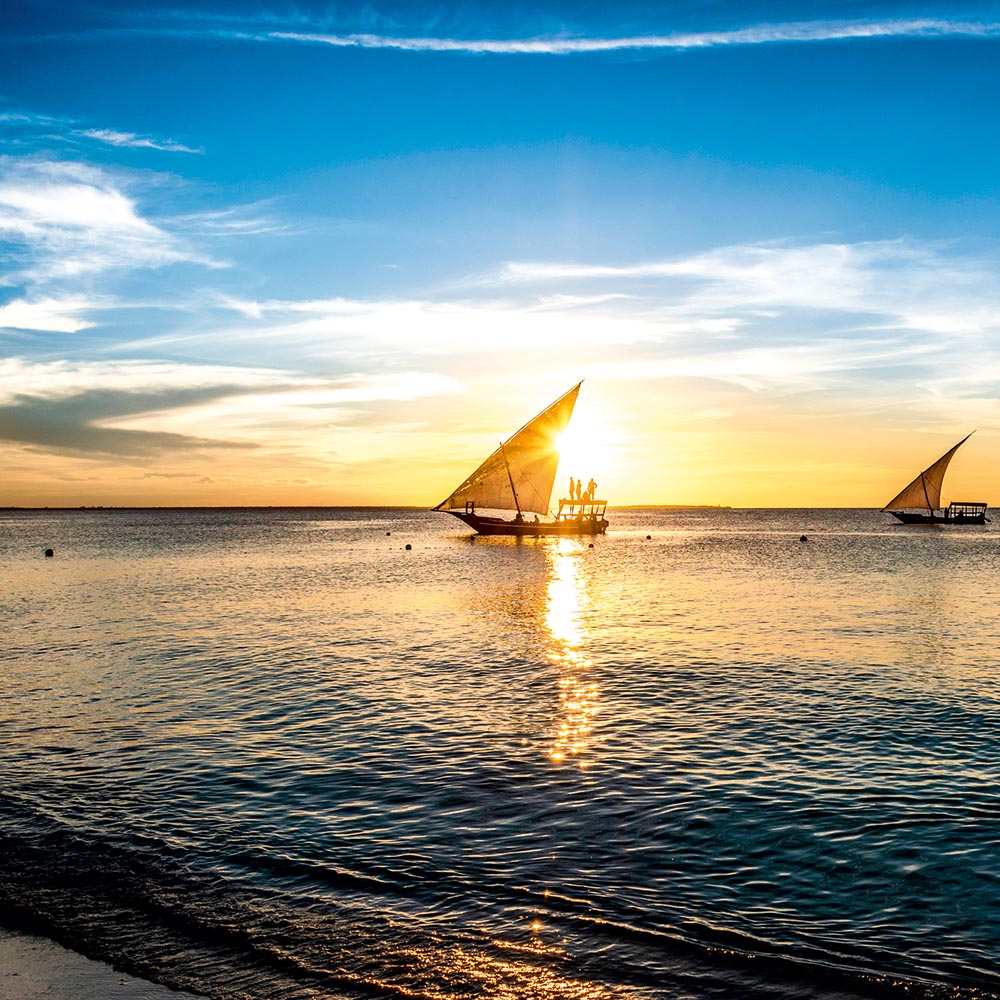 Nungwi needs no introduction. So, I'm going to keep this one short and sweet!
Are you into water sports? Nungwi. Horse riding on the beach? Nungwi. Skydiving? Nungwi. Do you enjoy rooftop bars? Nungwi. Love lying on the beach, watching sunsets? Nungwi. Nungwi. Nungwi! Need I say more?
Adding that there's also a fish market at Nungwi beach, it's definitely one of the best things to do in Zanzibar. But Nungwi is not the only beautiful beach in Zanzibar. Check out Jambiani beach, Mnemba Island, Matemwe beach, Kendwa beach (full moon party at Kendwa rocks) and other best beaches in Zanzibar for the perfect beach time.
5. Jozani Forest
The Jozani Forest is not far away from the hotel resort I work at, the TUI BLUE Bahari Zanzibar. Half of the population of the rare Zanzibar Red Colobus Monkeys live in the Jozani Forest. It's the biggest forest park of Zanzibar. Take a guided tour to learn more about rare medicinal plants and other animals. Walk on a nature trail and a boardwalk in mangrove forest. Visiting the Jozani National Park is one of the top things to do in Zanzibar.
6. Changuu Island aka Prison Island
A great place in East Africa for swimming with turtles in turquoise waters is Changuu Island. It's also known under the name Prison Island and it's a bucket list activity of every visitor to Zanzibar. Find out more about it on a visit to the Slave Trade Museum. The boat ride from Stone Town to Prison Island takes about 25 minutes. You can experience Prison Island on a trip that also includes Nakupenda beach. If you're into sailing on traditional dhows, marine life and visiting islands, don't miss out on a trip to Kwale Island, Mnemba Island and the Mnemba Atoll.
7. Swimming with turtles at the Baraka Aquarium
After three months of living and working in Zanzibar, my family – who were visiting at the time – and I visited Baraka Aquarium in the north of Zanzibar. One word… Wow! A must-thing to do when in Zanzibar! Whilst watching these gentle giants in the water, you learn that the turtles being kept in this sanctuary were initially caught by fisherman.
The people of Baraka Aquarium buy the turtles and use the natural lagoon to rehabilitate them, in preparation of releasing them back into the ocean. During your time here, you are given the opportunity to feed the turtles and spend time with them in the water. Quick tip: Don't wear green swimwear, as they may mistake it for seaweed and try to make a meal out of you…joking about the meal part! 😉
8. The Rock Restaurant
Talking about food: The most famous restaurant in Zanzibar is the Rock restaurant. More than for the seafood, the Rock is known for its setting on a – guess what – rock. It's located on the East coast and the dining experience is quite different from the one at Forodhani Gardens. And so are the prices 😉 It's about an hour drive from Stone Town.
Conclusion
To that end, those are my current Top 8 things to do in Zanzibar. I hope I've perked your interest with at least one of them, and have you searching for your next flight out to the Spice Island.
Karibu! (You're welcome!)
Looking for a great beach resort for your Zanzibar trip?
Where is Zanzibar?
The island of Zanzibar is located east of Tanzania in the Indian Ocean. Only 40 kilometres separate the island from the mainland. The island can be reached either by plane from Europe, Africa and other destinations or by ferry from Dar es Salaam.
When is the best time to visit Zanzibar?
It is always hot in Zanzibar. Expect temperatures around 30 degrees. The water is also pleasantly warm at 25 to 28 degrees at any time of year.
Most importantly, there are dry and rainy seasons.
The driest months are January and February and June to October.
The small rainy season takes place in November and December. The big rainy season from March to May.