Powder-white sand, towering palm trees, warm ocean waters lapping in and a state of complete and absolute carefreeness. This organic backdrop is the island of Zanzibar and it's the perfect African escape for any aspiring beach bum.
Contrary to popular belief, Zanzibar is actually made up of many small islands and two larger ones, called Unguja and Pemba. Unguja is what we refer to as the Zanzibar Island with its UNESCO heritage site of Stone Town. With a variety of beachfront spots, a different "Zanzibar" emerges for everyone, that will leave you inspired at sunrise and wanting more by sunset. With that said, let's go on a journey of soaking up the raw beauty of this tropical paradise, and list our top five Zanzibar beaches, in no particular order.
1) Nungwi Beach – northernmost beach of Zanzibar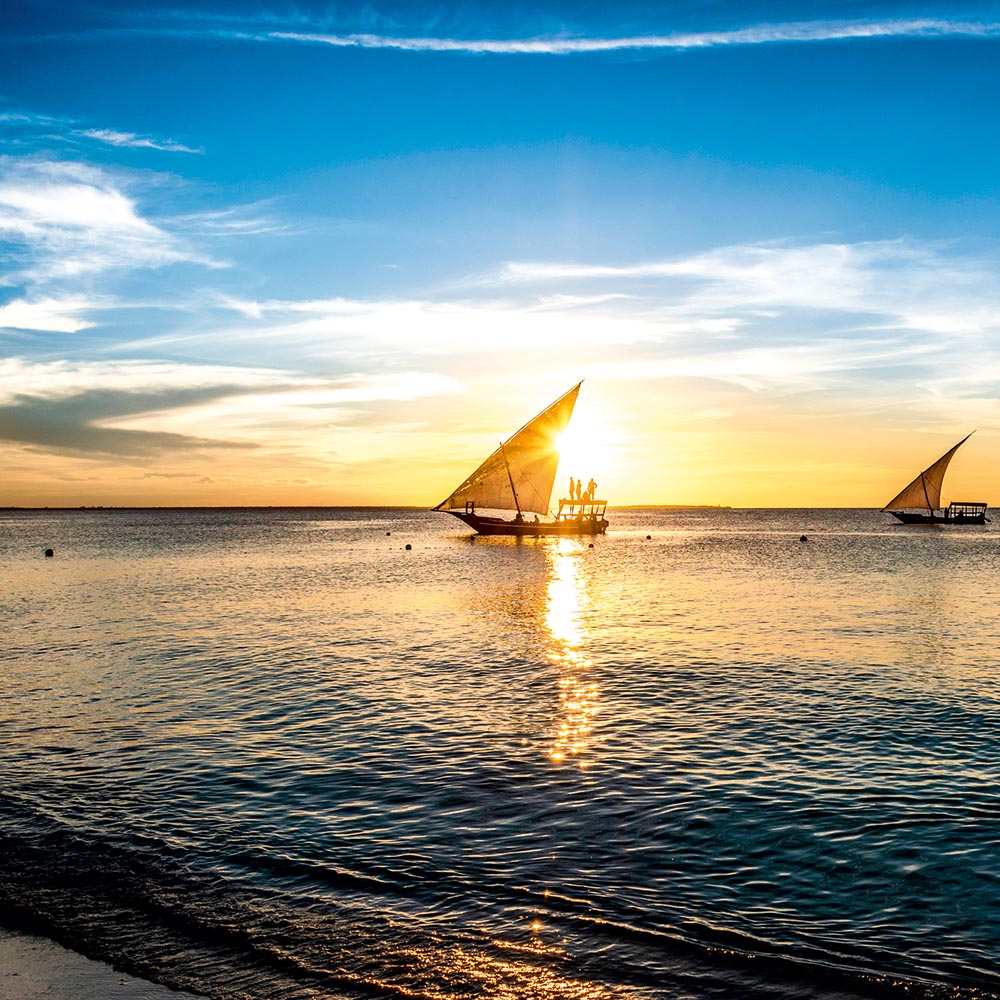 A firm favorite amongst those near and far is Nungwi Beach. Here, the beach is not affected by the tides and brings an unprecedented energy to the East African shoreline. Located on the northern most tip of the island, this social hub has no shortage of resorts, hostels, restaurants or watersports centers, and is home to the best sunset views. Once the moon appears, the night comes alive with regular beach BBQs, rooftop bars, beach parties and live music. If the social scene is not for you and you prefer adventures that are more laidback, don't cross Nungwi beach off your list just yet. This beach caters to all travelers. Enjoy mellow sunset cruises on the traditional dhow boats, water sports like kayaking during sunset, deep-sea fishing, horseback tours, snorkeling or viewing the beach from above by going parasailing are some of the options you have.
2) Paje Beach – Tanzania's best kitesurfing beach
If kitesurfing is your thing, then look no further than Paje Beach! The lagoon is situated on the South-East coast of the island and due to the reef acting as a barrier against the waves and the area generally being windy all year round, is why this is a kitesurfer's haven and regarded as Tanzania's best kitesurfing beach – let alone Zanzibar! Apart from that and because of its clear waters, Paje is also a great beach for underwater exploring and catching a wave or two, whilst surfing.
3) Jambiani beach – favourite among locals
Another gem is Jambiani, which seems to stretch for miles, offers powder-white sand and a glimpse into the authentic side of Zanzibar life. Here you won't find any discos, bars, swimming pools and besides for the rare guesthouse, there isn't even electricity. What you may think Jambiani lacks in, it certainly makes up for it with being home to friendly locals, flavorful food and the area being less touristy, making it somewhat of a hidden gem.
Quaint fishing villages can be found all round, which are not for commercial gain, but to rather support the local community. Seaweed washes up on the shores, during low tide. This is harvested by the locals and dried, sold and exported to Japan where it is used for medicinal, nutritional and cosmetic purposes. The beach is the perfect hideaway for relaxing, with the turquoise waters being inviting, where you can swim amongst tropical fish, octopus and sea horses.
4) Kiwengwa Beach – fascinating even at low tide
Kiwengwa Beach prizes visitors with the best of both worlds. Located on the North-East coast, the tides have a major influence on this beach, which is fascinating to witness. During low tide, the beach pulls back and paves the way for long walks to the reef, where you can find colorful starfish, sea urchins, nemos and sea cucumbers along the way.
During high tide, enjoy a dip in the warm blue waters and become absorbed in the laidback nature of the area. Kiwengwa is often referred to as "Little Italy" because of its small Italian restaurants and resorts along the shore.
One of the most beautiful beaches in Zanzibar and a must on your trip to the island. I recommend the luxurious resort TUI BLUE Bahari Zanzibar.
5) Matemwe Beach – gate to Mnemba Island
Picture yourself on a beach, with a book in the one hand, an ice-cold cocktail in the other, shaded by the towering palm tree overhead. The beach that you're probably picturing is Matemwe. A perfect piece of paradise where you can just simply relax amongst its rustic charm.
Locals can be found harvesting seaweed in the shallows, whilst you enjoy some authentic Swahili cuisine from one of the beach-front shacks. A short boat ride away is Mnemba Island, regarded as a bucket list destination for some amazing snorkeling trips in the coral reefs, as well as sandbank BBQs in the middle of the Indian Ocean.
Other popular beaches in Zanzibar are Kendwa Beach, Pongwe Beach, Bwejuu Beach and Kizimkazi Beach.
What is the best beach in Zanzibar?
That's up to you depending on what activity you are looking for on the beautiful beaches. So rest assured that your kind of "Zanzibar" can easily be found on the shorelines of this adult-sized sand castle, that will leave you exhilarated. After all, it is in the name, SAND-SEA-BAR! The only question left to ask is, when are you planning your trip to this piece of paradise?
Longing for a holiday in paradise?