The easternmost of the seven Canary Islands is known for its unique volcanic landscapes, which have often been used as doubles for distant planets in films. However, these are by no means the only thing to do in Lanzarote that you should discover on holiday. Hire a car and take at least two to three days to explore the island's many unusual attractions on day trips from your accommodation.
What is Lanzarote best known for?
Lanzarote is known for its outerworldly lava sceneries, natural rock pools, palm groves and cacti, fabulous beaches, as a great place for surfing and diving and home to cute island towns.
How many days is enough for Lanzarote?
One week gives you enough time to visit the most interesting things to do in Lanzarote but also enjoy enough beach time. If you plan to visit all the attractions mentioned in this guide plus a relaxing time just doing nothing, consider to stay 10 to 14 days in Lanzarote.
Timanfaya National Park
The fascinating lunar landscape of the national park is one of the most important things to do in Lanzarote. It was created between 1730 and 1736 when the volcano Timanfaya erupted several times and covered almost 20 percent of the land area. You can still see the lava tunnels and lava tubes between the volcanic rocks. That the volcano is still active today, you can see impressively in the restaurant El Diablo in the park, where meat is grilled with its natural heat.
Important to know: You can't just drive through the national park. Visitors are directed with their rental cars to a large car park near the restaurant and visitor centre. Here they change to shuttle buses for a commented tour. So come as early as possible in the morning, when the park is just opening, because especially in high season and at other busy times like the Easter holidays and the autumn holidays, the crowds can be enormous. Then you have to wait a long time for free seats on a shuttle bus.
Visit the César Manrique Foundation
The island of Lanzarote owes world-class sights and much more to the artist César Manrique. For example, Manrique, who was born in 1919 in the capital Arrecife, campaigned as an environmentalist to ensure that the island retained its original Canarian character at the beginning of mass tourism. The construction of huge hotel complexes was prevented, as was the paving of the country roads with obtrusive billboards. In 1993, UNESCO honored his efforts by designating the entire island a biosphere reserve.
Jameos del Agua caves
How many of the Manrique-created sites in Lanzarote you choose to visit depends on your time and personal interest. The most important place is the Jameos del Agua cultural center in the north of the island. The word Jameos comes from the language of the Canarian natives and means hollow space. What is meant here is a cave system in the area of the Corona volcano. Manrique set up a concert hall in one of the caves and uncovered a beautiful underground lake where tiny albino crabs live.
The gardens are so tastefully designed that you won't want to leave. But that would be a shame, because just a few kilometers away there is another entrance to this cave system, the Cueva de los Verdes. You can visit this cave during a 40-minute guided tour. Be sure to wear sturdy shoes!
In addition to this double highlight, César Manrique has scattered sights all over Lanzarote that are worth a look:
The restaurant at the Mirador del Rio viewpoint, which could have come straight out of a Bond film;
The Jardin de Cactus cactus garden with over 1,100 different varieties of cacti;
The Museum of Contemporary Art in the Castillo de San José;
The Museo del Campesino in an old farmhouse;
The LagOmar estate in Nazareth, which the film star Omar Sharif bought and, according to legend, gambled away on the same day;
The Monumento del Campesino at the geographical centre of Lanzarote
The Fundacíon César Manrique provides information about the life and work of the great architect and artist in his former residence in Tahiche.
Things to do in Lanzarote: swim in natural swimming pools
Outdoor sea swimming pools can be seen along the coast of Lanzarote, mostly located in caves and rock formations. These pools are usually smaller than indoor pools but offer much better views. They are generally free to enter, although there are some places where you pay to use the facilities. Some pools are open 24 hours a day while others close during the winter months.
For those looking for something quieter, there are also outdoor pools in the interior, such as in Los Charcones and Punta Mujeres. There are many more options, including artificial pools, water slides, and even hot tubs.
Haría town and the valley of 1000 palms
The centre of the town Haría is small and cosy. The reason you come here is the Valley of the 1000 palms, where the typical Canarian town Haría is located. Traditionally the islanders palnt a palm tree every time a child is born.
The position of Haría on a holltop alone makes it worth a day trip and is a thing not to be missed during your holiday in Lanzarote. The white-washed town with a laid-back atmosphere let's you taste the real spirit of this Canarian island. It's also home to the Cesar Marrique house.
Lanzarote's Jardin de Cactus
The Cactus Garden (Spanish: Jardín de Cactus), located in Puerto del Carmen, Lanzarote, Spain, is a beautiful botanical garden full of cacti. Designed by renowned architect César Manrique in 1998, it covers about 2 hectares of land. It is one of the most visited places in Lanzarote thanks to its unique features such as the view over the sea and the fact that you can see the whole garden from the entrance.
Museo Atlántico
One of Lanzarote's most unusual sights and insider tips is the Museo Atlántico, because it is completely underwater. The artist Jason deCaires Taylor created an artificial reef with several groups of sculptures at a depth of 12 metres off Playa Blanca. The only catch: the museum can only be visited by divers. Some diving schools offer a special one-day crash course that ends with a trip to the museum.
Famara surfer's beach and town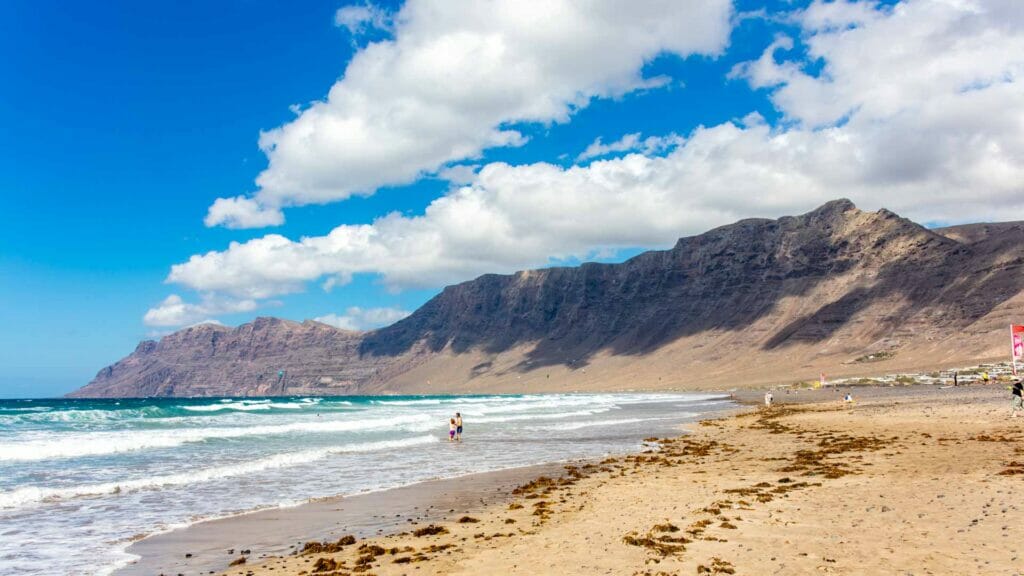 Famara Beach is one of the best spots in the Canary Islands for surfing. In fact, it is considered to be the "Surfing capital of Spain". If you are looking for some waves to practice your skills, look no further. Famara Beach offers a wide variety of breaks and conditions. Surfers can choose from lefts, rights, hollows, reefbreaks, barrel rides, etc.
If you decide to go for a swim, don't forget to take a towel, because there are plenty of public showers along the shoreline. There are also several bars, cafes and restaurants where you can stop for lunch or dinner.
There are also many activities to do while you're in Famara Beach. For example, you can go snorkeling, diving, windsurfing, kitesurf, kayaking, horse riding, hiking, cycling, golfing, tennis, fishing, swimming…
Things to do in Arrecife – Lanzarote's capital
The island's capital Arrecife may not have any impressive buildings, but it enchants with its picturesque beauty. At its heart is the Charco de San Ginés lagoon, where countless fishing boats in front of whitewashed Canarian town houses make great photo opportunities. Here you can have a great meal or at least a drink after a tour. The island museum is hidden in the defiant harbour fortress Castillo de San Gabriel.
Things to taste in Lanzarote: the island's wine
The fertile volcanic soil on Lanzarote has given rise to one of the largest wine-growing areas in the Canary Islands. It is called La Geria and stretches along both sides of the LZ-30 between Uga and Masdache. Numerous wineries (Bodegas) invite you to taste their wines, for example the 18th century Bodega El Grifo with its own museum or the Bodega Rubicón, whose wines regularly win prizes.
Things to do in Lanzarote: Puerto del Carmen
Puerto del Carmen is a small fishing village on the north coast of Lanzarote. It's a popular destination for tourists and locals alike, with its beautiful beaches, restaurants and bars. The town has become one of the most important tourist destinations in the Canary Islands thanks to its proximity to the airport and the fact that it's easily accessible by car or bus.
Puerto del Carmen is famous for its nightlife, which includes live music venues, discos and pubs. You will find everything here, including traditional taverns serving local dishes such as paella and seafood. You can enjoy all this entertainment without having to spend too much money. Most of the places in Puerto del Carmen are very affordable. A typical restaurant menu costs around €10 per person.
You can rent bicycles and scooters in Puerto del Carmen, so you can explore the surrounding area at your leisure.
Another reason why a visit to Puerto del Carmen is a thing to do in Lanzarote is for its stunning beaches. The main ones are Playa Blanca, Playa Chiquita and Playa Grande. These three beaches are separated by rocky outcrops and cliffs. They are perfect for sunbathing.
Things to do in Lanzarote: Playa Blanca
Playa Blanca is a small beach on the south coast of Lanzarote, just off the main road between Puerto del Carmen and San Juan. It's a great place for families with children as there are plenty of activities available including water sports, snorkelling, swimming pools and even mini golf!
The beach itself has a lovely sandy bottom which makes it perfect for sunbathing and relaxing. If you want to eat out, try the Restaurante Los Delfines, which serves delicious fish dishes. Definitely a thing to do in Lanzarote! My recommendation for a family hotel in Playa Blanca is the TUI BLUE Flamingo Beach.
Things to do in Lanzarote: Costa Teguise
Costa Teguise is a pretty little town located on the east coast of Lanzarote near the border with Fuerteventura. This is a good starting point if you want to discover some of the best sights and attractions on the island.
One of the first things you should definitely see while you are in Costa Teguise is the Puerta de la Cruz, an old fortification dating back to the 16th century. There are lots of interesting facts hidden inside the walls of this historic building. For example, there are several dungeons where prisoners were kept before being taken away to be executed.
There are lots of cafés and restaurants in Costa Teguise where you can stop for lunch. Try the Restaurante Las Palmitas, which serves up tasty tapas.
Visit the Teguise market in Lanzarote
The Sunday market in Teguize is one of the most famous markets in Lanzarote. This is where locals go to shop and eat.
There are hundreds of stalls, many of which sell homemade products, such as jams, cakes, bread, honey, etc. Others sell clothes, shoes, toys, accessories, jewellery, souvenirs and much more. There's something for everyone, from the young to the old. You'll find everything here, from handmade crafts to cheap electronics. You don't want to miss this once-a-week event.
The most beautiful beaches of Lanzarote
Once you've visited the top 10 things to do in Lanzarote, it's time to relax on the beach. If you stay at the TUI BLUE Flamingo Beach Hotel, you will have one of the most beautiful beaches on the south coast, Playa Flamingo, right on your doorstep. A short walk away is the equally beautiful Playa Dorada.
Playa de Papagayo in the Los Arajes National Park at the southern tip of Lanzarote with a view of the neighbouring island of Fuerteventura is no longer an insider tip. As the area around Papagayo Beach is protected, no hotels may be built here. However, you should not expect idyllic deserted beaches, as hundreds of bathers go there every day by rental car. There are bars and restaurants with sanitary facilities. But there is a reason why people love the Papagayo beach: its turquoise water. Lanzarote Playa de Papagayo, on the left the sea and on the right the beach, empty except for a few people.
Other beaches in Lanzarote that are worth the trip:
Playa del Reducto in the capital Arrecife
Playa Honda with a view of the planes taking off and landing next door
Playa Quemada with black volcanic sand
Playa de Famara on the untamed north coast, famous for surfing
And as a bonus, the really mostly deserted, hard-to-reach beach Playa de las Conchas on the tiny neighbouring island of La Graciosa. The ferry crossing takes just under half an hour.
Things to do in Lanzarote as a family
If you have smaller children with you on your family holiday in the Canary Islands, you can choose attractions on Lanzarote that will also delight the little ones, for example one of the island's popular amusement and water parks:
Aqua Park Costa Teguise
Rancho Texas Park near Playa del Carmen
Kikoland Playa Blanca
Pardelas Eco Park
Aquarium Costa Teguise
Another excursion option for families in Lanzarote are dolphin cruises. If your kids like water and don't get sea sick, such a cruise is a great trip. One last tip: camel rides through the volcanic landscape are offered at Timanfaya National Park. You will find the camels on the LZ-67 just before the entrance to the park. Children love these unusual mounts and you will also experience nature in a completely different way when you are rocked by your camel.
What is the best thing to do in Lanzarote?
That depends on your taste and the people you are travelling with. With small children, an amusement park is better than a scuba diving course or a long stroll through Arrecife. Lanzarote may seem like an empty volcanic desert at first glance, but it has so many places of interest that you won't be able to see them all in a week.
FAQ about Lanzarote's best things to do
What is the best way to travel around Lanzarote?
1) By car
Renting a car is the easiest way to get around Lanzarote because you can stop whenever you like and choose your own route. Especially if you're travelling with children or don't have much time and hence can't take the public transport.
2) By bus
The bus connections across the island are not that bad. There are plenty of urban and suburban lines plus bus lines connecting the airport with major tourist towns. Buy a top up card and get a 10 % discount on bus fares. Taking the bus is cheap.
3) By bike
Cycling is a fantastic way to get around Lanzarote. There are plenty of marked cycle paths throughout the island. Just make sure that you always follow the correct signs and markings!
What is the coldest month in Lanzarote?
The coldest month in Lanzarote is January, with an average temperature of 8.3°C.
What is the best month to go to Lanzarote?
The best time of year to visit Lanzarote in my opinion is from April to September. The weather is warm and sunny, there are plenty of activities on offer for all ages and you can enjoy some great value accommodation at reasonable prices.
Which is best Costa Teguise or Puerto del Carmen?
Costa Teguise and Puerto del Carmen are two of the most popular destinations in the south of Gran Canaria. Both offer a wide range of activities, from diving to snorkelling, surfing to windsurfing, hiking to horse riding. The beaches are beautiful, with crystal clear waters and white sand. There are also plenty of restaurants and bars where you can enjoy your meal while watching the waves roll in.
Costa Teguise has a more relaxed atmosphere than Puerto del Carmen, which is why it's often preferred by tourists who want to have some fun without being too busy. However, if you prefer a quieter holiday, then Puerto del Carmen will be perfect for you.
Which is better for families Tenerife or Lanzarote?
If you're looking for some fun family time during your holiday, then I think you'd probably prefer Tenerife than Lanzarote. However, if you just want to enjoy yourself at the beach without having to worry about anything else, then I think Lanzarote would be best for you.