Menorca is famous for its hidden coves, red rocks and virgin beaches with crystal clear waters. This article lists the best beaches of Menorca for families, nature lovers, peace seekers and divers.
For reaching most of the Menorca beaches you will need a rental car and be ready to walk a little bit: over half of Menorca's beaches are not located beside roads and can only be reached via a path. The good thing: Menorca is that small that its best beaches can be reached within an hour from anywhere on the island. 
The most popular beaches in Menorca
Cala Macarella and Cala Macarelleta
Cala Turqueta
Cala Tortuga
Cala Presili
Cala en Porter
Cala Escorxada
Cala Pilar
Cala en Brut
Cala Fustam
Platjes de Son Bou
Platja Cavalleria
Cala Algaiarens
Binibeca
Cala Galdana
Punta Prima
Santo Tomás
Cala Mitjana and Mitjaneta
Cala Morell
Cala Pregonda
Son Saura
Platja d'es Grau
Binigaus
Cala Trebalúger
Cala Binidalí
Cala 'n Bosch
Cala Blanca
Which part of Menorca has the best beaches?
The most beautiful area in Menorca is considered to be the north coast, with its secluded and unspoilt coves with crystal-clear waters. They are especially good for snorkelling, diving and boat trips.
Family-friendly beaches in Menorca
Many Menorca beaches are family-friendly not only because of the clear and calm sea, but also because of the shallow white sand beaches. Particularly noteworthy as family-friendly beaches in Menorca are Cala Blanca, Cala Galdana, Platja de Son Bou and Cala en Porter.
The best beaches in Menorca: My top 12
Cala Turqueta – perhaps the most beautiful beach in Menorca?
Cala Turqueta, or Cala En Turqueta, is one of the most beautiful coves in Menorca. Often pictured in travel guides and magazines, Cala Turqueta is one of Menorca's most famous beaches. You'll need a rental car to reach the beach, which lies between Cala n'Bosc and Cala Galdana on the south coast.
"Turqueta" means turquoise and the name says it all: the boats seem to float on the turquoise background, so clear is the water. The beach is surrounded by a fragrant pine forest.
You should also bring a picnic, because there is nothing here but turquoise blue water and fine sand.
Cala Macarella & Cala Macarelleta – Paradise in the Southwest
If you can't decide between Cala Turqueta and Cala de Macarella – no problem, as the two coves are close to each other on the southwest coast of the island. Cala Macarella and Cala Macarelleta can only be reached on foot or by boat in the summer months. From the car park it is a 15 to 20-minute walk through a gorge with a pine forest.
At the end of the path comes the wow effect: crystal clear, turquoise water and the scent of pine trees in the air. The sea is calm due to its sheltered location and invites you to snorkel and paddle. There are restaurants on site, but they are not cheap. If you like, bring your picnic to Cala de Macarella.
Platja Cavalleria: pearl in the north
In the north of Menorca, the 500m-long sandy beach of Cavallería is hidden behind dunes. The bay is horseshoe-shaped, befitting the name "Cavalleria". The golden sand beach is an unspoilt beach, that means no sun umbrellas or chiringuitos. So take a picnic with you! The sea is usually calm here. Very good swimmers could make it to the islets in the bay by swimming.
Caution: look where you are stepping in the clear water, there are sea urchins.
Cala Pregonda: one of the most favourite beaches in Menorca
The beach at Cala Pregonda is secluded and unspoilt, which is precisely why it is such a popular spot. Cala Pregonda is located in the north of Menorca and is one of the most beautiful beaches on the island. The surrounding rocks and sand are reddish and give this Menorcan beach a special flair. The crystal-clear water is perfect for snorkelling and diving in this cove.
The beach at Cala Pregonda has to be earned: Park at Binimel beach and it's a 20 to 30-minute walk from there. There is not much at the remote beach of Cala Pregonda except a quiet environment, so no restaurants, toilets, showers or other facilities.
Cala Tortuga & Cala Presili: Get naked
In the north-east of the island you'll find two of Menorca's best beaches, Cala Tortuga and Cala Presili. They are located in the Grau Albufera Nature Park in the north-east of the island. The fact that these bays have retained their naturalness is due to the fact that they can only be reached on foot. The cove is a 15 to 20-minute walk from the car park.
The long bay is framed by rocks and offers no food options. But there is a lot of naked skin to see 😀 , because it is a nudist beach. Alternative beach for friends of free body culture: Cala Binigaus.
Cala Pilar: pure seclusion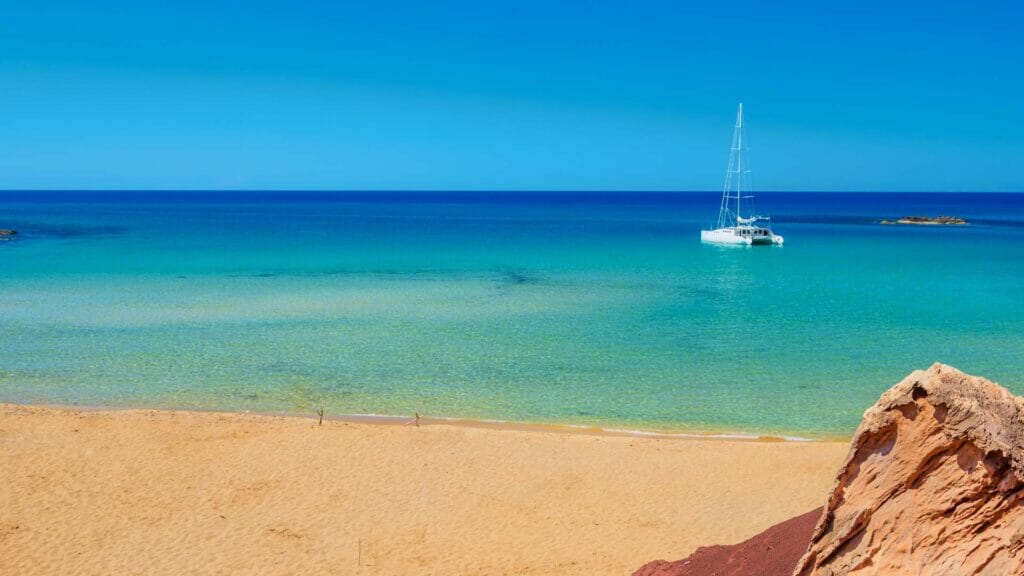 This beach is also one of the best beaches in Menorca. Cala Pinar is framed by red rocks. It is very remote and can only be reached after a 30-minute hike through a pine and oak forest. Once you arrive you have a natural beach with crystalline water and peace and quiet here. Disadvantage: There is no infrastructure. Bring everything you need with you. The beach is therefore frequented more by young people and less by families with small children.
Cala Galdana: the most beautiful beach in Menorca in the south
Cala Galdana is located in the south of Menorca and is easily accessible by rental car. When you see the crescent-shaped bay under the rocky cliffs, you will immediately understand why it is one of the most popular places on the island. This beautiful bay attracts thousands of tourists every year.
The beach is equipped with everything that makes for a successful day by the sea: sunbed rental, restaurants and beach bars, diving centre. The water is warm and clear and therefore popular with families as well as divers and snorkellers. Definitely one of the most beautiful beaches in Menorca!
Cala en Bosch: Perfect for families
Between Cala Blanca and Cala Galdana lies the family-friendly beach of Cala en Bosch. The beach is so popular because it has a shallow slope and is guarded by a lifeguard. The white sandy beach invites you to build sandcastles and rentable parasols provide shade. Surrounding it are shops, restaurants, ice cream parlours, a marina, promenade… in short, the entire infrastructure that makes a Menorca holiday so pleasant for holidaymakers and families in particular. On the outskirts of Cala en Bosch there is the Aquarock/Kartingrock, a water and amusement park for families.
Looking for a family-friendly hotel in Cala en Bosch? The TUI BLUE Grupotel Turquesa Mar with childcare is the right accommodation for you:
Platja de Son Bou: the longest beach in Menorca
Whether the beach is 2.5 or 4 km long, sources disagree. But the fact is that Son Bou beach is the longest beach in Menorca. It too has been awarded the Blue Flag for excellent water quality and cleanliness. Its white sand attracts thousands of visitors every year.
They can enjoy an excellent infrastructure: sunbed and parasol rental, public showers and toilets, as well as bars and restaurants. There is not too much hustle and bustle except in the absolute peak season, it gets lost on the many kilometres, it is after all the longest beach of Menorca.
Cala en Porter: Caribbean for all
Are we in the Caribbean or in Menorca? This is the question holidaymakers ask themselves when they see the bay of Cala en Porter. Clear water, perfect for snorkelling! Cala en Porter was one of the first holiday resorts on the island and is therefore already an institution. The deeply cut bay southeast of the capital Mahon offers the right ambience for families and night owls alike.
Children love the gently sloping sandy beach, party-goers the "Cova d'en Xoroi" bar in a grotto by the sea. High cliffs frame this dream beach on Menorca. The turquoise waters of Cala en Porter are awesome!
Cala Mitjana and Cala Mitjaneta: paradise for snorkellers and divers
Cala Mitjana lies to the east of Cala Galdana and is a 30-minute walk (or drive) from it. This Menorca beach with soft sand is very well protected from waves and therefore perfect for snorkelling and diving, but also swimming with children. Families like to come here because of the very shallow water and the quiet atmosphere.
Disadvantage: In the height of summer on Menorca, the car park fills up quickly and so does Cala Mitjana beach. Alternatively, you can try your luck at Cala Mitjaneta just 100 metres away and hike over the cliff. Cala Mitjana's little sister is small but nice.
Cala Morell: Another dream beach for divers
For divers in Menorca, Cala Morell is particularly interesting. The rocky bay on the north coast of Menorca is not so much for children but for experienced swimmers and is also an underwater paradise. The rocks shield the 80-metre-long bay from strong ocean currents, so divers can explore the many underwater caves.
The sea has the typical mesmerising colour and for a chilled out day at the beach, Cala Morell is just right. You can leave the pristine beach for a drink or snack nearby, or check out the necropolis of Cala Morell if you want to see something else of the place.
The most important questions and answers about the beaches in Menorca
How many beaches does Menorca have?
Menorca has more than 70 beaches to offer, most of them with turquoise, crystal clear waters.
Which part of Menorca is the warmest?
The south of Menorca is 2 to 3 degrees warmer than the north. It also rains more in the north of the island than in the south of Menorca, which is popular with tourists.
Can you snorkel in Menorca?
Menorca is perfect for snorkelling! The water is warm and crystal clear and you can go straight from the beach without having to take a boat trip. It's also perfect for families with younger children who want to snorkel on the beach under supervision. From rock formations to colourful fish, there's plenty to see in Menorca's bays. Particularly good for snorkelling are Cala Pregonda, Cala Morell, Cala Mitjana, Cala en Porter, Cala Galdena and Cala Turqueta.
Where is it warmer: Menorca or Mallorca?
Menorca is actually a bit warmer than Mallorca in summer. It also rains less in summer on Menorca than on Mallorca, but more in winter. With around 1,500 hours of sunshine per year, Menorca is one of the sunniest places in Europe.