If you think of the Algarve, you probably first think of huge cliffs and wide, sandy beaches. You hear the roaring waves of the Atlantic and feel a fresh breeze on your face. And then there's the unbelievably fresh, delicious fish… But of course there's much more to discover in the mystical countryside and in the hearts of the Portuguese people. To find out what makes up the locals and the cultural wealth of the region, I get into a minibus on a nice Tuesday morning on the discovery tour "Algarve Gourmet". On board are my colleagues from the BLUE Guide Team at the TUI BLUE Falesia.
Algarve Gourmet
The tour we're doing today is called Algarve Gourmet. Algarve Gourmet? What would that be? Well, this is an exclusive excursion reserved exclusively for guests of TUI BLUE. Adventure-hungry travellers learn about the Portuguese cuisine, culture and – above all – the good-hearted people of the region on the tour. For me, as a Portuguese person, that means: I'll try delicious things in different places ;-). For you, this means: Go fill yourself with the local cuisine and feel like you're Portuguese for a few hours.
José the tour guide
The drive from Olhos d'agua to Mexilhoeira da Carregação, our first stop, is long. All the better that we have tour guide José with us. With his knowledge of the region and its inhabitants, he captivates everyone and the time flies by. José tells us why there are so many almond trees in the Algarve and how we can distinguish which are sweet and which are not. On our way we pass again and again a typical sight for Porches – this part of Portugal – which is known for its pottery.
Mysterious places
True to style, we start the day – as most Portuguese probably do – with a crispy puff pastry with pudding and a Portuguese espresso variant called bica. It can go on like this!
Back on the minibus, neither I nor my companions know what to expect next. As we turn into an industrial area, many, including myself, frown. What awaits us here? A fish canning factory! Especially great. Run by three friends, the start-up uses only fish caught using centuries-old, sustainable methods.
We're shown how the fish is collected, cut, seasoned with spices, and then canned in small glasses. Of course, I won't miss the subsequent tasting.  I try tuna with sweet potato, mackerel with almonds, and much more. My verdict: it's up there with the best fish I've ever tasted! Incidentally, the small glasses are an excellent holiday souvenir for friends and family. My fellow travelers and I shoot a few souvenir photos and then continue the trip together.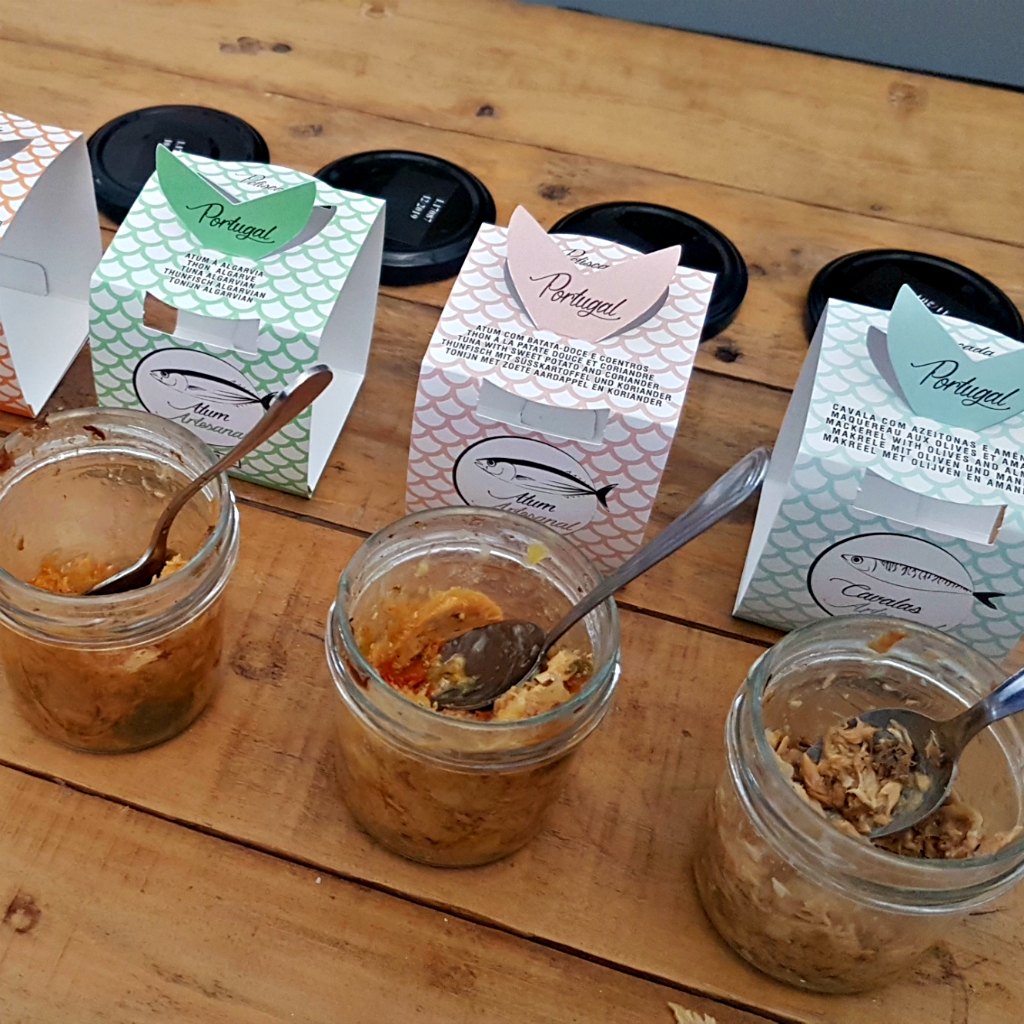 Traditional lunch in the Algarve
We leave the industrial area and drive back to the road. From there, we enjoy the magnificent view of our next stop: Alvor, one of the most beautiful villages in the Algarve. Here, you can walk along the estuary and stop off in a traditional fish restaurant for a small Portuguese lunch called petisco. During Algarve Gourmet, the petisco is slightly larger. It would also be a shame to let these delicacies go back to the kitchen, and so we enjoy fresh Algarve tomato salad, crispy lettuce, and delicious anchovies.
Oh, the wine…
As a Portuguese person, I love to eat, and so of course I'm overjoyed that this culinary journey is far from over. And the best is yet to come! We drive to a local winery near Alvor that specialises in organic and sustainable farming. We explore the vineyard and stroll through the vines. Afterwards, we'll have the opportunity to taste the delicious wines, accompanied by a fantastic selection of tapas. Excellent tapas and fresh wine – a poem!
The key to Algarve Gourmet
As the Algarve is an incomparable place for delicacies from the sea, one point should not be missed on our gourmet tour: the oyster beds of Ria de Alvor. Algarve Gourmet, together with tour guide José, takes us to a hidden place as the last programme point of an exciting day, which is otherwise open only to locals. Here we learn where the precious shellfish grow and how they're harvested
Our expert Senhor Victor tells us that oysters thrive mainly in salty waters. The zinc-rich shellfish is great for the production of the male hormone, testosterone, which is why the marine creature has an aphrodisiac effect. Many of these details were previously unknown to me, and so I listen attentively to the expert.
Oysters are delicate marine animals; they can be very strong or very fragile. The small mollusks are sensitive to temperatures. Well preserved, however, they can be exported to other countries for high prices. Victor tells that in one year he had bred some delicious oysters, but they became infected with bacteria. Half of the harvest was lost, the damage to his small family business was enormous.
Yeah, they taste good
Initially, I'm not very enthusiastic about the shellfish, but after I smell them and then taste them, I can't get enough of them. We can try as many oysters as we like and enjoy a glass or two of delicious wine.
With the knowledge of oysters, which I have after this little foray, I now appreciate this treasure of the sea. I would have never thought to say: "Come on, we're going to Alvor to learn about oysters!" But I love it. And I feel like the other BLUE Guides in my team feel the same. A good reminder that you never stop learning as a local.
A unique experience
At the end of the day, we enjoy fresh oysters straight from the shell and take in the most beautiful views of the Ria de Alvor. It's a stylish moment, the kind you only see in movies. This panorama and the unique memories of today are priceless. Algarve Gourmet is not just an experience; it gives a true sense of Portuguese culture. Believe me – because, as a local, I have to know, right?