Your holidays are your well-deserved time to relax and unwind, do what makes you happy, and enjoy meaningful moments with your loved ones. The best adult-only hotels Greece has to offer cater to this very definition of a luxury holiday. TUI BLUE – For Two adult-only hotels are our answer to your holiday dream. Pool toys, splashing children, and "Baby Shark" blasting from speakers will definitely not be in the cards for you this summer season. Instead, you'll enjoy fine amenities, rooms with a wow factor, and tasty food to nourish your body and soul. Once you set foot on one of our all-inclusive, adults-only hotels, you will flip the switch and turn vacation mode on!
5-star hotels in Greece – sea view on Halkidiki
Greece has an abundance of perfect holiday spots to offer, and the TUI BLUE – For Two resorts have made it their mission to show you the best of the best. Mainland Greece is a sun-lover's dream come true, and the Halkidiki peninsula with the three iconic "fingers" is exactly that. The region offers natural and architectural wonders, such as Mount Athos monastery, making it the perfect location to fit a cultural day trip into your beach holiday. While many sun-seekers flock to one of the many Greek islands, TUI BLUE Lagoon Palace, the chic 5-star hotel on Halkidiki, convinces holidayers with its palm tree-lined pool area and fantastic sea views on Greece's mainland. You can enjoy acoustic music, drink cocktails, and have your own whirlpool or private pool. The modern rooms with turquoise accessories match the colour of the ocean and pool, and daybeds right on the shore put the cherry on top.
All-inclusive adults-only hotels – Ionian Islands in the sun
All Greek islands have a unique character of their own, and Corfu and Zakynthos invite you to explore theirs. All TUI BLUE hotels are located in close proximity to the beach, and on the Ionian Islands in Western Greece, you can find some true gems. The TUI BLUE Atlantica Grand Med on Corfu caters to the highest standards. Nestled into a pine-tree-covered hill overlooking the sea, you can enjoy the views while you dine in one of the themed dinner events. Choose from Black & White, Sunset Dinner, Seafood Dinner or Regional Night in smart clothing. During the day, explore the island, go beach hopping, or check out what Corfu's main town has to offer.
Zakynthos is located two islands further south and spoils you with two different adult-only hotels. The eye-catcher of the TUI BLUE Zante Maris is the futuristic asymmetrical pool with nearby bar. Optional swim-up rooms allow you to use a smaller, semi-private pool right from your terrace. The TUI BLUE Caravel boasts sea views from almost every angle and sunbeds located on small islands right in the pool. The modern BLUEf!t amenities with a fully equipped indoor gym and outdoor spaces invite you to work on your fitness, strength, and well-being. Zakynthos is also known for its many beautiful beaches that you can explore to get an idea of what the island has to offer.
Adult-only hotels in Greece – Crete and Kos for pure relaxation
Crete and Kos are two of the most well-known holiday regions, and rightly so. Crete offers an abundance of holiday fun, such as hiking and other outdoor activities, but also has fantastic beaches to soak up some sun. The TUI BLUE Insula Alba is located right on one of them. But the beach is not the only attraction. The hotel's location in the north of Greece's largest island means that it's also close to many of the touristic highlights.
The TUI BLUE Elounda Village has a private beach, various pools, four restaurants, and three bars, so you're sure to find the perfect one for you. With American and continental breakfast as well as a late breakfast option, you'll be energized to try one of the many water activities the hotel offers.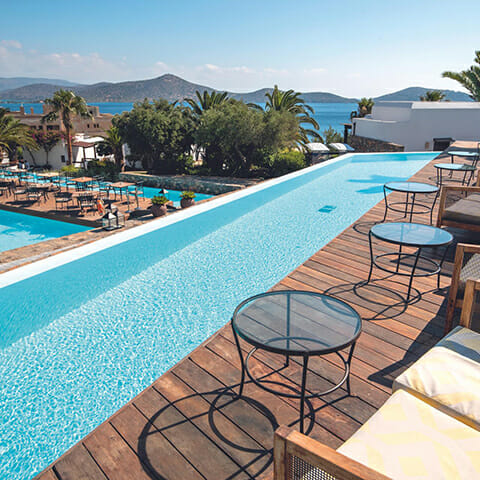 If a smaller island is more your style, Kos may be exactly what you're looking for. The TUI BLUE Atlantica Belvedere Resort overlooks the Aegean Sea and is located right above a beautiful beach. With windsurfing, sailing, kayaking, and diving all possible from the hotel's beach, the eyes of water rats will sparkle. You can play tennis or beach volleyball, use the fully equipped gym, and then rest during a relaxation or stretching session. With all-inclusive offers, refuelling will be easy as pie, literally. Apart from breakfast, lunch, and dinner, all-inclusive guests get free snacks, midnight snacks, cake, and even ice cream.
Has Greece convinced you yet? With its diverse island options, beautiful mainland, and rich culture, Greece will make for a memorable, high-end holiday destination with sun guaranteed.
Book now your adult-only hotel in Greece!