Every day the groundhog says hello – you move from the bedroom to the home office and later to the couch. Thanks to the current situation, we're all in the same boat. Until a few weeks ago, I thought I'd probably never get out of this endless loop until I came across Workation.
Admittedly: When I first read Workation, it took me a moment to understand what exactly it was all about. It's so simple: Work + Vacation = Workation. And then I was blown away by the idea. After all, why not combine work with vacation? After all, this is possible thanks to home office.
In this blog post, I'll take you on my wonderful two-week Workation stay in Portugal at the TUI BLUE Falesia in the beautiful Algarve. What my "new" everyday life looks like now and why I am more than convinced of the concept, you will find out when you read!
From booking to arrival in the Algarve
Since Portugal has been on my bucket list for a long time, it is clear to me that the trip goes to TUI BLUE Falesia. In addition, I would like to escape the dreary weather in Germany and finally enjoy the first warm rays of sunshine. And that's very possible in Portugal: already at the beginning of spring it's a pleasant 20 degrees – perfect for working on the balcony!
By the way, my initial concerns about the Corona situation evaporated when I read the 10-point plan of TUI BLUE Hotels.
A few days later, my trip already starts: With my negative Corona test result, I get on the almost empty plane. I'm already quite excited to see how my first workation will turn out. After months of not traveling, I am just so excited to now have a new experience. I recommend you to check regularly which conditions and regulations are currently valid in the respective vacation country and what you have to consider if you – just like me – want to do workation during the Corona period. Then you are well prepared and can fully enjoy your stay.
Arrived at Faro airport, it takes about 30 minutes drive until I arrive at the hotel. Immediately I fall into the classic vacation mode – oh I missed it!
Double room with sea view – what more could you want?
Checked in at the hotel, I first move into my room, unload my things, set up my new workspace and really arrive. And what can I say? I am simply thrilled! The room is modern, bright and comfortably furnished – simply a room to feel good and relax. You will surely love it as much as I do. For working, I have a desk and a comfortable chair at my disposal. And not to forget: plenty of sockets where I can connect my cell phone, laptop, tablet and co.
My personal highlight of the room: a balcony with sea view. I tell you, the view of the long sandy beach with the typical ocher-colored rocks is just fantastic and the fresh sea air does so good! The sounds of the chirping birds in the background provide relaxation from the first moment.
Today I can still relax, tomorrow I will start my workation here in Portugal.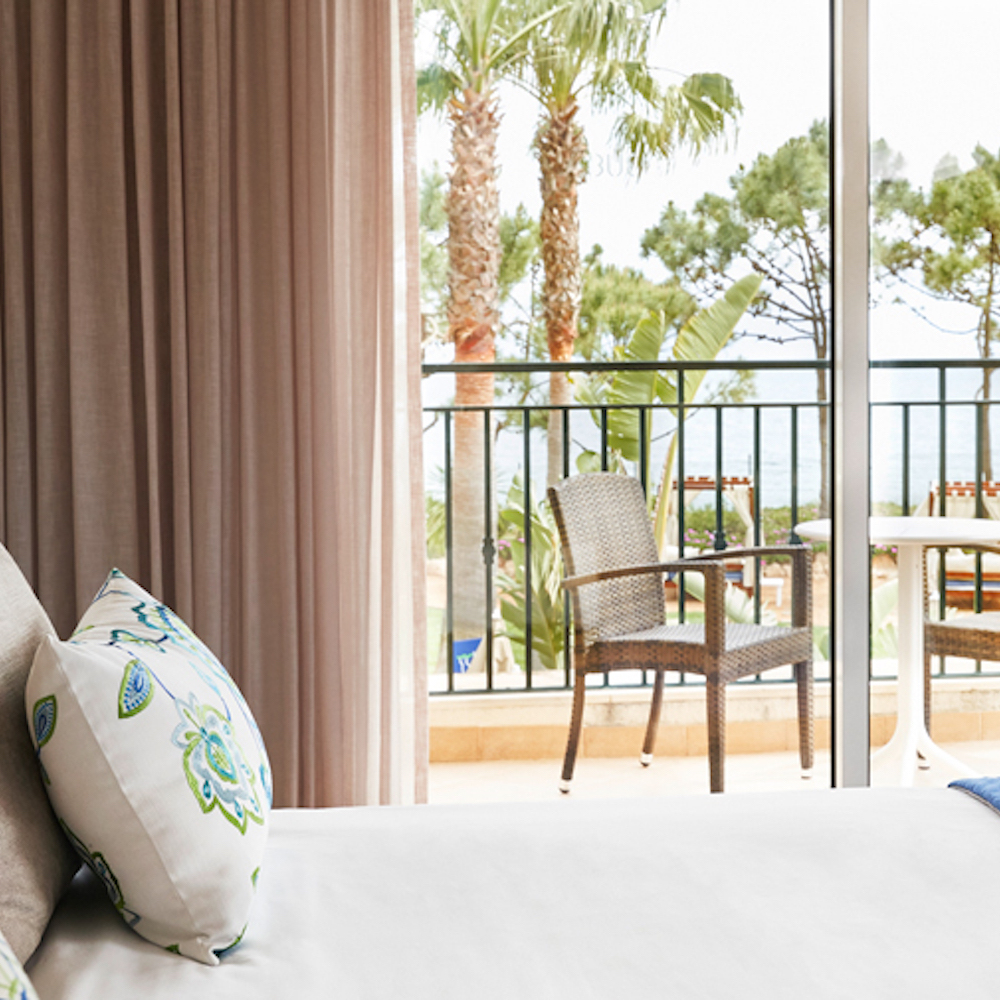 My "new" everyday life – my Workation routine
New day, new luck! I wake up full of energy – finally a working day that is different.
Before I sit down at the laptop, I start my day with a round of yoga. I tell you – it's just liberating to breathe in the good air and watch the sun rise. I usually start working right away in the morning, but moving around now is incredibly good for me.
And if you're not a fan of yoga, there are other sports options available at the TUI BLUE Hotel. Check out the BLUEf!t program!
After sports, I earned a hearty breakfast. For this, I already reserved my desired time the night before via the BLUE app. This is, due to Corona at the moment necessary, but also goes quite simple and straightforward. In addition, it was also for my own safety and the time window of 50 minutes for breakfast are also completely sufficient for me. But you can also contact the service staff or the BLUE Guides for the reservation.
After breakfast, it's time to get to work – after all, I'm in Workation. In the morning I sit down at the desk in the room, because I still have some calls and want to work undisturbed. In between I enjoy the sun and work on my balcony. I can provide myself with enough coffee, thanks to the coffee machine in my room. If you ever need to print something, by the way, you can just go to the reception.
Since I need to get creative for my work after lunch, I change my workspace and wander to the hotel's relaxation area with my laptop. With a view of the sea and in the comfortable seat cushion, I can give free rein to my creativity. Here I also meet one or two other people who are also doing Workation. We make an appointment for tonight to exchange ideas. After all, it's time to get to work.
The internet is working fine in the whole hotel and is super fast. I have to say – I could get used to Workation with TUI. Not only does everything technically work top notch, the new work-life balance has a positive effect on my state of mind after day 1. Despite the avoidable distractions, I work much more productively and have more creative ideas. At the same time, I don't feel stressed or drained at any time. What certainly also contributes to my serenity and productivity is the fact that there is no background noise whatsoever, except for the pleasant sound of the sea and the chirping of birds. Even though I like children, I have to admit that staying in an Adults-only hotel, like the TUI BLUE Falesia, gives me a bit more relaxation.
After work comes pleasure
The laptop is closed and work is done for the day. I'm now looking forward to exploring the area and stretching my legs.
Walking is currently the latest trend – well forced, you know what I mean.
Here in Portugal, however, I'm moving my "daily walk" to the beach – a real upgrade! The mile-long Praia da Falésia is one of the most beautiful beaches in the Algarve and is almost right on our doorstep. I just love the feeling of feeling the fine sand between my toes. The sea is still very fresh, nevertheless it is worthwhile to walk directly along the water. It smells like the end of the day!
Back in the hotel I make myself fresh for dinner. Again, I booked the time beforehand, but I had a time window of one and a half hours for dinner (as well as for lunch). Believe me: That's enough to eat your fill of the many delicacies.
By the way: once a week you have the possibility to visit the à la carte restaurant. Do you know how great it feels to sit in a restaurant again and be served? Here you have to try the typical portuguese cuisine.
Weekend on vacation – a whole new feeling
When we go on vacation, we have more or less every day weekend, there are no weekdays we just have vacation. With my workation it looks a bit different: like in my normal working day I have my working week and then Saturday plus Sunday off.
I'm totally looking forward to my weekend and discovering Portugal.
In the current situation, you should definitely check out the rules of the country beforehand: What is allowed and what is not.
This weekend I have booked a rental car and want to explore the Barlavento. From the hotel I drive via Albufeira, Portimão and Lagos to the most western point of Europe to Sagers to the Cabo de Sao Vicente. The sunsets here are simply spectacular!
Alternatively, you can head east and explore the Eastern Algarve – an absolute contrast. If you have enough time, I recommend you to drive in both directions, it's worth it.
Workation in Portugal? Of course!
I think you have already noticed that I am totally enthusiastic about Workation at TUI BLUE Falesia. And I can only recommend it to each of you to make this new experience. Workation with TUI is really something special, because you are accommodated in a first-class hotel, get incredibly delicious food and can enjoy yourself, just like on vacation.
Treat yourself to a delicious cocktail in the evening sun and explore the surroundings on the weekend. At the same time you can pursue your professional obligations. In Portugal, you'll have an impressive view of the sea, but I'm sure that Workation will also be a special experience in the other TUI hotels. So what are you waiting for?
Your hotel for a Workation with TUI BLUE