Vietnam, the country of contrasts: deep blue sea and fine sandy beaches meet endless rice fields, evergreen jungle landscapes, and towering temples! Long-distance travel is always incredibly exciting, because you immerse yourself in a new culture and get to experience your destination with all your senses. From a new taste explosion to the sight of impressive architecture and the discovery of foreign traditions – one thing I can tell you, I have taken Vietnam into my heart.
Come with me on an immersive journey and get to know Vietnam with all your senses. Do you feel like a combination of adventure and relaxing on the beach? Then I would like to introduce you to the TUI BLUE Nam Hoi an now on the fine sandy Tam Tien beach in central Vietnam in the province of Quảng Nam. Where luxurious holidays in a modern Asian-style hotel complex meet the culture and traditions of South East Asia – in my blog I will tell you more about the new TUI BLUE hotel and what you can experience during your holiday in Vietnam.
TUI BLUE Nam Hoi An: The new luxury hotel in Vietnam
"chào mừng!" or "Welcome!" to the latest addition to the TUI BLUE family. Approximately 40 kilometres from Chu Lai airport, the luxurious and modern hotel complex of the TUI BLUE Nam Hoi An awaits you. East Asian furnishing elements conjure up a modern, uncomplicated ambience in all public areas, as well as in the rooms and suites. Indulge yourself fully in the three restaurants and bars in the hotel. With indoor and outdoor seating, you can enjoy the breathtaking view of the South China Sea while enjoying local delicacies and refreshing drinks. A special icing on the cake is the private beach access from the hotel complex. You can also use this fantastic location to get married on the beach. Even if you're only saying "I do" to the travel booking for the time being, everyone who is longing for a Southeast Asian dream holiday will find something here.
When I arrive, I am given a warm welcome from the staff. Traditionally, one puts one's hands together in front of the upper body and bows slightly as a sign of respect for the person opposite.
After check-in in the beautifully decorated Welcome Area, you head to your room to settle in in peace. On the grounds of the TUI BLUE Nam Hoi An Hotel in Vietnam, various rooms, suites, and even villas are available to you as special retreats. From rooms with direct sea views, balconies, terraces, your own kitchen, or private whirlpool – everyone will find their oasis of well-being here! I booked the Grande Suite and I am simply thrilled: a heavenly bed, large bathroom, and above all my own little pool plus direct access to the beach: a dream come true!
If you are checking in with family or a group of friends, I would advise you to choose a Royal Villa: With two floors and 280 m², there is more than enough space and you can enjoy your Vietnam holiday completely undisturbed.
On a gourmet journey to the Far East during your Vietnam holiday
For me, getting to know the culinary traditions and dishes is an important part of every long distance holiday worth taking. At the TUI BLUE Nam Hoi An, I can taste the typical Vietnamese dishes at the rich buffets and enjoy the fresh and spicy Southeast Asian cuisine in the elegant à la carte restaurant. From summer rolls and noodles to the so-called Bun Bo Nam Bo, a green salad with beef marinated in lemon grass and rice noodles – there are many tasty Vietnamese delicacies here!
You can also try both unusual and typical Asian drinks at TUI BLUE Nam Hoi An. One world-famous example is the Vietnamese egg coffee. Sounds strange at first, but tastes really good!
Exotic cocktails are best enjoyed at the beach or pool under a shady straw umbrella with a fantastic view. My personal recommendation: try the sweet lychee martini! The tropical fruit lychee is very popular in Asia because of its good nutrients and sweet taste, and also makes for a good liqueur.
Asia is also known for its traditional tea preparation, which is an important part of its culture. In the hotel's own tea pagoda in the garden pond of the TUI BLUE hotel in Vietnam, you can witness a Vietnamese tea ceremony up close – a great experience, not only for tea lovers. Together with other guests I was welcomed by the friendly tea master, who started out by explaining that meditation is an important means to mindfully enjoy tea, thus developing the full taste of tea. The little tea breaks have an equally relaxing effect if you consciously take time for each sip of tea – a great philosophy which I will definitely integrate into my everyday life! I watched the tea master attentively as he presented the beautiful tea-filled ceramic pots on a wooden tray and calmly explained the process of making the perfect tea. From the cultivation and production of the tea leaves to the different brewing techniques – the origin and quality of a delicious tea is very diverse. We could then try the tea with freshly baked pastries. If you would like to get an insight into Vietnamese history while drinking aromatic tea, you should definitely attend the tea ceremony.
Cosy daybeds, fine sand, and the sound of the sea
One of the highlights of the TUI BLUE Hotel in Vietnam is certainly the miles-long light sandy beach. On the private beach section, you can toast yourself in the sun in complete peace. With powdery sand on my feet and a warm summer breeze on my face, I feel perfectly serene and relaxed. The deep blue South China Sea offers a great opportunity for cooling down from the tropical temperatures. If you're looking for something special and super cool, you can't go wrong with the comfortable daybeds, which you can simply rent – the perfect place for a midday nap.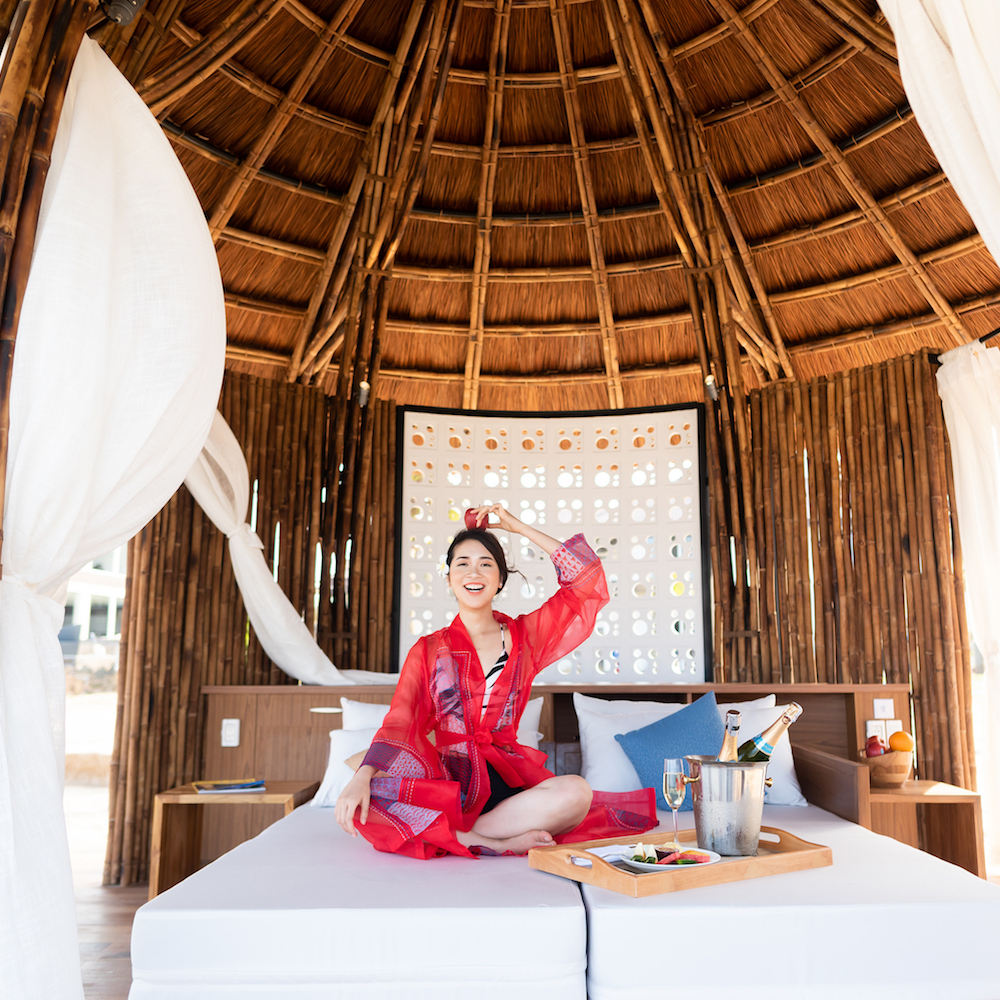 For those who prefer to chill out by the pool, the TUI BLUE hotel in Vietnam offers four pools of different sizes for guests in addition to the private pools in the rooms. Families with children can take part in pool activities together, while couples and adults can relax undisturbed at the relaxation pool.
Full sports programme at the TUI BLUE Nam Hoi An
The dichotomy between feasting on holiday and the "beach figure" is always something of a balancing act…so it's best if you can also do sports directly in the hotel. With the BLUEf!t programme you can continue your strength and endurance training with tips from the BLUEf!t guides on the beach during your Vietnam holiday. Via the BLUE App, you can check out the current sports programme of the TUI BLUE Nam Hoi An and participate in great fitness and relaxation courses. I always enjoy doing yoga on the beach when I'm on holiday. I can highly recommend it.
For all those who are looking for a little more action in the great outdoors, the TUI BLUE Nam Hoi An Hotel in Vietnam has a lot more up its sleeve: two floodlit tennis courts, a beach volleyball court, and the water sports station right on the beach are perfect for really getting down and dirty. Whether kitesurfing, sailing, or surfing – on holiday in Vietnam you can put yourself to the test as a surfer. No matter if you are a beginner or a pro, with the BLUE App you will find the right sports offer to enjoy your holiday in Vietnam to the fullest!
Fancy a traditional Vietnamese massage?
Have you ever had a Vietnamese massage? It is very similar to the typical Thai massage, but the massage in Vietnam has its roots in the Chinese tradition. Using a kneading technique, muscles and tendons are relaxed by the relatively firm massage. Afterwards, you'll feel good as new, which is really amazing.
In addition to a deep massage, the BLUE Spa also has a sauna or steam bath available for you to relax after a day of exploration or time on the beach. FYI: in Vietnam it is very common that the spa areas are separated by gender. So in this way, you have to adapt to the culture, but it smells wonderfully of essential oils, incense sticks, and warm candles – pure serenity!
Getting to know the country and people on holiday in Vietnam
Why travel to Vietnam? Clearly, to get to know the Asian culture. My bucket list includes visiting historical temples as well as the everyday exchange with locals – always extremely important for me on my long distance holiday.
Let's start with what for me is the most beautiful city in Vietnam: Hoi An, which is only 50 kilometres away from the hotel. As soon as you enter the old town you will notice what makes the city so unique. Colourful lanterns decorate not only the alleys and mustard yellow houses, but also the traditional longtail boats of the fishermen are decorated with lanterns on the river Thu Bồn – truly magical.
The two most popular sights here are the Chinese Quan Cong Temple and the Japanese Bridge, which are also great photo opportunities. Speaking of photos: in Asia it is really an art to take a photo without including any strangers. The Asians take a picture of really everything and everybody and thousands of famous sights. But when you take a snapshot of a temple where a Vietnamese woman with her typical straw hat is carrying baskets of fruit on her shoulders, I call that a jackpot 😉 By the way, remember to always cover your shoulders and knees if you want to enter a temple.
Southwest of Hoi An, the UNESCO World Heritage Site Mỹ Sơn, which translates as "beautiful mountain," awaits you. Here you can follow in the footsteps of the royal Champa people. Many of the Hindu temple ruins and buildings are still preserved, although overgrown with grass. But I assure you, this is what makes the scenery so special. Due to the uniform architecture of the buildings, it immediately reminded us of Angkor Wat – no wonder the temple ruins Mỹ Sơn even bear the nickname "Little Angkor Wat".
Besides visiting Vietnamese temples, a visit to a street food market, also called "Night Market", should definitely be part of your Vietnamese holiday!
Apart from handmade souvenirs, you can really feast your eyes for little money and taste the real typical Vietnamese dishes. Bun Cha, Banh Mi, or classic Fried Rice? The choice is huge. At first sight the Night Market may seem a bit dirty, but let me tell you: try it! Here you can get really good food for less than 80 Dong (about 3 Euro) and you can chat with the locals 😉
To help you find your way around Vietnam, the BLUE Guides at the TUI BLUE hotel will be happy to help you plan your individual excursions. I recommend you take a look at the BLUE App. Here you will also find valuable tips on the most beautiful destinations near the TUI BLUE hotel, as well as information on the hotel facilities and day activities.
Have you got a case of wanderlust now? I can really recommend the combination of a luxurious hotel holiday and exciting excursions. This way you can get to know the country and its people, and at the same time relax on the beach – after all, you are on holiday. Have questions about the hotel or want some tips for your Vietnam holiday? Write your questions in the comments and I will gladly answer them in detail.
Book your holidays in Vietnam