Do you know it too? You're lying relaxed by the pool, reading a good book and enjoying the warm rays of the sun on your skin, but suddenly the kids from the lounger next door start an action-packed water fight – and that's it for the long-awaited peace and quiet. For all those who want to enjoy a relaxed holiday, without splashing children at the pool or whining in the restaurant, the TUI BLUE For Two Hotels offer a relaxation holiday in a class of its own in dreamy Adults-only hotel resorts.
Find out what the TUI BLUE For Two concept has to offer and how you can spend a typical day at the Adults-only hotels.
Whether with a friend, spouse, best friend, as a singles trip or a family holiday with the grown-up children – discover TUI BLUE's adult hotels and unwind in peace!
Adults-only hotels: TUI BLUE For Two
Tired of dozens of floaties and air mattresses in the pool, squishy chocolate wafers at the buffet and the annoying "Schni-Schna-Schnappi" at the evening mini-disco? With the TUI BLUE For Two hotel concept, your wish for undisturbed peace and relaxation on holiday will finally come true. Depending on the Adults-only hotel, there is a varied range of relaxation and entertainment options for guests aged 16 or 18 and over – without any screaming children or children's entertainment.
Instead of family-friendly furnishings with extra beds and changing trays, you will find comfortable, modern and spacious rooms and suites with fantastic views of the sea or the mountains in the TUI BLUE For Two Adults-only hotels. For your physical well-being, there are no finger food buffets for the little ones, but a delicious culinary selection of local and international, beautifully presented dishes in the à la carte restaurants. Look forward to fresh shrimps and a juicy fillet – spaghetti bolognese, pizza and co. were yesterday. Vegetarian, vegan, gluten-free and low-carb dishes are also on the menu – a dream!
The hotel facilities of an Adults-only hotel alone have some important differences to those of a family resort: first-class spa areas, quiet pools with lots of loungers and daybeds, modern cocktail bars and wonderful chill-out areas take the place of the usual children's playgrounds, water slides and baby-changing stations. Enjoy your honeymoon or a relaxing holiday with your boyfriend, girlfriend or best friends without the noise of children.
#adultsonly: A holiday at the hotel without kids
Are you now longing for a holiday in a hotel without kids? I'll give you a little insight into my trusty travel diary and show you what a relaxing day at the Adults-only TUI BLUE Falesia hotel in the Algarve looks like:
The alarm clock rings a little later than usual and after pressing "snooze" 2,3 times, I make it out of bed. My first view is from the balcony onto the beautiful hotel grounds – it is so peaceful and quiet, a dream. Before breakfast today, we want to check out the 100 m² fitness room of the adult hotel TUI BLUE Falesia. The BLUEf!t offers a real variety of sports and fitness classes, such as outdoor yoga. Instead of children's playgrounds, slides and paddling pools, the space on the hotel grounds is used for adults ? I get on my bike and start pedalling.
After some stamina training and a great playlist, I'm finally wide awake and on my way to the breakfast buffet I'm already imagining what's going to be on my plate – definitely the omelette again! Freshly prepared for me and deliciously seasoned, the egg dish already convinced me yesterday. And protein-rich food after sport is always good ? In the TUI BLUE Adults-only hotels you can look forward to a rich breakfast buffet with delicious and beautifully presented dishes – as we all know, the eye eats with you! Far away from the children's buffet with soggy pancakes and clinking cutlery, you can enjoy a relaxed breakfast. Wonderful!
With a view of the pool landscape, we enjoy the quiet atmosphere with a fruity-sweet smoothie, some pastries and espresso. I'm glad to finally be able to talk to my friend in peace at the breakfast buffet without having to fight background noise from crying children. Even at the omelette station, no toddlers pushed their way in. Not that I don't like children, on the contrary. But every now and then, a holiday in an adults-only hotel is good for you.
After this substantial refreshment, we go to the pool. I quickly scurry up to our room and stroll off, packed with sunscreen, towels and my holiday reading. It's already really warm outside and some holidaymakers have already chosen a place to sunbathe. Luckily, there are more than enough sunbeds, so we find a great spot with a parasol and read for a while. An exciting book reads much better when you don't have to worry that it might get wet in a water fight.
The atmosphere at the pool is calm and serene. Perfect for taking a nap on the cosy loungers after a round in the cool water. After this morning's workout, I really deserved a nap ?
In the afternoon, we head to the pool bar for a small snack and a delicious, cool cocktail. We sip our cocktails with pleasure and chat with other holidaymakers about the hotel. A couple at the pool bar recommended that we rent a daybed for the pool tomorrow. You can then lie by the pool and enjoy the sea view together. We definitely have to do that!
After a day at the pool, we want to do something good for ourselves just before dinner: we go to the spa area! The spa offer at the TUI BLUE Falesia Adults-only hotel really leaves nothing to be desired: heated indoor pool, soothing steam bath, sauna, professional massages or nourishing cosmetic treatments – I can't decide where I want to go first! My boyfriend then took charge of the wellness planning: First we go to the sauna and then to a partner massage. How romantic! That's how I imagine a relaxing holiday: it gives me butterflies in my stomach again, the togetherness is really good! With harmonising, aromatic scents and a meditative wellness atmosphere, we can both finally really switch off. I chose the Algarve Luxury Massage with moisturising lavender essence and olive oil, which is so good for my skin. Wow!
After this relaxing day by the pool and a soothing visit to the spa, we dress up to enjoy a romantic dinner in the à la carte restaurant of the TUI BLUE Falesia adult hotel. Here, delicious Portuguese and Mediterranean dishes are on the menu. Soo delicious! Between fragrant smells and deep conversations, it's really good to feast. Crying, overtired children who quickly kill the mood at dinner in the restaurant are not to be found here.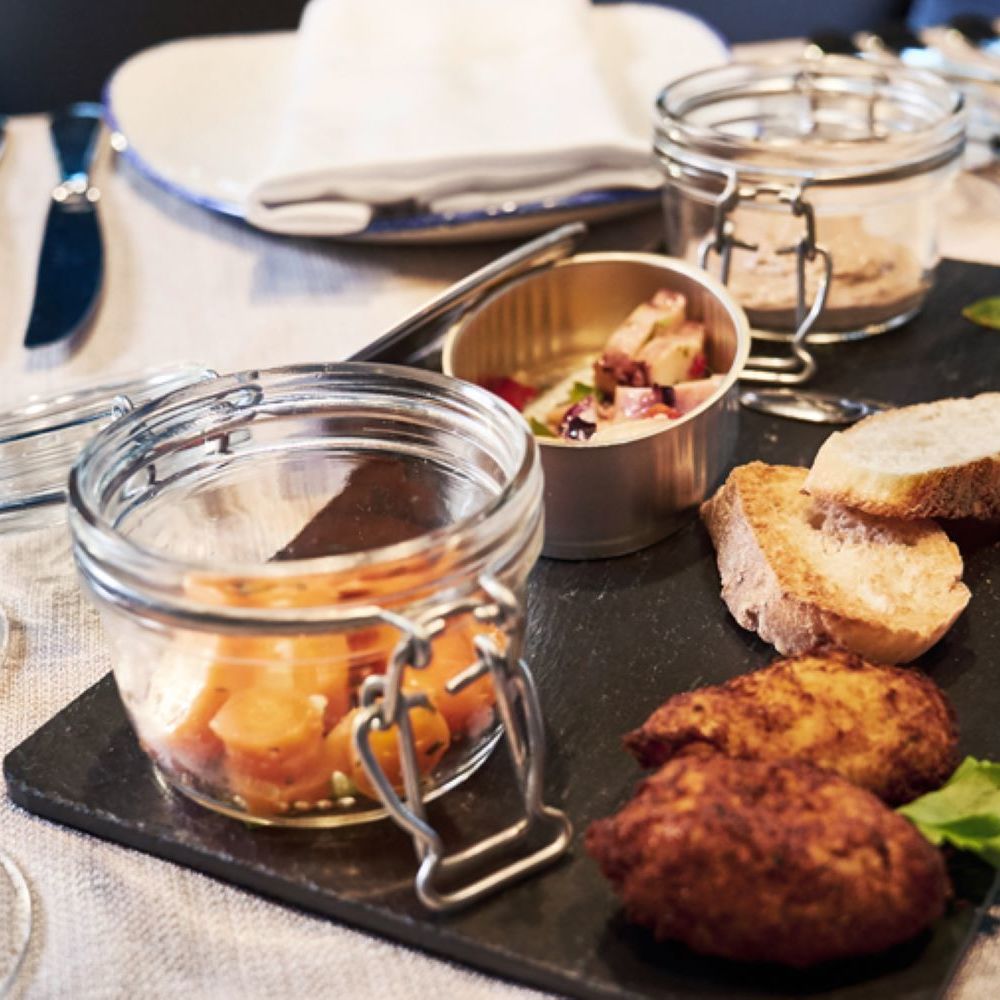 By candlelight we let this day of relaxation come to an end and make plans for the next days: Tomorrow we want to go to one of the beautiful beaches in the Algarve and dare a swim in the fresh Atlantic Ocean. I also love the cooking classes. How cool would it be to recreate dishes from Portuguese cuisine at home? With the handy BLUE app, it's easy to view all kinds of activities and book a course right away. Great!
The usual mini-disco evenings are a highlight for the little ones, but simply exhausting for the grown-ups after the third round of "Macarena". You'd much rather enjoy an evening of entertainment with live music and a glass of wine. The bookable edutainment offer is also a great idea to learn something new on holiday: for example, you can take part in a Portuguese course and bring home new skills as a souvenir. I think that's great! Neither relaxation nor entertainment is lacking during my holiday in the Adults-only hotel. I'm already looking forward to the next few days and enjoying the evening. See you tomorrow!
Adults Only Hotels: holidays can be this beautiful
Find your oasis of calm in the TUI BLUE Adults Only Hotels and enjoy your dream holiday in the Mediterranean, Atlantic, North Africa or far away in Thailand or Mexico. Feel free to write in the comments what you love about Adults Only Hotels, then we can share a bit.
P.S. If you don't want to miss out on fun with the whole family, the TUI BLUE For Families Hotels are the place to be! The child-friendly facilities in the hotels and leisure options are sure to make the holiday a highlight full of fun for the whole family.