31 Mar

Family holidays: Where to go during the autumn holidays

Not so long ago, you were looking forward to a nice Easter family holiday, filled with sunshine, trips to the beach and quality time together. But now, in light of the Coronavirus pandemic, rather than getting a tan on the beach, all you're getting is on each other's nerves while you're cooped up at home. Sound familiar? If so, then here's something that might cheer you up. We'll hopefully be back to normal by the time the autumn holidays come around. Have a read of this article for inspiration on the best destinations for families during the autumn holidays – whether you're looking for a trip with or without childcare, on the beach or in the mountains, close to home or further afield.

With current discounts on new bookings and rebookings for TUI BLUE holidays, it's worth booking ahead. There's no risk, either – if your trip is cancelled due to the pandemic, you'll get your money back, or you can amend your booking for free. There are lots of hotels taking bookings for 2021, too.

Here are the best destinations for families in autumn:
Cyprus
You'll be hard pressed to find a destination that's still as warm as Cyprus in the autumn holidays. And at around 3.5 hours from Central Europe, it's a flight time that will go down well with families, too. Thanks to the eastern Mediterranean location, sunshine's almost guaranteed. On average, you can expect temperatures up to 28 degrees, plus a sea temperature of around 25 degrees, on the south coast of Cyprus in October. And there's plenty of variety here, as well. Cyprus is home to thick forests, towering mountains and picturesque bays. So, you can opt for a beach holiday in Cyprus, where your kids can wear themselves out racing down waterslides all day. Or, you can spend your time exploring the likes of the Aphrodite cliffs, ancient ruins and cute little villages. Not forgetting the food. The island's cuisine combines Greek, Mediterranean and Levantine flavours, often served up meze style – ideal for trying new dishes and keeping fussy eaters happy.
My top tips for family hotels during the autumn holidays in Cyprus:
The brand-new TUI BLUE Atlantica Mare Village lines up All Inclusive catering, waterslides, fantastic childcare, sports facilities and rooms with swim-up pools.
TUI BLUE Atlantica Aeneas Resort offers All Inclusive catering, a great pool scene, swim-up rooms, a spa and a kids' club.
---
Turkey
Turkey often features on roundups of the most-popular travel destinations, and for good reason. You can expect good weather, not too long a flight time, excellent food, friendly locals and great value for money for families. So, is it a good destination for families in the autumn holidays? Yes! It's even better than in summer, in fact, when it can get extremely hot. In October, the south coast is pleasantly warm, with an average maximum temperature of 26 degrees during the day, plus the sea's still bath-warm at 24 degrees. These temperatures are perfect for lying on the beach or for setting out on exciting excursions along the Turkish Aegean Coast and the Turkish Riviera.
The best family hotels in Turkey
TUI BLUE Palm Garden is directly on the beach, near Side. According to HolidayCheck, it's the best-rated hotel in Turkey. Plus, it boasts childcare, a spa, a professional sports programme, All Inclusive board basis and incredibly friendly staff.
TUI BLUE Sarigerme Park is listed on Holidaycheck as the most popular hotel on the Turkish Aegean Coast. It's located in a picturesque bay, directly on a sandy beach, only 20 minutes transfer time from the airport. Families and couples alike will be very comfortable here, with All Inclusive and great sports offers. Childcare and a spa are also available, not forgetting their popular frozen yoghurt!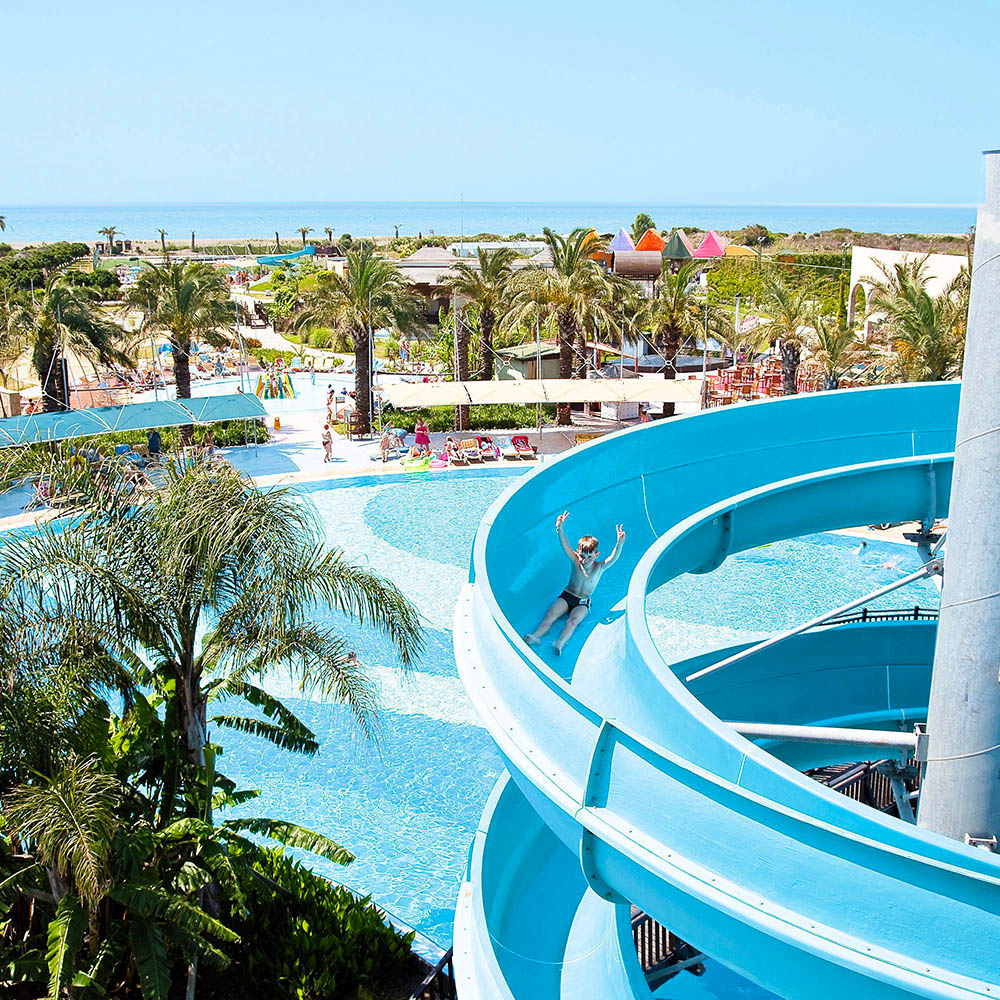 Right next door, you'll find the TUI BLUE Tropical, which is tailored from top to toe for kids. All day long, there's entertainment, childcare, delicious food with a children's buffet, dancing with the mascots and much more. For the adults, it's all about the sports and spa, plus you can relax to the max knowing the children are being well looked after.
Looking for more options? Here are even more family hotels for the autumn holidays in Turkey:
---
Canaries
The Canary Islands are an all-time favourite for holidays during the cooler, shoulder months and are therefore a great destination for family holidays during the autumn holidays. With an average temperature of 22 degrees, the Atlantic Ocean is still good for swimming in October. The kids will jump for joy when they see photos of Aqualand Maspalomas, a waterpark in Gran Canaria. Sliding down sand dunes on a body board, and visiting volcanic sights at the fascinating Timanfaya National Park on Lanzarote, are some of the other things you can be getting up to here. Check out our great tips for excursions in the Canary Islands.
Convinced? Here are my tips for family hotels in the Canary Islands for the autumn holidays:
TUI BLUE Flamingo Beach on Lanzarote, is directly on the wave-sheltered beach. It offers All Inclusive catering, comfortable modern apartments, childcare, sports and a spa. Plus, it's only a 35-minute transfer time to the airport.
For self-catering stays, TUI BLUE Las Pitas on Gran Canaria, is ideal. With well-equipped kitchens in the apartments, a whirlpool in the spa, childcare and a playground, it's got everything a family could want on holiday. Not in the mood for cooking and washing up? You can also book this hotel as Half Board or All Inclusive, or eat at one of the family-friendly hotel restaurants. It's only 20 minutes transfer to the airport, too.
---
Zanzibar
Zanzibar is a destination for families who don't mind a long flight. The palm-fringed, white-sand beaches are well worth the long trip. This tropical paradise is a popular stop-off for some beach time after an African safari on the mainland. At 31 degrees, plus a sea temperature of 26 degrees in October, it's perfect for a family holiday in the autumn holidays. Holidays here are about kicking back and relaxing in a hammock on the beach, or checking out colorful fish and starfish while snorkelling on the coral reefs. However you choose to spend your time, the relaxed way of life on Zanzibar is sure to leave a lasting impression on grown-ups and younger guests alike.
The TUI BLUE Bahari Zanzibar is a top-rated hotel in Zanzibar, offering Half Board or All Inclusive. It has a playroom and other play facilities, but is better suited for older children as there's no childcare. Five restaurants, three pools, sports facilities and a wellness area complete the picture. And, according to the reviews, the staff are out of this world.
---
Austria
If you're a family that doesn't want to fly, and prefers hiking to lying on the beach, then Austrian holiday resorts are ideal for you. What's more, they've got adventure trails, climbing parks, toboggan runs, go-kart tracks and lots of other action, so there's no chance of getting bored. The weather unfortunately doesn't always play ball in autumn, but there are many indoor activities for children that you can do whatever the weather. No matter the forecast, the views of the autumn leaves in the colourful mountain forests have to be seen to be believed. The Pillerseetal valley, in Tyrol, is well-suited to families, with well-developed hiking trails, covering all difficultly levels – some are even accessible with a pram. You've also got an amusement park, a mountainside adventure park, a climbing park and much more.
Hotel tip for families with older children:
Look no further than the TUI BLUE Fieberbrunn for an active family holiday during the autumn holidays. The Half Board with hearty, local cuisine is guaranteed to please children. There's an indoor pool and spa area. And, the hotel is located directly next to the gondola lift. When you stay here, you can get the Pillerseetal-Card at a reduced price, which gives you free entry to the cable cars and leisure facilities.
Stay healthy and keep dreaming of your next vacation!