05 Mar

Smoothie & Overnight Oats: Eat BLUEf!t

"Breakfast is the most important meal of the day!" I'm sure you've heard this saying before. For me, it's absolutely true. If I can't eat a reasonably rich breakfast within two hours of waking up, I'll get "hangry" really quickly – not good! My secret weapons are a smoothie and overnight oats; They are quick, easy to prepare, and the perfect companions for a good start to the day, or even throughout the day. For those who want to test this themselves, I'll share my favourite recipes in this blog post.
Fruity Stimulant: Self-Mixed Smoothie
In the mornings, you have to go fast – everyone knows that. It's all the more practical if my breakfast-to-go is already ready in the fridge: a tasty smoothie made from my favourite fruits or, to switch it up, a small portion of overnight oats. With just a few ingredients and even less effort, I can conjure up two dishes every morning that give me a preemptive vitamin-boost to help me across my midday low. I pay special attention to keep the natural sugar content of the ingredients as low as possible. For the smoothie I use green apples instead of bananas, berries instead of grapes, and no additional sweeteners like honey or agave syrup. I like to mix in green mint leaves, fresh spinach, and kale, which, in combination with various fruits, don't taste as bad as they sound. And then, to the blender! These are my favourite combinations: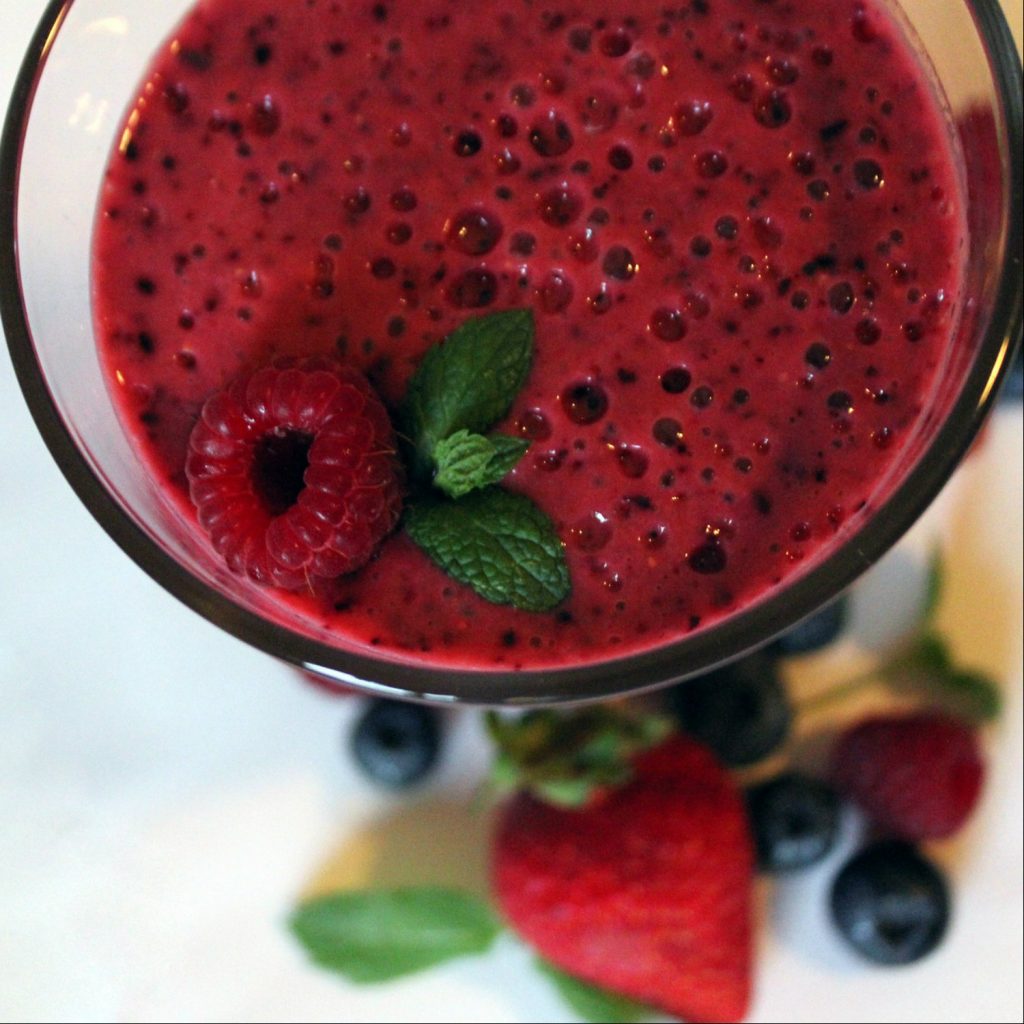 Smoothie #1: Apple-cucumber-lime-mint
My absolute favourite smoothie on a hot summer day – the combination of cucumber and lime tastes light and summery, while the mint provides additional freshness. The high water content of the ingredients makes this smoothie pretty thin, but a spoonful of natural yoghurt or cashews can be used for a thicker consistency.
Smoothie #2: Peach-coconut
A tropical dream! This creamy smoothie with its mild coconut taste puts you in the holiday mood immediately. Mix one or two fresh peaches with unsweetened coconut milk – you can also use frozen peaches for an almost ice cream-like consistency. If you'd like, add a little grated vanilla bean.
Smoothie #3: Watermelon-raspberry-apple
This classic is always a winner. My tip: if the blender doesn't chop up all the cores and seeds, run the smoothie through a sieve. Best to enjoy this smoothie cold! Good additions to this one include chia seeds or ground almonds.
Smoothie #4: Blueberry-blackberry-kale
This smoothie is an absolute vitamin bomb. A good portion of blueberries alone has about 60 times as much vitamin C as an orange, and the kale does its part as well. So don't get scared away by the darker colour and the slightly harsher flavour. Those who want a little sweetness can add a few small pieces of pineapple.
Sounds delicious doesn't it? Of course, you can complement these variants with your own ideas or enrich them with plain yogurt according to your own tastes. These smoothies great fun for me, not only because they're healthy and tasty, but also because their bright colours immediately lift my mood (:
Delicious Power Boost: Overnight Oats
Should it ever happen that I don't want a smoothie or don't have the right ingredients in the house, I reach for a different, equally good, and practical alternative: overnight oats. There's nothing hidden behind this term except soaked oatmeal. Before you get disgusted and stop reading this article, let me explain: this recipe has nothing to do with that lumpy, grey porridge-mud you're thinking about right now. Instead, you put a portion of about 50 to 70 grams of oat flakes (depending on your desired consistency and appetite) in approximately 100 to 140 millilitres of milk, yoghurt, water, almond milk, rice milk, or coconut milk overnight. Mix the ingredients thoroughly and place them in a can or glass in which the oatmeal has room to swell. Overnight in the fridge, the oat flakes absorb the liquid, so you'll get a creamy base for your breakfast the next morning. Depending on your taste, you can refine this – I like to add raspberries, blueberries, and a pinch of cinnamon – and then just enjoy! As a topping, similar to the smoothie, different seeds, nuts, or fruits are suitable. The great thing about overnight oats is that you get a meal that keeps you satisfied for a long time and can raise blood sugar levels slowly, all with very little effort. It puts a stop to that infamous midday depression – instead of becoming limp and useless at my desk because of a rapidly falling glucose levels, I'm fit and focused in the afternoon.
BLUEf!t Nutrition: Healthy Tastes Good!
Although no longer a well-kept secret, it hasn't lost its validity. Our TUI BLUE hotels are set up with the culinary concept of a balanced diet, which is supplemented by the BLUEf!t fitness programme to help you get fit and stay that way. I met up with the BLUEf!t Guide, Lars, once again to discuss nutrition. "We often see that our guests don't want to waive their healthy lifestyle while on holiday, so we include a low-carb buffet, smoothies, and then flavoured water and healthy snacks for between meals. The overnight oats fit in there well and are an alternative for vegans or people with lactose intolerance. On request, we also create individual nutrition plans for our guests – so they know exactly when they should take what foods and in what quantity. Our goal here is primarily to create a greater awareness for healthy eating without giving up the pleasure of eating, and our dishes are the best evidence of this."
You see, it's all very easy – just get started with a smoothie!